IG Wealth Management Walk for Alzheimer's 2021
read
You CAN make a difference! Help us to continue essential LOCAL services by participating in the online IG Wealth Management Walk for Alzheimer's.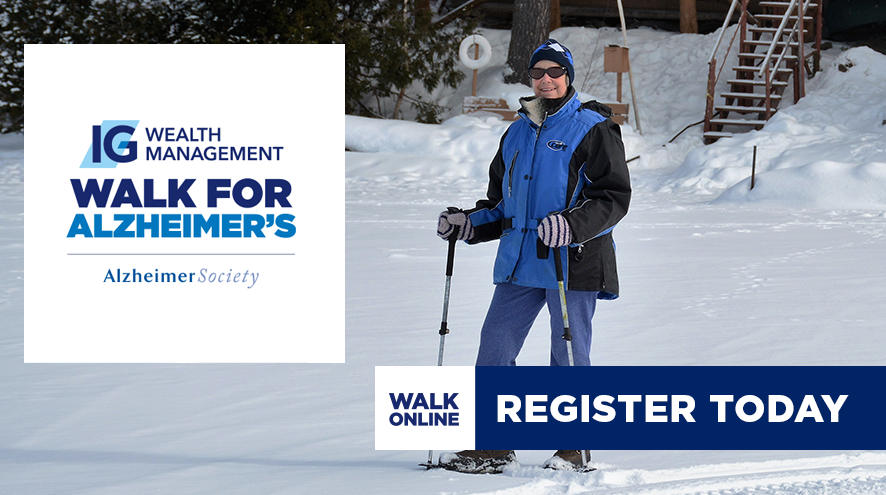 Date: Sunday, January 31, 2021
Location: Walk where you are in your own way!
Register at walkforalzheimers.ca and start collecting pledges today!
To keep everyone safe, the IG Wealth Management Walk for Alzheimer's has gone ONLINE for January 2021 in Sault Ste. Marie and Elliot Lake.
We want you to use your creativity on how you will safely participate while following Public Health guidelines from the provincial government. Physical distancing snowshoeing, baking, snow angels in the snow, or walking your dog are just a few ideas.

Set a goal of how many steps you would like to do in the month of January or on January 31st or do something totally different. Share your pictures and ideas on your social media and tag the Alzheimer Society of Sault Ste. Marie's Facebook page here and use the hashtag #IGWalkForAlz.

Register at walkforalzheimers.ca and start collecting pledges today!
Pledge Forms
Pledge Forms can be printed from the website and will also be available at the local Alzheimer Society office by calling: 
705-942-2195 (Sault Ste. Marie)
705-848-8145 (Elliot Lake).
If you choose to use a pledge form, please follow the current health guidelines, and collect contactless. Consider asking your pledgers to send you an e-transfer.
Update (01/13/21): 
Participants may have received some donations in paper form and we will NOT be collecting those pledges at the office on January 30 or 31. We will collect them after the Public Health Guidelines State of Emergency has been lifted and it is safe to do so.
At that time we will be hosting a Facebook Live to announce the top individual fundraiser, the top team fundraiser, and total funds raised! Prizes will be awarded to the Top Individual Fundraiser and the Top Team Fundraiser and arrangements to distribute prizes will be made to ensure everyone's safety.
Additionally, if you were one of the first 100 participants to raise $150 or more, you will win a cozy IG Wealth Management Winter Scarf and we will make arrangements for distribution. Make sure to take a picture of you wearing your scarf and send it to our Facebook page!
Please note: this January's IG Wealth Management Walk for Alzheimer's will be the last one hosted in January and will be moving to the end of May in the future.
We can't wait to hear about your creative ideas on how you will be participating virtually!