Missed My Marathon
read
Support the Alzheimer Society of B.C. by organizing a fundraising virtual running challenge in your own neighbourhood.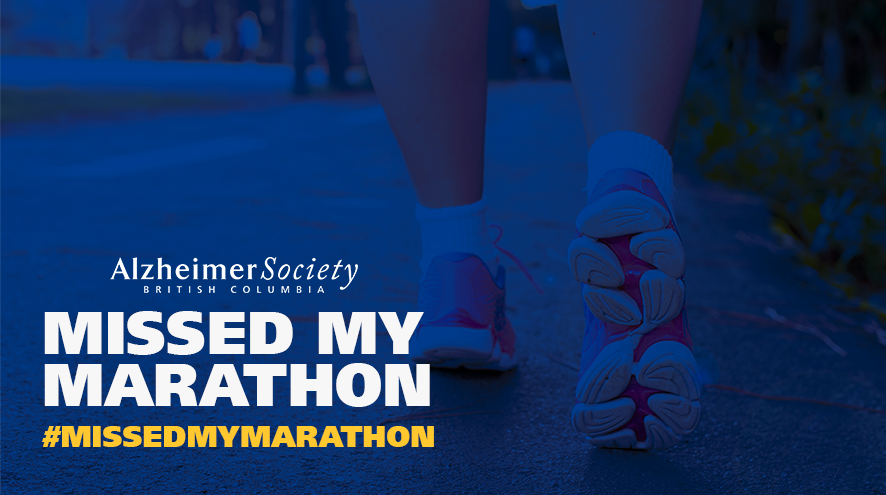 To date, the year 2020 has brought new challenges and changes for everyone. Physical distancing protocols have seen running events from across the world postponed, cancelled or adapted to become virtual events, just like the Scotiabank Vancouver Half Marathon & 5k. Whether there's a run you'd like to tackle or a new challenge you'd like to set yourself, we'd like to invite you to take part in our new initiative: Missed My Marathon! 
How it works
Missed My Marathon allows you to continue to fundraise online and complete your run or walk as a safe, solo challenge in your own neighbourhood. You can use it as your exercise break for the day – or if you fancy extending your challenge, break your run into smaller chunks and complete parts of it across weekends. You could even complete your challenge from the comfort of your own home, just like the man who ran a marathon on his balcony!
If you do run outside, please adhere to the current physical distancing recommendations.
How to sign-up
Simply visit this website page to create your Missed My Marathon online fundraising page (refer to these detailed instructions on how to do this). Then, share the link with your family and friends to get those donations rolling in. 
Although we cannot run together in person as we usually would, we will continue to cheer you on (virtually!) every step of the way. You can share your progress and stay connected with your fellow runners by tagging us @alzheimerbc on social media and using our hashtag #MissedMyMarathon, and we will keep in touch with helpful tips and fundraising ideas for your virtual race.
When and how you take part is up to you, but however you do it, you'll be raising vital funds for the estimated 70,000 British Columbians living with dementia.
Thank you for your continued support! For more information about Missed My Marathon, contact Kerry at 604-742-4936 or [email protected].