Edmundston Resource Centre
296 Victoria Street
Edmundston NB E3V 2H9
Canada
Hours of operation:
Monday-Friday: 9:00 a.m. – 1:00 p.m.
Serving Edmundston, Grand Falls and Restigouche County areas
Welcome to the Edmundston Resource Centre! Visit our office, located next to Physiotherapie Nord-Ouest.
Contact us to be connected with information, education, and support through individual meetings, presentations and support groups. We are available to help you navigate the health care system and direct you to appropriate community services in your area.
Meet our team
Sarah Martin, First Link Coordinator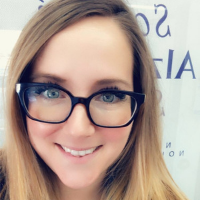 Hi, I'm Sarah—the First Link Coordinator for Edmundston, Kedgwick, and Campbellton areas. My background is in psychology and law, but after practicing law for nearly 5 years and having my daughter, I set out on a new journey. My passion for health and helping people led me to join the Alzheimer Society, where I felt I could use my skills to make a meaningful difference for people affected by the disease. When I'm not in the office, you can find me spending time with family and my dog, running, and shopping.