Sock it to Dementia
read
You can "Sock it to Dementia" with a pair of our forget-me-not socks! Help us raise awareness and funds in support of those in our province affected by dementia.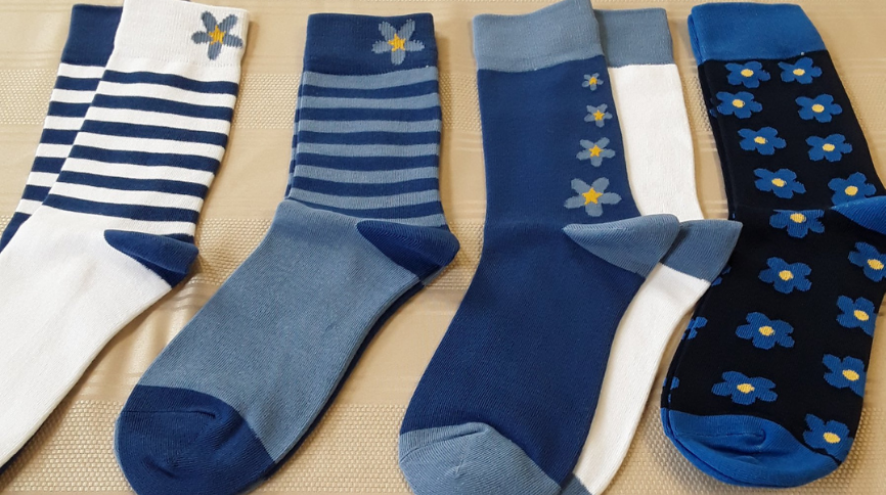 If you'd like to purchase a pair of socks, contact our team at [email protected] or 1-800-664-8411.
The Alzheimer Society of NB is selling forget-me-not patterned socks to raise awareness and funds to support those in our province affected by dementia.
For $15, you will receive a beautiful pair of socks, a tax receipt for $10, and you will be supporting those in our province that have been impacted by dementia.
There are four styles available in youth, ladies and mens sizes.
Making an Impact
Wearing a pair of forget-me-not socks is a great way to raise awareness of Alzheimer's disease and other forms of dementia. Did you know two out of every three people globally believe there is little or no understanding of dementia in their countries?
Talking about dementia helps tackle the stigma, normalises language and encourages people to find out more information, advice and seek help.
All funds raised in New Brunswick stay in the province!
Funds raised enable us to offer and expand our free programs and services in communities throughout the province.
These services include:
Toll-free InfoLine
Monthly caregiver support networks
Family education series
Public information sessions
5 staffed resource centres
Free resources and information library