Virtual Artful Afternoon
read
We are excited to share that our dementia-friendly art program, Artful Afternoon, is now available online!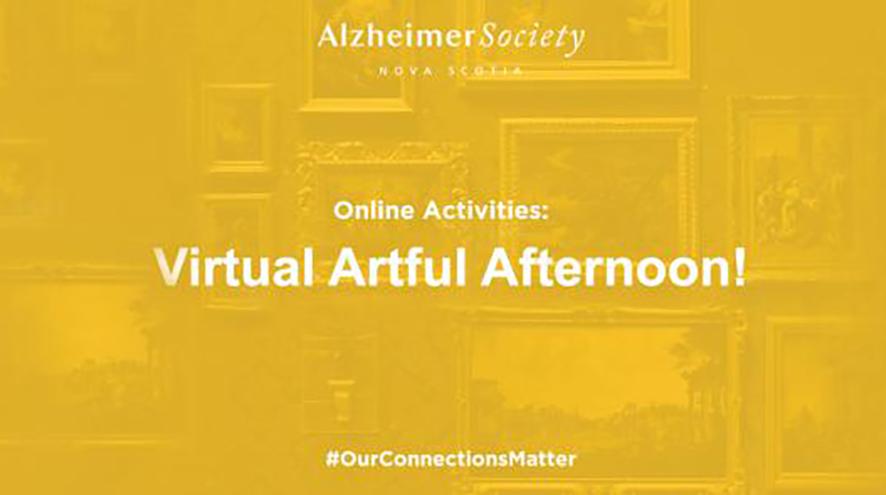 Virtual Artful Afternoon
Virtual Artful Afternoon is a partnership program between the Alzheimer Society of Nova Scotia and the Art Gallery of Nova Scotia held online via Zoom. This is a dementia-friendly program connecting people with dementia and their care partners to the visual arts through a pre-recorded guided tour by professional artist, Lux Habrich. Lively conversation follows the tour and encourages social connection among the participants. There is also a hands-on element to the program as participants are given art kits to create artwork at home using simple materials. Check out the session recordings below. 
May 2021
April 2021
March 2021
February 2021
January 2021
Maud Lewis
(~10 minutes in length)
Join artist Lux Habrich, facilitator of the Virtual Artful Afternoon program, for a virtual tour on the beloved Nova Scotian folk artist, Maud Lewis. During this time of COVID-19, the colourful artworks of Maud and her tiny painted home, covered with images such as birds, butterflies, and flowers, magnify the artist's resiliency and the power of art to positively impact the human spirit. For many who are isolated during this challenging time, this video brings the world of Maud and her depiction, through observation and memory, of her simple and creative life in rural Nova Scotia.
Walter Ostrom 
(~7 minutes in length)

Inspired by the Art Gallery of Nova Scotia exhibition, Good Earth: The Pots & Passion of Walter Ostrom, this video highlights the exceptional career of this well-known Nova Scotian ceramicist and arts educator. Lux Habrich, facilitator of the Virtual Artful Afternoon program for those with dementia and their partners in care, engages the viewer in a visual survey of Ostrom's work and international influence on the Canadian ceramics landscape through his teachings and life-long art practice. With thoughtful inquiry and guided reflection, Lux, also a practicing artist who works in clay, shares her knowledge on materiality and process - inviting the viewer to join her on an exploration into the imagination, innovation, and technical excellence of this profoundly remarkable artist.
Looking for more Artful Afternoon fun?
Check out the videos below, guided art projects with Lux Habrich using common household items. 
We look forward to seeing your artwork!
If you're on Facebook, we welcome you to share photos of your work and tag the Alzheimer Society of Nova Scotia 

If you do not have Facebook, or if you would like to share them anonymously, please to send them by email to

[email protected]