Public awareness in Oxford County
read
Through our Speaker's Bureau, the Alzheimer Society of Oxford is available to come to local groups, service clubs or organizations to provide information about Alzheimer's disease and other dementias, our services and other aspects about caring for people living with dementia.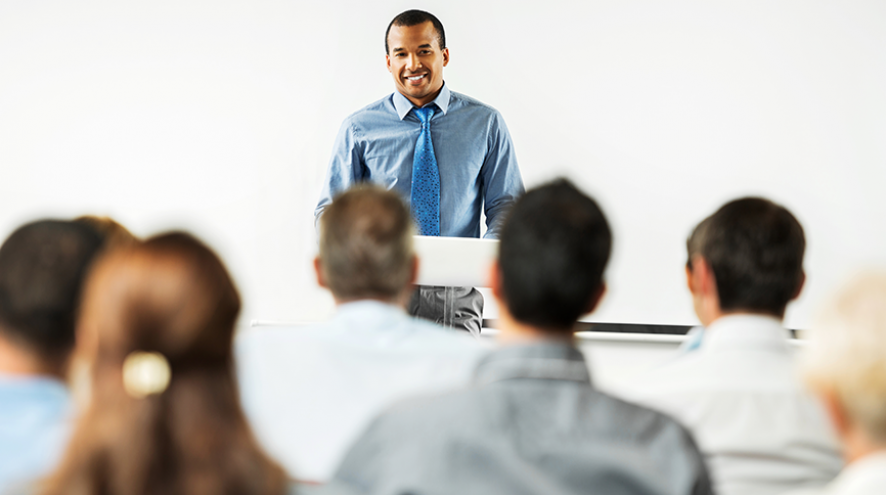 To book a speaker, contact the Alzheimer Soceity of Oxford at 519-421-2466 (toll-free: 1-877-594-2368) or by email at [email protected]. This service is free of charge.
Alzheimer's disease: What is it?
Are you interested in learning about the difference between dementia and Alzheimer's disease? What are the 10 Warning Signs of Alzheimer's disease? What are the known risk factors? Treatment?
This hour long presentation offers an overview of Alzheimer's disease to any group interested in learning more.
Heads Up for a Healthier Brain!
Keeping your mind sharp and your body active benefits your brain health in many ways. At this hour-long presentation, you'll learn effective things you can do now to reduce your risk of getting Alzheimer's disease, and some easy and practical ideas of how to incorporate these risk-reducers into your life.
One topic covered is challenging your brain. Take a look at the following illustration. Can you see more than one image?
Reducing the risk of dementia
Getting older? Wondering if your brain exercises are sufficient? Register to get involved in a free 3-week series describing the risk factors associated with dementia. A variety of topics are discussed including: Brain Exercises, Physical Activity, Healthy Eating, and Managing Stress. Participants are encouraged to make positive health changes which will go a long way in helping decrease a risk of dementia in the future.
Our services
Interested in learning what the Alzheimer Society of Oxford can do for you? This hour-long presentation explains the programs and opportunities offered at our chapter to people in all stages of dementia, as well as their family members and friends.
Please click here to view Oxford's Programs and Services brochure.
School programs
The Alzheimer Society of Oxford offers a School Program designed to reach out to the younger generation who are coping with the effects of Alzheimer's disease and other dementias on family members. The goals of this program include:
Increasing general awareness and understanding of Alzheimer's disease and it's impact in Society.
Supporting younger people who are coping with this disease within their family.
Encouraging healthy choices and lifestyles associated with long-term brain health.
If you are interested in hosting a presentation at your school, please contact contact the Alzheimer Society of Oxford at 519-421-2466 or 1-877-594-2368 or by email at [email protected].
Resource Centre
Our Resource Centre is located at our office at 575 Peel Street, Woodstock. A variety of educational materials are available, including books, journals, newsletters, pamphlets, booklets, DVDs and videos. Further resources can be accessed through inter-library loan at the various branches of the Oxford County Library. Materials may be borrowed free of charge.