A glittering, innovative fundraising project
read
Anything for Alzheimer's fundraiser, Roxanne Muhlethaler, shares her experience running a glittering, innovative fundraising project for the Alzheimer Society of Oxford.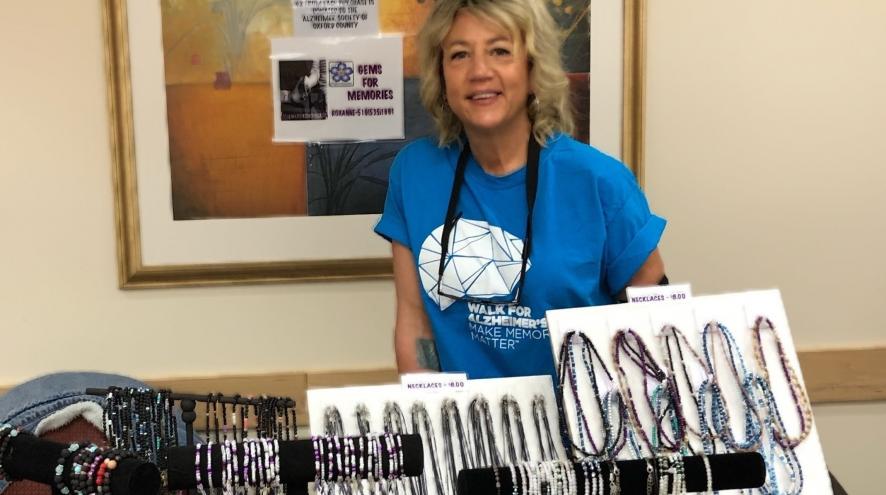 Raising funds for the Walk for Alzheimer's for more than seven years, Roxanne Muhlethaler was eager to create an innovative personal project to enhance her support of the successful yearly event.

After considerable thought and planning her sparkling fundraiser for the Alzheimer Society of Oxford cleverly called Gems for Memories was launched, showcasing hand-crafted essential oil bracelets, beaded necklaces and other varieties of these decorative pieces.

"This is a first for me," Roxanne said. "I've never worked on anything like this before but it is a lot of fun and fast becoming a hobby. Perhaps I'm exploring my hidden artistic side and all of this for a great cause, which is very gratifying.

"I go downstairs to my little workshop, turn on some relaxing music and away I go. This makes me feel so good. Two dollars from each piece sold goes into my Alzheimer's pot and is gathered for the Walk. I hope to make the 600-club this year."

With her mother Vivien Campbell diagnosed initially with vascular dementia nearly a decade ago, Roxanne's connection to and interest in The Alzheimer Society of Oxford is deeply personal.

"My mom first moved into an apartment," Roxanne explains. "She was at Park Place for four years and now resides at Woodingford. She has Alzheimer's but does very well physically. She's in good shape and just loves dancing up a storm every Monday at the old-timers' dance.

"I remember the early days, walking into the Alzheimer office in tears. Everybody was wonderful explaining what they could do for us. After a phone call, staff is there for you at the drop of a hat. Using support groups and every service available over the years, I just wanted to give back in some way like fundraising and raising awareness. 

Still an active participant fundraising for the Walk for Alzheimer's and other voluntary efforts, she said her Gems for Memories project is being supported by three businesses in Woodstock and one in London.

"Woodstonian Spa, Hair by Grace, Salvage and Décor Antiques, Maya Health Food Centre, Beaches N Dreams and Red Thistle, businesses all in Woodstock and Port Lifestyles Store in Port Stanley have displays of my work and are very helpful when it comes to spreading the word. People walk in and ask what the display is all about. When told it's for a good cause for Alzheimer's research, they make a purchase. The businesses are increasing awareness free-of-charge so a big hats off to them."

In addition, a prominent display of her decorative handicraft is displayed at her husband Glenn's rust control/undercoating for cars business Krown London Hyde Park just down the road in London.

"I find voluntary work like this very satisfying," Roxanne says. "I participated in Woodingford's bazaar and am thinking about a Coffee Break at my house for The Alzheimer Society of Oxford. I'm delighted to be raising funds through my Gems for Memories.

"Getting involved in as much as I can gives me a good feeling. I've done a family transition program, Alzheimer support groups for years and every first Tuesday of the month our group meets to share stories and support each other. It's very hands-on. As well as regular visits with my mom I also volunteer at Woodingford."

Roxanne's advice to others who find themselves in similar situations is simple and heartfelt.

"Just walk through The Alzheimer Society of Oxford's doors on Peel Street," she says. "Tell them your story, learn what is available and how you might be able to give back. For me volunteering and raising funds is and continues to be fulfilling, gratifying and fun."

Those interested in Gems for Memories can call Roxanne at 519 535 1691 or email her [email protected] or even visit one of the three businesses in Woodstock displaying her handiwork.