Amanda Nelson ran 88 miles (142 kms) to honour her 88 year old grandfather
read
Geoff Dale shares the Anything for Alzheimer's fundraiser, Amanda Nelson's, experience running and raising $2,515.00 for the Alzheimer Society of Oxford.
By GEOFF DALE
WOODSTOCK – When Amanda Nelson embarks on her 88-mile (142 kms) Alzheimer fundraising run in the wee early hours of Saturday morning (April 10th 2021) her thoughts will be focused on her grandfather and others struggling with the disease and other forms of dementia.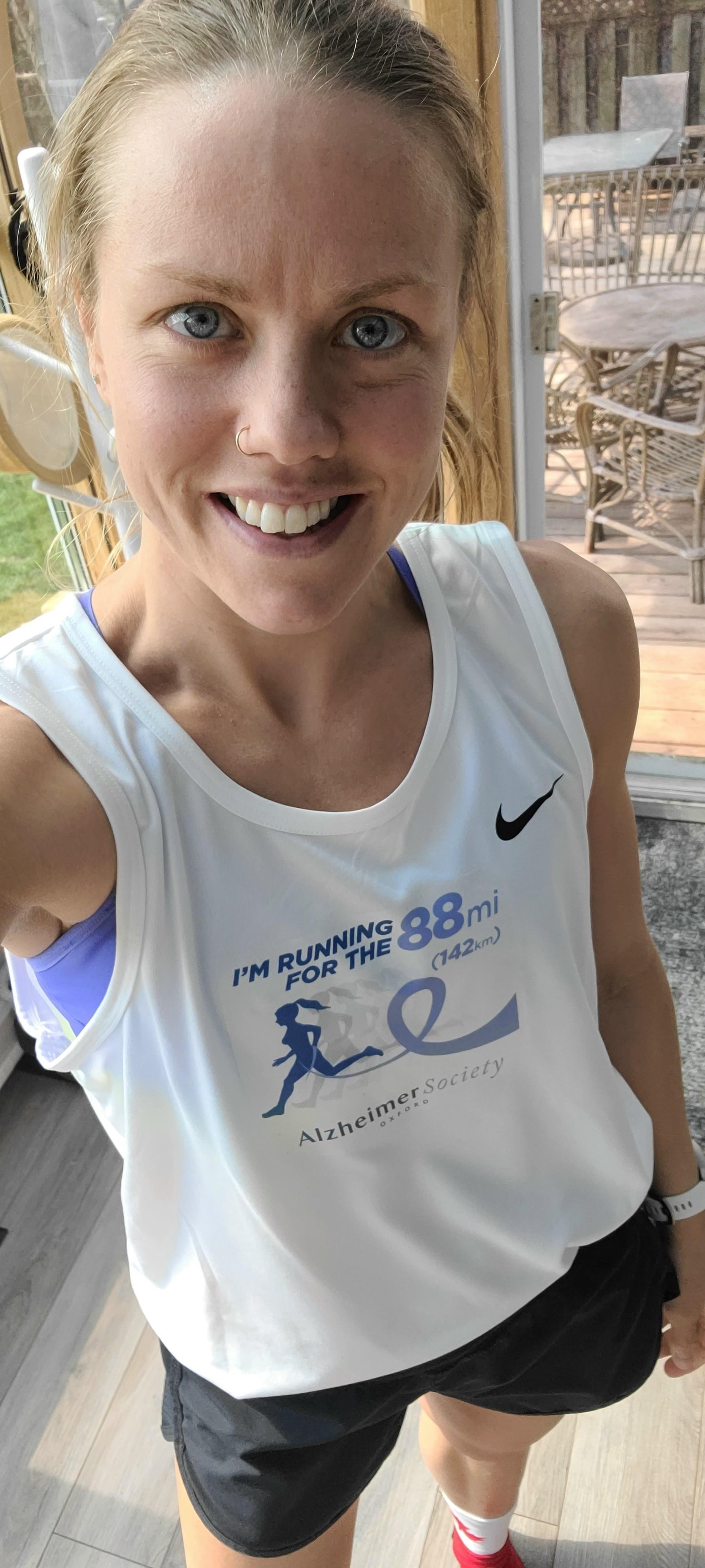 Honouring her grandfather Jim Hass who is 88-years-old, while raising both money and awareness of dementia on behalf of the Alzheimer Society of Oxford, the local
ultra-runner is no stranger to such physical challenging ventures.
"Last year we completed an 87-kilometre run, raising $1,788 in the process," she said. "I half-jokingly suggested an 88-mile was next. After all, it seemed even more impressive. With the training I've undertaken I'm really geared up for this event. That's 142 kilometres or three-and-a-half marathons in a single day.
"My grandfather has been living with this terrible disease for about six or seven years now and it's so hard to watch. Just the other day my grandmother, who is also very proud that I'm doing this, told me he is just tickled pink with this run. That makes me very happy."
For Amanda, assisted by her husband Danny with friend and fellow ultra-runner Mickey Scott, supporting the work of the Alzheimer Society of Oxford and the vital needs of people living with dementia this year is even greater as the global Covid-19 pandemic passes into its second year.
"These are truly stressful times with so many from organizations like the Alzheimer Society struggling to secure much needed funding while unable to stage their own events," she explained. "Doing this run is hugely personal for me. Just focusing on my grandfather and everyone will provide me great motivation to finish, even if I have to crawl to the very end.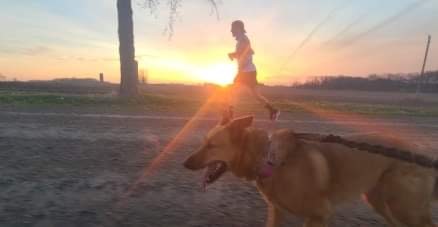 "Throughout the 88 miles, my thoughts will be firmly on those coping with such incredibly difficult hardships day-to-day. My training has consisted of running more than 100 kilometres weekly so I feel pretty well conditioned and ready because of these smaller journeys."
Her unique and logical approach is running 10 laps around a loop close to her home in the north sector of Woodstock. Each 8.9-kilometre loop will allow her ample time of about three to five minutes for a quick bite of food and/or a washroom break.
"I had considered doing this on a track but a location close to home gives me better access to what I need over such a long period of time," Amanda said. "The 8.9 kilometres is good in terms of time range. I think this may take about 17 hours to complete.
"In terms of the starting time, that depends largely on weather conditions so it might be six in the morning or possibly as early as four. "Seeing my grandpa's struggles just trying to live with dementia is very difficult so I know I must do whatever I can for someone I love so much."
Donations can be made on Amanda's personal Alzheimer Society's fundraising page here.
As for this year's financial goal, Amanda is succinct. "I'd just love to raise more than we did last year."
Amanda Nelson is an Experienced Runner
but her extraordinary 87.5-kilometre ultra trek this month honoring her grandfather while raising funds for the Alzheimer Society of Oxford was a deeply personal moment-in-time she'll never forget.

Readily admitting she could not have achieved her goal without much-needed support, she thanked her ultra-running colleague Mickey Scott who joined her for the full venture; his wife Cricket bringing food and water to refuel their bodies and her husband Dan with his constant emotional support through both training and the run.

"My granddad Jim Haas Sr. (his Dutch name is Jacobus Joannes Haas) was diagnosed with Alzheimer's about five years ago," she explained. "It's been difficult for us because he has struggled and lost so much of his memory. Since the pandemic I visit him through Face Time and the last time he seemed so distant.

"It's so sad because I'm not sure if he even remembers me. This run was really all about honouring him, demonstrating the love we have for him. It was wonderful to complete the 87.5 kilometres but the greatest personal feeling was knowing this was for him. 

"I was proud to have raised $1,550 for the Society, more than we had expected, so many thanks to all those who contributed."

The idea for the run was firstly to recognize her grandfather– envisioning a single kilometre for every year of his life thus far – but Amanda also wanted to explore the strong link between both Alzheimer's disease and her demanding project.

"Ultra running, which is any distance beyond the standard 42.2-kilometre marathon, also has a lot to do with mental strength," she said. "So, to me it was the perfect way to test my training and running skills and, maybe in some way, put myself in my grandfather's position.

"Alzheimer's is a disease that attacks the brain so I see such a strong mental connection between this kind of a run and the condition that affects so many. This exploration was on a personal level for me, showing how I feel about my grandfather and his current condition."

Living just north of Woodstock and milking cows in a dairy farm parlor, she is no stranger to physical challenges outside her work. Already logging five marathons, she realized this ultra-run would present both physical and mental challenges.

With all her upcoming scheduled marathons canceled because of the global COVID-19 pandemic, she knew there would be plenty of additional time to train for this highly personal event.

"I was nervous but with the great assistance I got from Mickey, Cricket and the amazing emotional support from my husband Dan, this was a success," Amanda said. "I wanted to feel that mental struggle and I really did.

"This was like taking on almost two marathons back-to-back at one time. With the necessary breaks it was an eight-and-a-half-hour effort, with seven-and-a-half-hours of actual running. It took us through Embro, Hickson, Innerkip, Beachville, Oxford Centre and back home. It was such a good feeling, especially knowing this was for my grandfather."

So, will Amanda undertake more projects for the Alzheimer Society of Oxford and could there even be another ultra-run in the offing?

"I've been to the Walk for Alzheimer's on two occasions, this past year and the one before," she said. "So, I'm not sure at this moment but I could possibly be involved in more ways down-the-road. The Society's Executive Director Shelley (Green) said this was a huge honour for my grandfather.

"My friend suggested we do this again but next time as an 88-mile run, which would be 141.6 kilometres. I remember when we had about ½ kilometre to go before reaching home I thought I might as well go all the way to reach the 87.5 mark."