Sonia's Story
read
Dr. Sonia Palleck! Sonia is one of the 2021 IG Wealth Management Walk for Alzheimer's Major sponsors. Sonia's reasons for her long-time generous support are personal.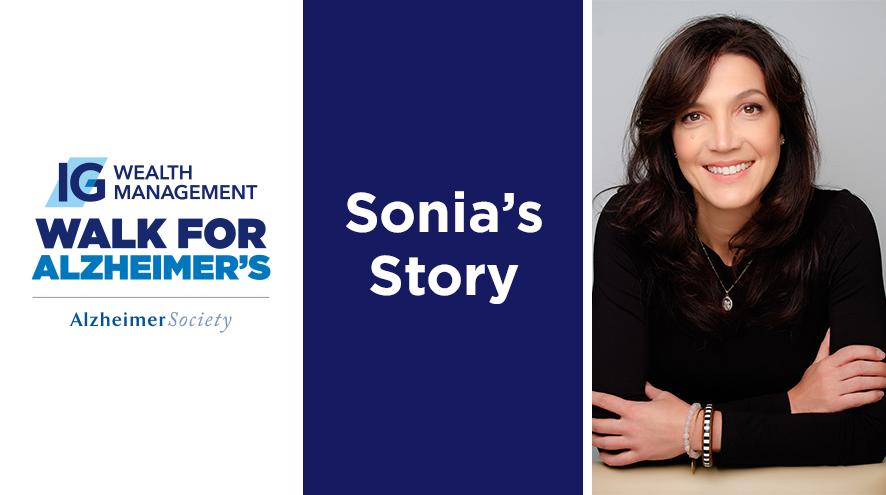 Compassionate sponsor assisting those in need
By GEOFF DALE
For years Dr. Sonia Palleck has been and continues to be a caring, compassionate sponsor of the Alzheimer Society of Oxford, delighted to assist those struggling with dementia in a meaningful personal way.
As a major sponsor and participant in the annual IG Wealth Management Walk for Alzheimer's, numerous Coffee Breaks and other fundraising ventures, she understands the importance of providing care to those who've been diagnosed, along with their families and caregivers.
Born and raised in Windsor where both her parents were life-long residents, Sonia is very familiar with the programs and services offered by the Alzheimer Society in that city. She reached out for understanding and support during the time her mom was living with the disease.
"My mother (Milena Vorkapich) was diagnosed more than12 years ago with Alzheimer's and died from this disease after being in a group home for a decade," said the owner/doctor, orthodontist at Palleck Orthodontics, practicing in Woodstock for more than two decades.
"The Windsor Society worked in a very caring way alongside my family for a long period of time.  After becoming aware of the disease's severity, I realized this is a major problem everywhere so I just want to help other families in my position get through as best they can.
Sonia says one of the pleasures of being a sponsor and working with the Society's executive director Shelley Green and staff members is witnessing first- hand the kind of programs and fundraising events that have a positive impact on numerous families throughout Oxford County.
"I have learned and continue to learn so much from Shelley," she explained. "She is driven, determined and such a passionate fundraiser. The amazing staff follow her lead so it's beautiful seeing this organization operating on a basis of love.
"Doing what you can is part of a very important message so I'm proud of being a sponsor and part of the Alzheimer Society of Oxford. I'm inspired by Shelley because she does an amazing job and is a shining example of compassionate leadership in a time where it is so needed."
As a major sponsor for the Alzheimer Society of Oxford, she simply wants to reach out to help ease someone else's suffering while honouring her mother's memory in the process.
"Shelley has taught me much about the uniqueness of Alzheimer's and other forms of dementia," Sonia explained. "As it progresses, it not only impacts victims lives but also becomes even harder on families and caregivers.
"The annual Walk brings not only much-needed funding for programs but also greater awareness to the general public and media attention focusing on important information. The Society brings so much comfort to so many throughout the county."
Known for successful, well-attended Coffee Breaks along with other fundraising events like rummage sales, she said her initial involvement is directly due to local dentist Ken Craven, also a generous donor and active participant in a variety of fundraising events through the Alzheimer Society.
Turning to the ongoing global Covid-19 pandemic, Sonia strongly believes support, care and understanding is even more necessary for those with Alzheimer's, as well as their families and caregivers struggling through troubling turbulent times resulting from the deadly virus.
"Whether it's before, during or after the virus, we must understand the ever-present and lasting effects of Alzheimer's," she said. "It is not going away and, because so many are isolated in the pandemic, it seems a daunting task. We must be there for them however we can.
"Whatever the circumstances, the need remains. Isolation has intensified so our help is vital. Remain connected, hopeful and willing to do what we can. The Alzheimer Society of Oxford continues to provide a wonderfully strong link to everybody."