Volunteer Companion Program
read
Our Volunteer Companion Program currently has 30 active matches in the community and our goal is to increase that number substantially. Through their visits, our volunteers provide social and recreational time for the person with dementia, as well as a period of respite for the care partner.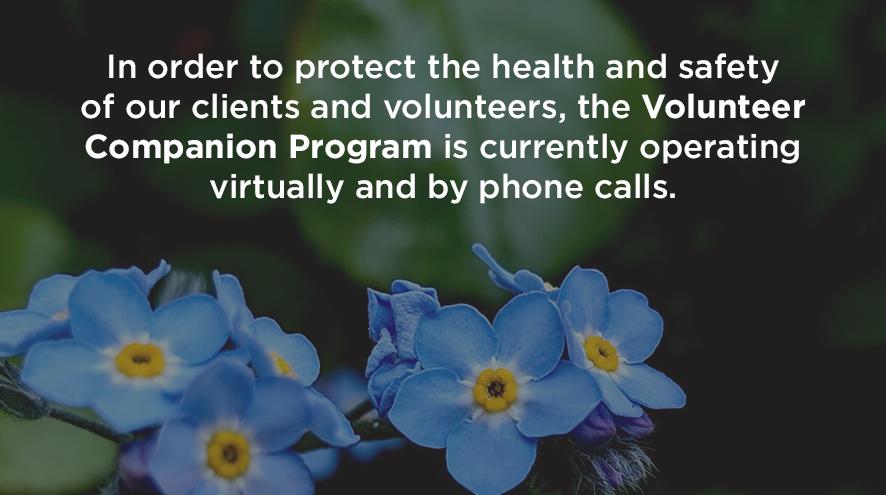 Our volunteer application form can be downloaded here. If you are interested in learning more about this wonderful opportunity, please contact Robyn Owen, our Volunteer Companion Program Coordinator, by phone at 519-421-2466 ext 237 or by email at [email protected].
What is the Volunteer Companion Program?
As a volunteer, you will undergo a minimum of twelve hours of training about Alzheimer's disease and other dementias, communication strategies, activity ideas and program strategies.
After successful completion of the training program, companions begin visiting their "match" at a regular time each week.
Each Volunteer Companion receives ongoing support and education through regular contact with our Volunteer Companion Program coordinator and monthly support meetings. We ask that our volunteers commit to their role for a minimum of six months.
We currently have 25 families in Oxford County on our waiting list, with numbers increasing rapidly - the need is URGENT! The socialization offered by Volunteer Companions enables individuals with dementia to be kept at home longer. Due to the lengthy waiting list, some of the families are unable to receive help from our program before long-term care becomes necessary.
Celebrating 20 Years of Volunteerism in 2020
If you choose to become a Volunteer Companion with the Alzheimer Society of Oxford, you may enjoy it so much that you will continue for 20 years! Read about our Volunteer Companion, Henry Duncan, and what he has to say about his years of experience with this program here.