IG Wealth Management Walk for Alzheimer's
read
When you participate in the IG Wealth Management Walk for Alzheimer's, you join thousands of Canadians who want to see a world without Alzheimer's disease and other dementias.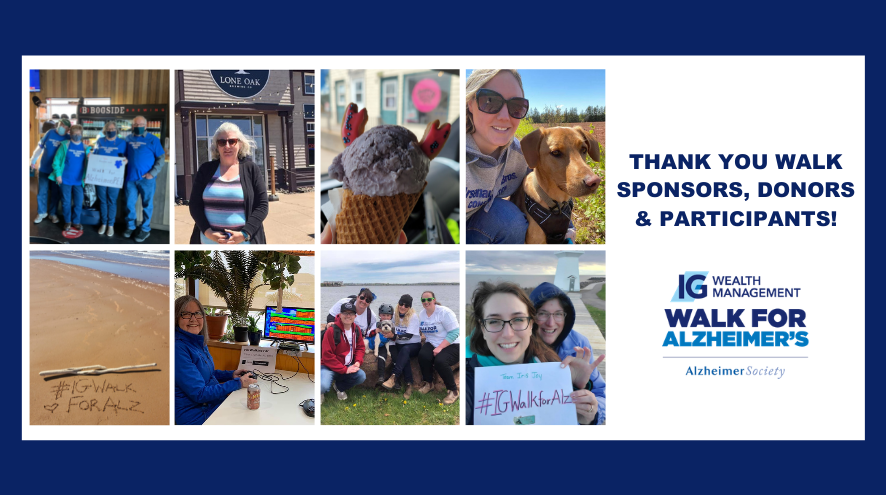 The Walk for Alzheimer's is our most important annual fundraiser.
Register online as a team or as an individual to access information and resources to help you in your fundraising. Funds raised go to support essential programs and services for Islanders living with dementia, and their care partners. Top fundraisers will win a prize!
We've organized an Island-Wide SCAVENGER HUNT that will be available on Facebook for the month of May. The activities incorporate supporting local and exploring our beautiful Island! You can complete the activities with friends, family members, or on your own if you choose, and you'll have the entire month to do so. 
Please note: you MUST be registered to be eligible to win prizes.
Drop by our office on Fitzroy St. in Charlottetown on May 30th from 10am-12pm to drop off donations, say hi and ask any questions you may have. There will also be a celebration broadcast here and on our Facebook page at 4pm! You'll see exciting footage from special guests, walkers, and Alzheimer Societies across Canada. 
To Sum it up:
Register as a team or individual if you'd like to help us fundraise, and for your chance to win amazing prizes! Invite others to support you and/or your team by donating here (enter the name of the participant or team to be sponsored then follow prompts).
Participate in our Island-Wide Scavenger Hunt and win prizes!
*You MUST be registered as an individual or team to be eligible to win prizes
Follow us and IG Wealth Management on social media to stay up-to-date!
Tag us in photos & videos and use the hashtag #IGWalkforAlz. Remember, we'll only see your posts if your profile or posts are set as "public" rather than private! 
Drop by our office at 166 Fitzroy st. on May 30th from 10am-12pm to say hi, ask questions and drop off donations. 
Download the scavenger hunt here, but remember if you'd like weekly prize winning opportunities you must share your photos in the comment section on our Facebook page!
Walk donations are being accepted until June 4, 2021.
Please stay tuned and connect with us on Facebook, Instagram and Twitter!
Have a question? Visit our website or contact us at 902-628-2257 or by email at [email protected].
We will be abiding by all public health regulations and ask that you do the same!