IG Walk for Alzheimer's

Prince Edward Island
Participate in our SCAVENGER HUNT and drop by our office on Fitzroy St. in Charlottetown on May 30th, where you can expect good music, a chat with our team, prizes, raffles and more! Register at walkpei.ca & let the fun begin!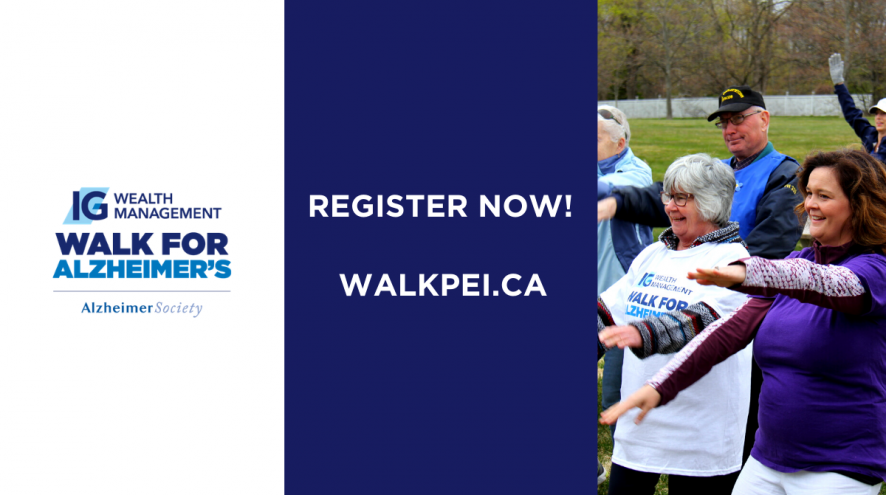 This year we're organizing a SCAVENGER HUNT that will be available on Facebook for the month of May. The activities will incorporate supporting local and exploring our beautiful Island! You can complete the activities with friends, family members, or on your own if you choose, and you'll have the entire month to do so. Here are some scavenger hunt activity samples:
Take a photo of a Bubble member outside your fav local restaurant
Write #IGWalkforAlz in the sand
Challenge your Bubble to "walk to Mexico"
There will be prize winning opportunities for those who participate in the scavenger hunt.
We will have an in-person donation drop-off on May 30th, 2021 at our office on Fitzroy St. in Charlottetown, where you can expect good music, a chat with our team and more prize winning opportunities and raffles!
This year we are referring to teams as "IG Walk Bubbles" and encourage you to register your Bubble to get started with fundraising. We will have prizes for top fundraisers in our 3 categories: Individual, Bubble and Long Term Care Home.
We recommend you form your "Bubbles" and register as soon as possible!
We are united to support people affected by dementia.
How you can help and get involved!
Create a "Bubble" (team) and register, or register as an individual!
Tell us who you are walking for, or share your story.
Follow us and IG Wealth Management on social media to stay up-to-date!
Tag us in photos and use the hashtag #IGWalkforAlz. Remember, we'll only see your posts if your profile or posts are set as "public" rather than private! 
Donate to the Walk, and encourage others to do so here.
 
Walk donations are being accepted until June 4, 2021.
Please stay tuned and connect with us on Facebook, Instagram and Twitter as further information is developed and shared! 
Want to get involved? Have a question? Contact us at 902-628-2257 or by email at [email protected].
We will be abiding by all public health regulations and ask that you do the same!