Tunes 'n Treats!
read
The IG Wealth Management Walk for Alzheimer's is kicking off with a FREE online musical event on April 23rd, 2021!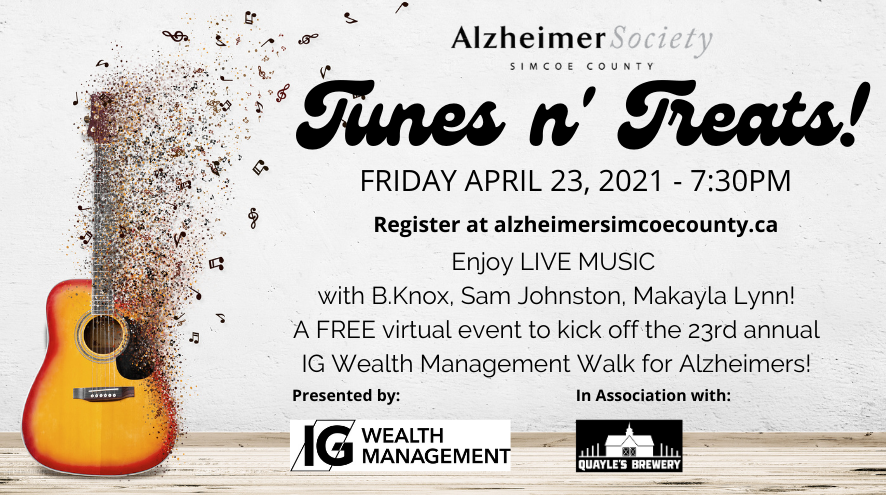 The IG Wealth Management Walk for Alzheimer's is kicking off with a FREE online musical event on April 23rd, 2021! 
Featuring live virtual music from local performers B.Knox of Barrie, Sam Johnston of Orillia and j

ust added to the line up is Nashville recording artist, Makayla Lynn

! 
The first one hundred individuals who live in Simcoe County, 19 and over to register will receive a VIP bag with local treats and a farm-to-glass experience from Quayle's Brewery. 
This year we hope you will Walk 10,006 steps for 10,006 people living with dementia in Simcoe County. If you aren't able to Walk and help raise funds, please consider a donation for this important cause! All funds raised, stay in the community to support people living with dementia, their families and care providers.  For more information about the Walk.  Click HERE
Presented by IG Wealth Management with thanks to Quayle's Brewery. 
Registrants will receive a ZOOM link via email within 2 DAYS prior for access to the event. Please make sure to check  your junk folder if you do not receive a link!
All artists and participants in the Tunes n' Treats virtual event will be following Health Canada and Provincial guidelines, complying with the stay-at-home order and all safety protocols will be adhered to.
For any questions, please email [email protected]

ARTISTS:
B.Knox:  Releasing a debut album during the height of a worldwide pandemic was not what former kindergarten teacher B.Knox had in mind when he set out: admitting laughingly, "if misery loves company, I think this is the kind of record that might connect us all during such an uncertain time."
Receiving critical acclaim from AmericanaUK, Folk RadioUK, RnR Magazine, and radio play from SiriusXM, Starbucks, and CBC, Knox's prediction may not be far off the mark, at least from a critical and commercial perspective.
Born in St. John's, Newfoundland, Knox's connection to the East Coast is apparent in his song writing and phrasing, shapedand smoothed like ocean stones. Weaving songs out of the stories and places that surround him, Knox's aptly titled album, Heartbreak & Landscape, is that exact mix of what he describes as his "two main wells of inspiration." 
With the release of a live EP to end 2020, and currently recording his sophomore album, it is safe to say Knox is not resting on his laurels.
Sam Johnston: Sam Johnston is a singer-songwriter from Orillia, ON. Her blues and folk roots are audible in her guitar playing, which is accompanied by her raspy voice and subtly gloomy lyrics. She attends the Community Music program at Wilfrid Laurier University. Her first EP, "Sad to Say" was released to all major platforms in the summer of 2020.
Makayla Lynn: Named by Rolling Stone Magazine as a new artist you need to know, Canadian born Makayla Lynn is a fresh new face in Nashville working hard to make a name for herself on both sides of the border. Winner of the East Coast Music Award for Country Album of the Year after spending a little time at #1 on CMT's 12 pack countdown, Makayla's sound is often described as neither traditional nor mainstream, but instead a sweet spot right in the middle.