2020 Corporate Campaign for Golf enthusiasts
read
Thank you to everyone who contributed to the success of the 2020 corporate campaign for golf enthusiasts !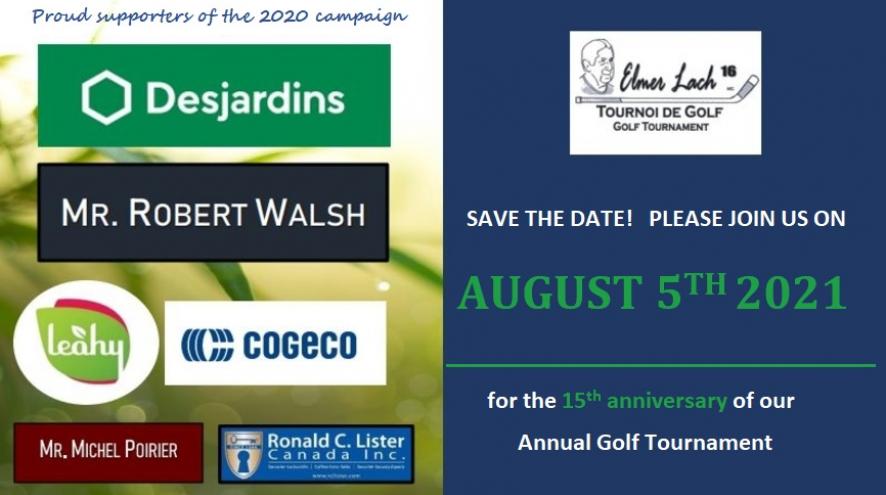 Campaign proceeds
The current situation of the COVID-19 pandemic required the Alzheimer Society Suroît to adapt the format of the 2020 edition of the Elmer Lach Annual Golf Tournament. This activity usually gathers over 150 people, but in light of the health crisis, the Organizing Committee chose to launch a virtual edition of the Tournament, an original Corporate Campaign for Golf Enthusiasts.
This campaign, benefiting the Alzheimer Society Suroît, raised over 34 000$ for free services to the population. The Alzheimer Society Suroît joins the event's formidable Organizing Committee in thanking all the donors, as well as the major partners who supported the launch of the campaign: Desjardins - Diamond partner, Mr. Robert Walsh - Platinum partner, Leahy Orchards Inc. and COGECO - Silver partners, as well as Mr. Michel Poirier and Ronald C. Lister Canada Inc. - Bronze partners.
SAVE THE DATE! PLEASE JOIN US ON
AUGUST 5TH 2021
For the 15th anniversary of our Annual Golf Tournament
Organizing Committee 2020
YVES LÉVEILLÉ - PRESIDENT
DON KEDDY - Leahy Orchards Inc.
MARCEL LARIVIÈRE
ANGÈLE MASSÉ
LÉO PELLETIER
FRANCINE PRUD'HOMME
ROBERT WALSH
TONYA THIBODEAU - Alzheimer Society Suroît
AUDREY DESBIENS - Alzheimer Society Suroît