2020 Corporate Campaign for Golf enthusiasts
read
Due to the COVID-19 pandemic the Organizing Committee for the Alzheimer Society Suroît annual Golf Tournament is inviting participants and contributors of the tournament to join them in supporting a new initiative, a Corporate Campaign for Golf enthusiasts to benefit the Alzheimer Society Suroît.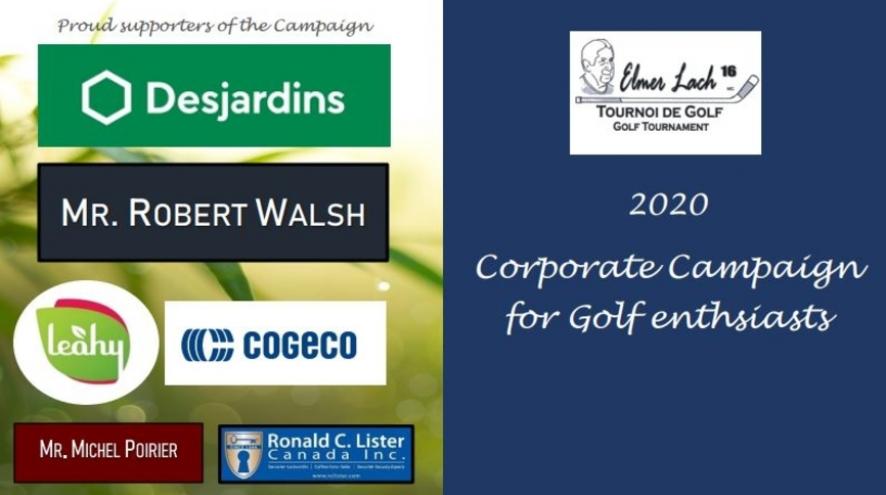 To support this campaign by making a donation, please fill out the pledge form and mail it to:
Alzheimer Society Suroît
340, boul. du havre,
Suite 101,
Salaberry-de-Valleyfield. QC
J6S 1S6
Donations can also be made by phoning 1-877-773-0303. Please have your Visa or Mastercard ready.
For further information contact Audrey Desbiens at 1-877-773-0303 or [email protected]
This special campaign will run until October 31st 2020.
Campaign proceeds
EACH YEAR, 25 000 CANADIANS ARE DIAGNOSED WITH DEMENTIA
The proceeds of this original campaign are essential to the development and maintenance of the range of free services offered to individuals and families living with dementia in our community. Amongst these services are: information, support, training, respite, and stimulation.
Your contribution helps us to offer help for today and hope for tomorrow.
Partners of the tournament and campaign
| | |
| --- | --- |
| DESJARDINS | DIAMOND partner |
| Mr. Robert Walsh | PLATINUM partner |
| Leahy Orchards Inc. | SILVER partner |
| COGECO | SILVER partner |
| Mr. Michel Poirier | BRONZE partner |
| Ronald C. Lister Canada Inc.           | BRONZE partner |
Organizing Committee
YVES LÉVEILLÉ - PRESIDENT
DON KEDDY - Leahy Orchards Inc.
MARCEL LARIVIÈRE
ANGÈLE MASSÉ
LÉO PELLETIER
FRANCINE PRUD'HOMME
ROBERT WALSH
TONYA THIBODEAU - Alzheimer Society Suroît
AUDREY DESBIENS - Alzheimer Society Suroît