Minds in Motion®
read
Combining physical activity and mental stimulation, Minds in Motion unfolds to laughter and chatter, with new friendships forming and stories being shared.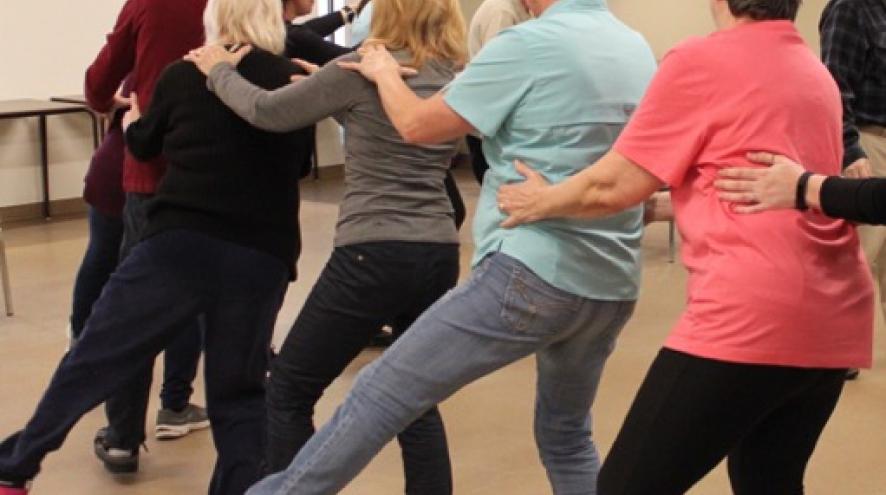 What is Minds in Motion
Minds in Motion is a program intended for people with early to mid-stage signs of Alzheimer's disease or other dementias and their care partners. Upon sign-up, participants will be asked a few questions to ensure the program is the right fit for them.
The participants
Minds in Motion participants have early to mid-stage signs of dementia and are accompanied by their care partners
In some circumstances individuals register on their own, please connect with the Society for more information on this option
Virtual Minds in Motion is currently free to all participants
The program
The program runs every Wednesday from 1:30-2:30pm via Zoom. The program offers:
Gentle and easy to follow physical activities
Fun social activities focused on building personal skills
Benefits of Minds in Motion
For the person with dementia:
Improved balance, mobility, flexibility, and alertness
Increased confidence, and comfort with their own circumstance
Mutual support from others facing similar experiences
For the care partners, it's an opportunity to focus on their own health, and have fun with their partner. Other benefits include:
Seeing the person they are caring for enjoying themselves
Mutual support and learning from other care partners
All participants can benefit from:
Sharpened mental functioning, sometimes lasting 2-3 days.
Increased sense of social participation
Pilot Findings:
Participants' endurance improved by 20% and strength by 15%.
Participants reported decreased social isolation and an increase in informal networks of support
79% of participants continue with physical and social programs after participating
Close to 100 volunteers and students have been trained and are active in program delivery
90% of staff, volunteers and students identified an increase in their dementia knowledge
Feedback from Participants
"I enjoyed participating in both the physical exercise and the social activities. It was wonderful meeting and getting to know all the participants. A great group! Overall, a great program. We both love coming. Leaders are excellent - always empathetic and great teachers." –Care Partner
"The people involved are most helpful. Pleasant and understanding- it's been a very worthwhile course." - Person with Dementia
"Both my Mom and Dad are transformed when they are at this simple yet effective program. Minds in Motion gives them a place to not only engage in physical activity but also develop a supportive social network with others in the group." Patrick T, Care partner
Join us!
To sign up as a participant pair, or for more information on registering or volunteering contact Kara Kruk ([email protected]). To reach Kara by phone, call (807) 345-9556.