World Alzheimer's Day Dementia Wellness Fair
Join us in recognizing World Alzheimer's Day at the September 21st Dementia Wellness Fair hosted by Memory Lane Home Living and the Alzheimer Society of York Region. There is no cost but pre-registration is required and seating is limited. Register today for great information and an informative key note address.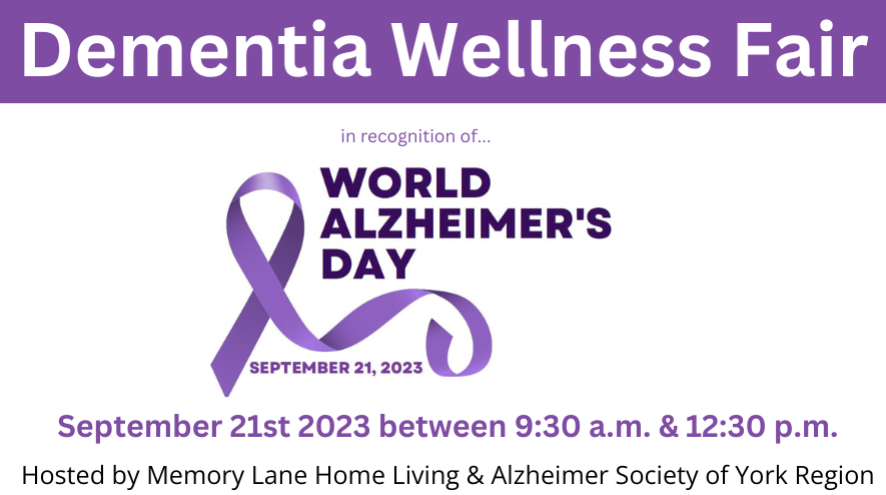 Memory Lane and the Alzheimer Society of York Region is pelased to announce a collaboration to mark World Alzheimer's Day on 
September 21st 2023 from 9:30am to 12:30. 

We are excited to host a Dementia Wellness Fair and provide invaluable resources to enhance the quality of life for those navigating a dementia diagnosis. 

We are also looking forward to our keynote speaker, Dan Cohen.  Dan, has a Masters in  Social Work, and is he subject of the Sundance Film Festival's award winning documentary film "Alive Inside". As a founder and current director of Right for Music, Mr. Cohen  has raised an awareness worldwide, regarding  the many benefits of music for dementia . As founder of  Music & Memory, Dan Cohen has trained over 5,000 care homes ,hospitals, hospices, and  day programs on large scale rollouts of  personal music. He has received a Public Service  Award from the American College of Health Care Administrators,  and the  Non-profit Leadership Award form the Harvard Club of New York.   

Limited Seating. This is a free event. Registration is required.
Held at 45 Crosby Ave., Richmond Hill (Yonge & Crosby)
call (905)237-1419 or visit https://forms.gle/uQNBwiWGa9huLxNx8 to register.