2022 Holiday Campaign
read
Help families like Lori and Randy Cliff know they are not alone.

"AS York has been such a major part of all our lives. I cannot imagine how we would have been able to navigate the dementia journey without the support of the incredibly kind and knowledgeable group at AS York. I have learned so much about the disease and we have been supported and continue to be supported at every step along the way."

Lori and Randy's daughter, Theresa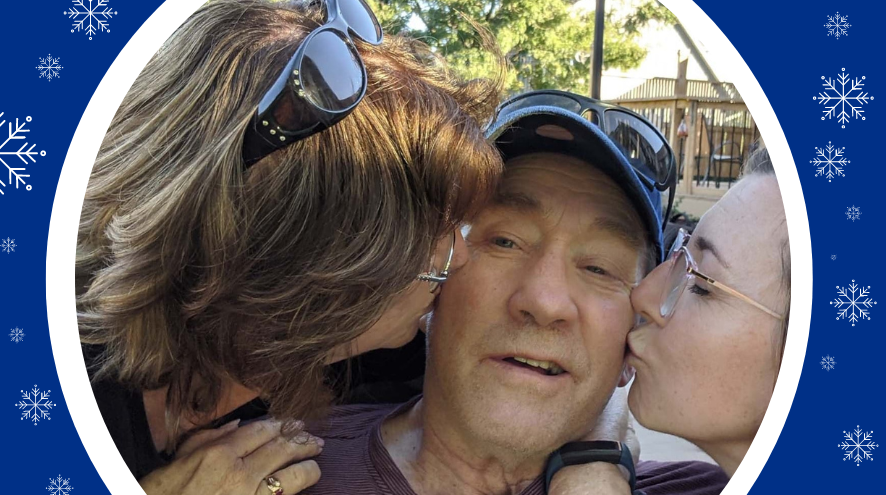 Randy Cliff has a personality like no other. His friends and family tell endless stories of his humour, boundless energy, and zest for life.
"My dad was always a big kid. You could find him outside playing in the snow or down on the floor with us when we were little. He played all kinds of sports and would drop anything he was doing to throw the football around or join in on a game of road hockey," says Randy's daughter Theresa.
Six years ago, the family started to notice Randy was no longer interested in the things he once loved. He had lost his zest for life. Shortly after his 60th birthday, the Stouffville resident was diagnosed with Frontotemporal dementia (FTD).
Dementia is a general term that does not refer to a specific disease, but rather a set of symptoms affecting brain functions. One of the most common forms of the disorder is Alzheimer's disease, but there are others, like FTD.
All forms of dementia are fatal. There is no cure.
But there is hope. Those living with dementia can still live well if they and the people who care for them, are supported.
The Alzheimer Society of York Region (AS York) provides this critical support at every stage of the dementia journey. Staff offer valuable information, programs and services, referrals to outside services and support; healthcare navigation; education; counselling; support groups and D.A.Y. programs.
When you partner with AS York by making a gift, you let Randy, his family and others impacted by dementia know that you care and they are never alone.
Early on Randy's dementia journey, his wife Lori connected with AS York. Last year, when we first introduced you to Randy, Lori shared the essential role AS York programs played in her evolution as a caregiver. One of the first things Lori did was join the AS York spouses caregiver support group. It was here that she met a group of other York Region residents going through similar experiences. This group meets monthly to share information on caring for partners diagnosed with Alzheimer's disease and other dementias.
"You learn a lot more about the disease through these groups than you would with any traditional research. You hear real stories direct from those who are living it. It's incredibly valuable in helping me get through my days and prepare for what's ahead. Hemal, our host, was always quick to offer specific suggestions and support for the challenges we face as caregivers," says Randy's wife Lori.
Your gift will help fund these crucial support programs and services just like those Lori depends on.

One in five Canadians aged 15 years and older have experience caring for a loved one with dementia. And those caring for someone with Alzheimer's disease or other dementias spend 75 per cent more care hours than those looking after someone with other long-term conditions.
AS York runs over 20 different support groups in multiple languages for those living with or caring for someone with dementia. Getting a diagnosis of dementia can be overwhelming but the support offered through AS York makes the dementia journey a bit easier.
Randy has also attended the AS York D.A.Y. program in both Aurora and Stouffville. During the later months of COVID, Randy enjoyed visits from a recreational therapist who delivered AS York's D.A.Y. program at home.
The Alzheimer Society of York Region has been providing quality dementia-specific adult D.A.Y. centre services since 1985. The program offers social stimulation for a person diagnosed with dementia and respite for caregivers. Currently, in-person programs run in Stouffville, Thornhill and Aurora.
Randy no longer attends the in-person D.A.Y. program. Since we last brought you his story, he has continued to decline and earlier this year, Randy moved out of his home of 35 years.
"His loss of mobility made it increasingly challenging to continue to care for him at home. He's not a small guy and even with supportive equipment, I was struggling physically," says Lori.
Thankfully, Randy's new long-term care home provides daily activities and keeps his mind active. While AS York staff understand that Randy has reached a new phase of his dementia journey, they will miss his energy and happy personality. They have likewise developed a close relationship with Lori.
"I am so glad that Randy got to spend the time he did at the AS York program. The staff at both the Aurora and Stouffville location were so warm and comforting. They alleviated any anxiety I was feeling about leaving my loved one under someone else's care," says Lori.
AS York is committed to offering programs and support at every stage of the dementia journey including helping caregivers like Lori transition their loved ones to long-term care and supporting their changing role as caregiver.
AS York offers an education workshop for caregivers navigating later stages of dementia as well as a series for those contemplating options for care. There is also a new support group for those with someone in long-term care.
Lori participates in a new book club designed to make space for caregivers to practice self care and the family has participated in the IG Wealth Walk for Alzheimer's for four years running under the team name "Who Loves Ya Baby," a saying that Randy used to use frequently before his diagnosis.
It is because of your generous support in the past that we continue to be here for Randy, Lori and families like theirs.
"AS York has been such a major part of all our lives. I cannot imagine how we would have been able to navigate the dementia journey without the support of the incredibly kind and knowledgeable group at AS York. I have learned so much about the disease and we have been supported and continue to be supported at every step along the way," says Randy's daughter Theresa.
You can help ensure our community continues to receive dementia-specific programs and services in-person, over the phone, as well as through virtual platforms. This includes small support groups, one-on-one meetings with caregivers, D.A.Y. programs, public education, and workshops.

Please renew your commitment today.
Together, we can show Randy, Lori, their family, and the thousands of other York Region families impacted by dementia, they are not alone on this journey.