Hearts Linked by Courage book
Hearts Linked by Courage Honouring Loved Ones and Caregivers on the Dementia Journey is a collection of stories by York Region residents impacted by dementia and is now available to purchase (book arrives Dec. 3). Thank you to the Carswell Family Foundation for making this book a possibility.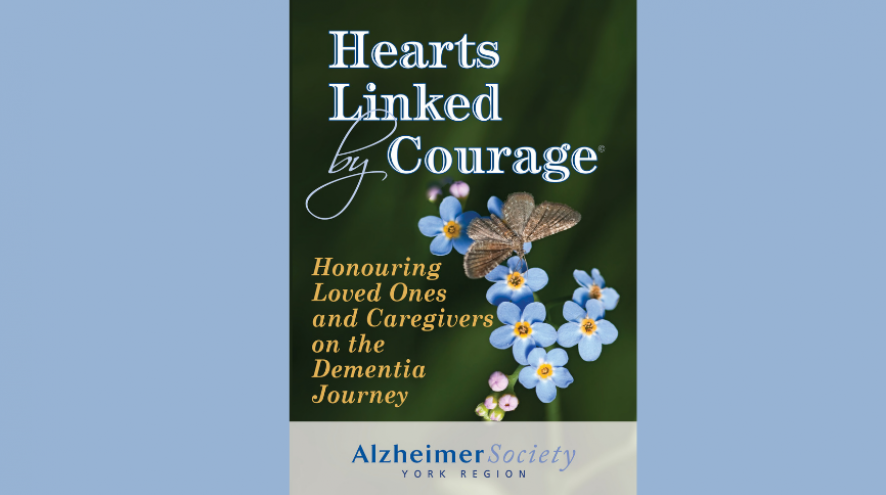 To purchase Hearts Linked by Courage for $26.00 (including shipping and handling) please contact the Alzheimer Society of York Region at [email protected] or (905) 726-3477.
Watch our book trailer and read about our authors. Click on the virtual book launch link to see more.
Mike Albani is the author of The Thief. His wife, Cheryl, lives with young-onset dementia. "My advice to anyone that finds themselves as a caregiver to someone with dementia would be to become an advocate for both yourself and the person suffering directly. Both of you suffer. There are many social, community and government agencies that can offer help, but, be outspoken, be demanding of what help you need. Above all, find serenity. The person you love is still with you, just different."
Laura Barone is the author of From a Caterpillar to a Butterfly. She looks after her dad who lives with dementia.
Natalie Smith Bonadie is the author of The World Needs More Superheroes, honouring her stepfather who cared for her mom, who lived with Alzheimer's disease.
Kathryn Britten is the author of The Love of My Life. Kathryn cared for her husband, Bob, who lived with dementia.
"After a few years of suspecting than his forgetfulness and a tendency to get lost, or an inability to follow a story line might mean he had the beginnings of dementia, my fears were confirmed in 2012. He was only 64. My heart was broken. I believe, even up to his last days, when my name was long forgotten, he always recognized my face, gave me a smile when he saw me and felt loved."
Anne Campbell and Stephen Reynolds are the authors of Rule Number One. The brother and a sister care for their mom, who is living with dementia
"The first (and hardest) thing to do is to accept the diagnosis," Anne said. "No one likes to hear it. Then find the help and support to get everyone through the journey. Love the person unconditionally and learn to step into their world instead of trying (unsuccessfully) to keep them in ours."
Dr. Allan Carswell is the author of My Alzheimer Caregiver Stages. Dr. Carswell cares for his wife Helen, who lives with Alzheimer's disease. He has written two other books with I C Publishing including Our Lingering Farewell and Memories of the Real Helen Carswell. The Carswell Family Foundation funded the publication of this book.
Reshmi Chetram-Dave is the author of Love on Loop. Her mom lived with frontotemporal dementia. Even in the darkest days of this journey, there was much light because we never lost her smile. Here was my mother still teaching me valuable lessons that would forever shape who I am, right up until the day she left us. This story was written to give those in similar situations a glimpse into our lives, to hopefully spark a feeling of support, being understood and belonging during a time that can feel very isolating.
Lori Cliff is the author of His Spark of Life. Her husband, Randy, lives with Frontotemporal Dementia (FTD). Her advice is to seek help and speak out.
"I can only hope that people living as a caregiver to their family member listen to others' stories and share their own. It is like therapy when someone else is speaking your words."
Jean Cooper is the author of It Takes a Village. Her husband, Tom, lives with young-onset dementia. Jean said she shares Tom's journey with Alzheimer's to show people they are not alone.
"Good people will take your hand and walk along the path with you. They are an army of angels that will educate, guide, advise, listen and befriend you. With their help you will make it. l promise."
Jennifer Dance is the author of Firsts and Lasts. She is the caregiver of her husband, Feroze, who lives with Alzheimer's disease.
Carolyn Ellerby is the author of His Eyes. She cared for her husband who lived with dementia.
Diane Falconer is the author of From Denial to Compassion. Diane helped care for both her mom and dad, who lived with dementia.
"Just know that you are not alone.  Sometimes you may have to reach out for help. When you are needing it the most, you may feel that no one cares, but rest assured help will always be there. Just don't forget, hug your loved ones as much as you possibly can."
Lorraine Hackenbrook is the author of Memories. Lorraine is the caregiver of her husband, Ken, who lives with dementia.
"The most important thing I had to concentrate on was patience as it is a prime requisite. Remember the love!"
Dr. Anisa Jeewa is the author of My Cheerleader. She helps care for her dad who lives with dementia.
Jane Kennedy is the author of Even The Ordinary Can Be Special. Jane cares for her mom who lives with Alzheimer's disease. Jane hopes to raise awareness about Alzheimer's disease by sharing her story about the challenges of living with her mom and how it has impacted her life and her family. 
Jacque Newman is the author of No Words Needed. Her mom lives with dementia.
Wendy Poole is the author of That Last Morning. She cared for her mom who lived with Alzheimer's disease.
Bruce Rhodes is the author of Preparing for My Future with a Journey into the Past. Bruce's wife lived with young-onset dementia.
Susan Sanmiya is the author of My Three Elders. Susan cared for her parents and her friend.
Jennifer Smith is the author of Save the Last Dance for Me. She was a caregiver to her mom who had Alzheimer's disease.
"Something I learned and still firmly believe, is that whether an elderly person has Alzheimer's or not, being treated with dignity and love is so important. It is easy to become frustrated with the sad situation that your loved one is in, but what he or she really needs is a hug, companionship, words of encouragement, patience and understanding."
Deb Jay Thomas, the author of My Mom as a Ruby, is a retired occupational therapist. Faced with learning how best to support her mother, who was diagnosed with late-onset dementia and moved into a long-term care home, Deb found the profoundly powerful Positive Approach to Care® to resonate with her life's work. "People need information and education on what dementia is, how it impacts the person diagnosed with it, and how to continue their meaningful connection with the person as dementia progresses."
Dr. Nick Voudouris is the author of Game Time. Dr. Voudouris cares for people living with dementia.
Cynthia Wallbank is the author of Are You My Mother? She helps care for her mom, Shirley, who lives with dementia.
"I would want to let people know that the journey is long but not fruitless. There is the loss, but there are also the discoveries along the route. Discoveries of who one's loved one still is inside, and also the discoveries of one's own hidden strengths and abilities."