COVID-19, social isolation and dementia
York Region
Joyce Thompson was an outgoing person who loved to help people and feel useful. But because of the restrictions due to COVID-19 and the social isolation she has endured since March, her daughter Kerri said her mom's cognitive decline is great. Joyce lives with Alzheimer's disease.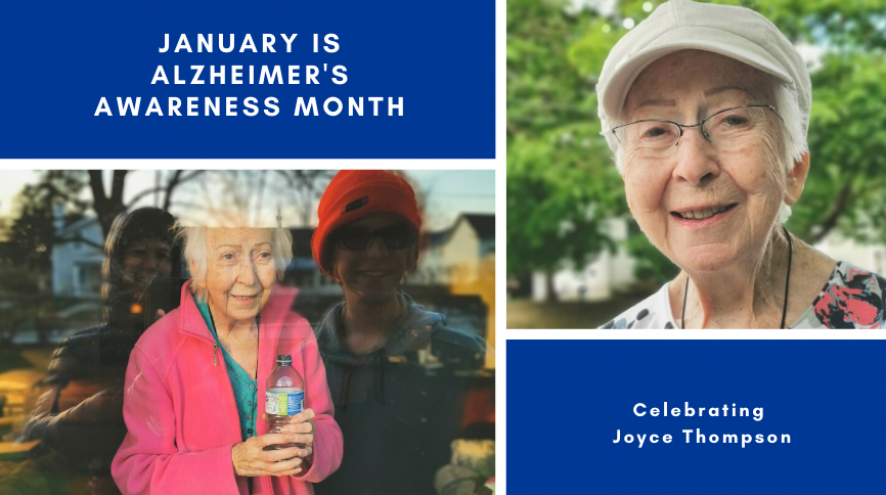 Aurora resident Kerri Thompson blames the cognitive decline of her mom, Joyce Thompson, who lives with Alzheimer's disease, on the back of COVID-19. 
"She has just lost so much at this time," Thompson said. "She can't go to the Alzheimer (Society of York Region's) DAY program. The DAY program really stimulates her and feeds her soul. She is older. Who needs to experience this at her age? It's very, very sad." 
While Thompson knew her mom was living with Alzheimer's disease, it wasn't until she had surgery for a twisted bowel about 18 months ago that it became a problem. Up until the surgery, Joyce was living in her home two hours away from Thompson, delivering Meals on Wheels to "seniors (of which she would have told you she was not one of them, Thompson said with a laugh"), going out with friends, volunteering at a retirement home, shopping and doing all the other things she loves. 
From her learning about Alzheimer's Thompson knew that a medical trauma, the surgery, could expedite her mom's decline, but still the person who came out of the surgery was not the person who went in: her mom now needed help with everything – getting dressed and eating. She didn't know if she  had eaten or not. She certainly wasn't moving back into her own home. Instead, Thompson moved her into an assisted living retirement home in Aurora where she could get the help she needed. 
She also registered her to attend the AS York's DAY program in Aurora six days a week. Joyce liked sitting at the table and having cookies and coffee, Thompson said.  The stimulation and fun she had at the program kept her mom happy in her new world. "Always someone who loved to help others, Joyce wanted to help. She loved it when (staff) gave her a job or to look after something."  
The people there – both the fellow participants and the staff – moved at her speed, "Alzheimer's speed." The DAY program provides social and cognitive stimulation to people living with dementia by providing opportunities to connect with others living with the disease and participating in programming such as music, dance, art and more. 
"She had busy days, doing things, useful things that makes a person feel vital." 
Then COVID-19 hit and AS York's DAY programs were temporarily shut down and residents at Joyce's retirement home had to stay in their rooms and were unable to participate in activities and at times if an outbreak, could not even go to the dining room for meals. 
"I get what they (government) are doing, but do they know what the side affects are?" Thompson asks. "It's done from a place of fear to keep (seniors) safe. They are the oldest of the old. COVID will be a painful death, but…to never see another live human being?" 
Thompson said her mom had a full life and the fact this might be the way it ends in social isolation breaks her heart. 
"This is just a sad ending. Alzheimer's is bad, but COVID Alzheimer's is just insulting. I would rather she had gone out with a bang than this." 
When a COVID outbreak, her mom isn't allowed to leave her room, but as she has Alzheimer's and can't' remember the rules, she often leaving her room to visit her friend across the hall.  "It's a very challenging time on everyone." 
Thompson said her mom went from seeing and being with people every day to only seeing the person who delivered her meals and her medications three times a day. But then people are coming in wearing full PPE – masks, face shields, gloves and gowns.  
See it from her mom's perspective, Thompson said.  
"Seeing a person is a relative term. She is not able to associate (the gowned and masked person) to a person with a voice and touch. She is being touched by latex." 
While Thompson is considered an essential caregiver, able to see her mom even during COVID breakouts, which happened just before Christmas, they have to physical distance and wear a mask and full PPE. 
"Alzheimer's a good thing because there is always distraction. She starts processing, 'Why isn't Kerri hugging me' and I distract her with something else. It's hard for me because it's not authentic."  
She said she is also aware that the visit she is having may be the last one. 
"Every goodbye is a real goodbye." 
Joyce Thompson was born in Montreal as were both Thompson and her sister, Tracy, who now lives in the U.S. The family were raised in Belleville transferring there through her dad's, dad Ken Thompson's work. He was with Northern Electric/Nortel. Ken Thompson died 20 years ago from a heart attack. 
Joyce Thompson had a career with Bell Telephone. She was the first female manager in Canada in the 1950s. She retired when she had Thompson. After Thompson and her sister were older, Joyce worked at Sears in the office "she was always a great numbers person", retiring after 25 years. For her mom, "it was all about people and relationships." 
It was those relationships that kept her going after the death of her husband. She would connect with her friends to chat or go shopping. 
"She was a shopper," said Thompson who remembered her mom would be the one to find anything they – or anyone else - was looking for. "She was always going out and about in her car." 
She was a knitter and did ceramics. She volunteered in the tuck shop at a seniors retirement home.  And she was always on the phone talking and laughing. 
Thompson said her mom can no longer carry on long conversations, although she is appreciative of the fact her mom's friends continue to call. 
"The conversation is now short, five minutes, considering they used to be 45 minutes of laughter. Alzheimer's is hard because its hard keeping up socially in the same way." 
Thompson said even in assisted living, her mom is attracted to people who are in the same cognitive position as herself and is often left out by people who "move at too fast of a speed for her. It's fascinating and heartbreaking to watch." 
Her mom's decline has also been hard on Thompson's son Jake Cowden, who has always been close to his grandmother, going to her house to eat and talk about their days. 
Last year, Jake hosted a fundraiser for AS York to raise money for programs and services that have helped his family. 
Jake, Thompson said, is trying to get his racing career going. A racer in the U.S.'s cause is Alzheimer's and Jake thought he could do that as well.  
Each time he raced and made it to the podium, his family donated $100 to his fundraiser. He also spoke at his events, raising funds and awareness about the Alzheimer Society of York Region as well as people impacted by this fatal disease. The go-karting community was very generous in their support of this cause.
Jake plans to host another fundraiser for AS York. Thompson said she is proud of her son for the courage it took to speak in front of people and to help friends and family who may also be impacted by the disease to find a connection to AS York. 
Thompson, who uses the services AS York for learning programs and their support group, said caregivers need to reach out to AS York to learn about the disease and how to navigate through it. 
AS York is "super helpful in navigating things and getting through this journey as graceful as possible for everybody in it. (AS York) offers someone to talk to. The weight is lifted off your shoulders." 
Thompson said not only does AS York help caregivers, they also help the person living with the disease through programs such as music, DAY programs and now the virtual DAY Centre, which offers activities and programs based around a theme and emailed to people Monday to Friday.  
AS York also helps people navigate through the government and provincial systems, which saves a lot of time going down dead ends.  
"The best thing for me is I am not alone." 
January is Alzheimer's Awareness Month.
The Alzheimer Society of York Region is here to help. Email First Link Navigator, Sara MacLean, at [email protected] for information and support.