Alzheimer Society of Canada invites you to a Webinar: Finances and Dementia – Advice for the Journey
Canada
Thu, May 5, 1:00 pm - 2:00 pm (Eastern)
Presented in partnership with IG Wealth Management. More than 600,000 Canadians are living with dementia today, a number projected to double in less than 10 years. The impact doesn't stop there, because 1 in 5 Canadians have experience caring for someone with dementia.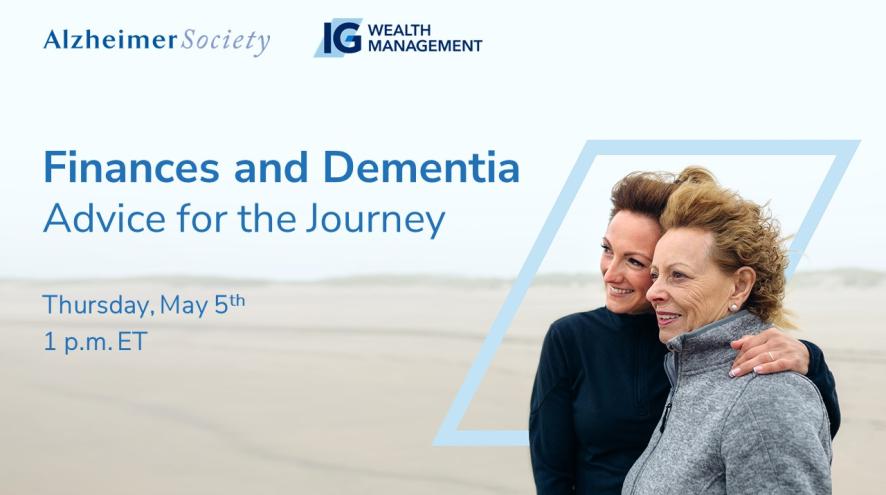 About
IG Wealth Management is a proud partner of the Alzheimer Society and as part of their IG Empower Your Tomorrow community program, they are committed to increasing the financial confidence of all Canadians. The seniors, parents and grandparents of our communities often face unique financial challenges that come with age. For those facing journey with dementia, the need for advice has never been greater.
According to Christine Van Cauwenberghe, Head of Financial Planning at IG Wealth Management and author of Wealth Planning Strategies for Canadians, "I've been involved in many files where clients are starting to struggle with making financial decisions and it can be difficult for both the client and their family to navigate. Even a little planning in advance can help to reduce the stress."
Gain valuable insight for the journey
Christine from IG will be co-presenting with Dr. Saskia Sivananthan, Chief Research & Knowledge Translation Officer of The Alzheimer Society of Canada. Together, they will provide:
Tips and tools for wealth planning for aging individuals
Advice for caregivers and people living with dementia
Tax considerations and resources available for Canadians
Dr. Saskia Sivananthan commented,"In the face of one of the most challenging health issues of our times, we are proud to partner with an organization that shares our commitment to making a difference in the lives of Canadians living with dementia."
Webinar registrants will all have access to the playback of the event and a resource toolkit that includes a financial confidence checklist for people living with dementia and caregivers, a Power of Attorney guide, and information and resources from the Alzheimer Society.
Host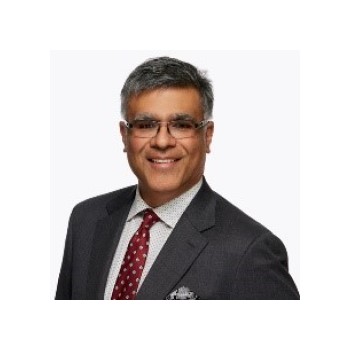 With over 30 years of business development, critical thinking and wealth management experience, Vas Pachapurkar brings an innate ability to communicate and connect ideas, tactics, strategies and philosophies through his experience as a Consultant, Field Director, MFDA Panelist and member of the National Distribution Leadership team. Vas is a proud graduate of Wilfred Laurier University and holds his RRC and CFP designations. Prior to IG Wealth Management, Vas worked with PricewaterhouseCoopers and Dresdner Bank AG.
Within his community, Vas has worked with the Make-a-Wish Foundation, the Herb Carnegie Foundation and Tour for Kids in partnership with Coast to Coast Against Cancer. Vas is also a driving force behind the IG Wealth Management Walk for Memories in support of the Alzheimer Society of Toronto. Vas and his family reside in Toronto, Ontario.
Featured speakers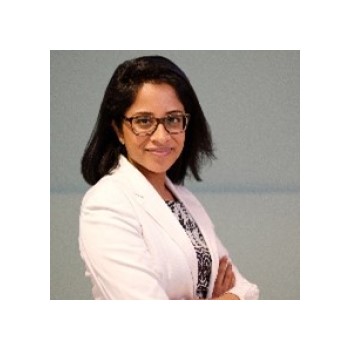 Dr. Saskia Sivananthan, an international strategy and policy advisor on dementia care, is the Chief Research and KTE Officer at the Alzheimer Society of Canada, a leading not-for-profit health organization working nationwide to improve the quality of life for Canadians affected, and to advance the search for a cause and cure. She oversees the Alzheimer Society Research Program, a dementia research priority setting leader and the only research funder who engages people living with dementia in all aspects of research. She is co-lead for the inaugural nonpharmacological interventions working group of the Canadian Consensus Guidelines on Dementia, which developed the first national recommendations on psychosocial interventions for the management and treatment of dementia.
Previously, Dr. Sivananthan served as a senior strategy and policy advisor consulting for the World Health Organization (WHO) on its overall global dementia strategy. Dr. Sivananthan co-drafted the WHO's Global Action Plan on the Public Health Response to Dementia which was unanimously adopted at the 170th World Health Assembly by all 194 member-states. It identifies key priorities and tangible actions for countries to transform their health systems and frames the agenda for globalcollaboration. She and her team were also responsible for the architecture of the WHO Global Dementia Observatory, an online platform for collating data to support countries to develop evidence-based policies in dementia and monitor progress toward targets outlined in the Global Dementia Action Plan.
Dr. Sivananthan is a neuroscientist and health data scientist who uses population-level data to understand aging. She works in health system development and with governments on health services, policy and strategies to improve health for older adults with complex needs and those living with dementia.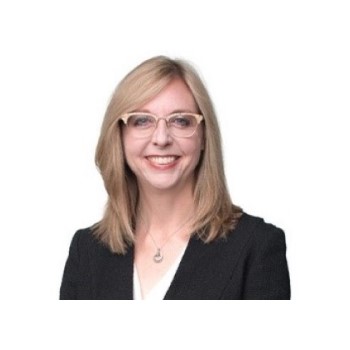 Christine Van Cauwenberghe is the Head of the Financial Planning Division of IG Wealth Management. Christine obtained both her Commerce and Law degree from the University of Manitoba prior to being called to the Bar in both Manitoba (1995) and Ontario (2004). Christine spent several years practicing tax law with a large law firm in Winnipeg prior to joining IG Wealth Management in 2001.
Christine is a member of the Canadian Tax Foundation, has her Certified Financial Planner designation, is a Registered Retirement Consultant and is a Trust & Estate Practitioner, as certified by the Society of Trust and Estate Practitioners ("STEP"). She has previously served on the board of STEP Canada and is a recipient of a STEP Founder's Award.
Christine is also the author of Wealth Planning Strategies for Canadians, which is published annually by Thomson Carswell and is currently in its 15th edition. She has published several industry papers, including with the Canadian Tax Foundation, the Canadian Association of Life Underwriters, the Law Society of Manitoba and the Estates, Trusts and Pension Journal. Christine has given lectures to numerous professional groups and is a regular media spokesperson for IG Wealth Management. Christine lives in Winnipeg with her husband and son.