On becoming a caregiver for your father in your 20s
read
Ngozi is the primary caregiver for her father, Felix, who was diagnosed with dementia in 2008. At diagnosis, Ngozi was in her 20s and working on her master's degree. As a young caregiver, she's faced unique challenges. This is her story.
Did you know? Statistics Canada has estimated that one in four Canadians aged 15 to 29 has provided care to a family member or friend.
That's around 2 million people in Canada. And Ngozi Iroanyah is one of them.
Ngozi is the primary caregiver for her father, Felix, who is living with Alzheimer's disease. Here, in this article, and in the video above, she talks more about her experiences.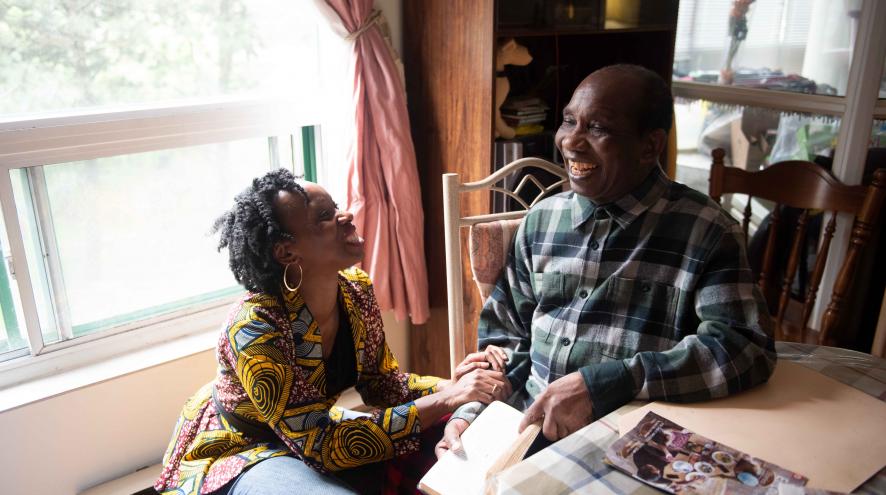 "When my father was diagnosed, I was 28," Ngozi recalls. "And you know, at the time my friend's parents were not going through age-related health issues…no one else had gone through that. That was a very isolating experience."
Eventually, Ngozi did share more with friends about her experiences in caregiving. She also reached out to support groups at the Alzheimer Society of Canada.
"Some people think dementia is individual…but it operates at a community level," Ngozi observes. "When someone has dementia, a lot of people get affected by it."
"They say it takes a village to raise a child. It also takes a village to love someone through the dementia journey."
Growing perspectives
In 2021, Ngozi became Community and Diversity Partnership Manager at the Alzheimer Society of Canada.
Now, in that capacity, she is helping to launch a BIPOC research program across the country and do other meaningful equity work in the dementia space. She brings an intersectional lens to the situation of racially and culturally diverse seniors, their carers and communities who live with dementia.
"We have an aging population that is more culturally, ethnically diverse and racially diverse—are we prepared in Canada?," Ngozi commented to CBC News in March 2022. "We see that our younger population is not increasing as plentiful, so who is going to be taking care of these older populations?"
She added: "We need statistics, we need data and numbers to be able to understand what is happening, to be able to understand what these experiences are, and to be able to understand what the need is."
Reflecting on past and future
As Ngozi continues in the world of research, policy and community professionally, she also continues to be primary caregiver for Felix—and she continues to reflect on what that experience of caregiving in her twenties and thirties has brought.
And amid difficult moments, there have also been other kinds of changes.
"For me, I did find a strength and a resilience," Ngozi says. "I found a compassion that I didn't know was there. A compassion for life, for people, for peoples in struggle, for my family members. I found a compassion just for this whole process."
One notion Ngozi continues to challenge is the idea that only older people get dementia—and that only older people are caregivers.
"My father was diagnosed in his sixties, and so [dementia] affects people at any time of their lives," Ngozi says. "People think of dementia, 'Oh, you know, it's for grandma and grandpa when they're in their eighties and nineties.' No, it's not. And the people that are affected by it are also not [only] in later stages of life."
"So for me, it's important to be more proactive than reactive when it comes to dementia and dementia care."
To learn more about Ngozi's experiences, watch the video at the top of this article or on the Alzheimer Society of Canada YouTube channel.