What does the Charter mean to Roger?
Roger Marple resides in Alberta. He lives with dementia. Roger, an advocate for dementia awareness, is a member of the Advisory Group that created the Canadian Charter of Rights for People with Dementia. He was also one of the faces of Alzheimer's Awareness Month this past January. Read what Roger thinks about the Charter below: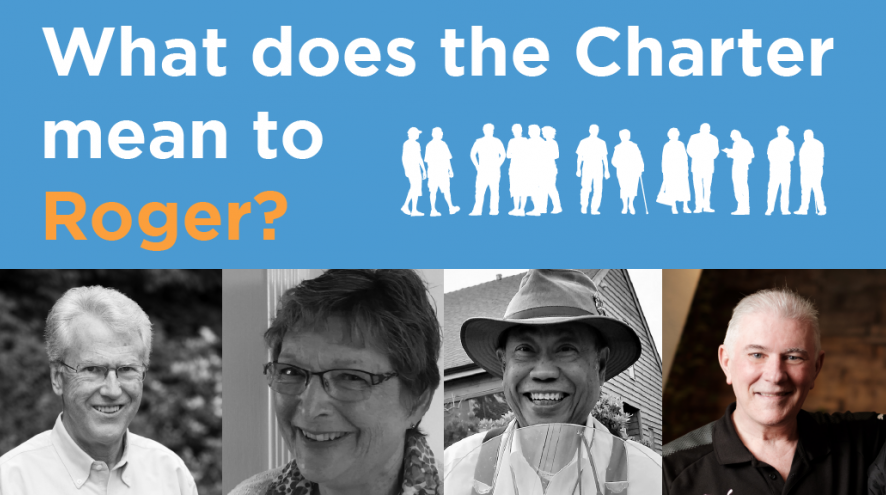 Our Constitution is the supreme law of Canada. Our Charter of Rights and Freedoms is a part of that constitution, thus making it the most important law we have in Canada. The rights and freedoms we enjoy aren't often given a second thought, due to our different levels of government respecting our Charter. This is the framework that our government works within, and the standards that we live by, day in and day out.
But what happens if your rights have been violated in some way? Would you know about the complaint and appeal procedures you're entitled to when your rights aren't being protected or respected?
Our Canadian Charter of Rights for People with Dementia exists within the framework of the Charter of Rights and Freedoms that we enjoy. This gives pause for thought. How does our Charter of Rights apply to people living with dementia as well as our loved ones, who live with this disease as much as we do?
I want to give you an example of how having the Canadian Charter of Rights for People with Dementia in our lives helps me recognize the subtle ways in which our rights can be violated.
A friend invited me to an event in our city called a "PechaKucha." If you haven't heard of this, it's when members of a community gather to share stories in their lives with others. They could be about a clean water project in Haiti they are involved with, or someone sharing a tour they experienced in different parts of the world. If you haven't been to one yet, I'd highly recommend it.
At the PechaKucha I attended, a young woman presented the "Cyber Seniors" program in my city. This program matches seniors in our community with young people to teach them internet skills such as using email. Impressed, I thought about how my local Alzheimer Society was always looking for more opportunities to enhance people's journeys with dementia, helping them get the most out of living well with this disease for as long as possible.
During a break, I approached the woman and praised her for this wonderful program. I told her that I'd love to introduce her to our local Alzheimer Society staff to discuss how this program could benefit people with dementia in our community. The young woman's reply was prompt.
"We do not offer this program to people with dementia," she said. I asked, why not? In response, she told me that dementia is a progressive disease and people with dementia would not be able to benefit from this.
If you could've seen me at this moment, you would've seen the hurt and disappointment in my eyes and, I must admit, a twinge of anger. Not wishing to show these emotions, I took a few deep breaths before looking at her and responding.
"There are a thousand faces to dementia," I said. "We need to recognize all the faces of dementia, not just the later stages of this disease when people with dementia are no longer able to learn." I told her of the many people I knew who were in the functional stages of this disease and who would benefit from the Cyber Seniors program in a big way.
Then it came. "We all have the right to learn regardless of an illness, race or other unfair reasons," I stated. This was something that I had remembered from the Charter. I told her that I myself have Alzheimer's, and how disappointed I was by her response.
From there, the woman explained that the program had a hard time keeping up with young people to match with seniors and so they were very busy. Though she kept emphasizing how busy they were, it sounded like a cop out to me. In my eyes, they wouldn't be at the PechaKucha promoting this program to the community if they were too busy to offer it in the first place.
My point with this example is the following: what do human rights look like to you? We live in one of the best countries in the world. Canadians are often envied worldwide for the great standard of living that we enjoy every day. With the Charter, we can ensure that Canadians with dementia can enjoy that standard of living too, without their rights being violated.
If you're a person with dementia and can't think of an example in your life where your rights have been violated, I say right on. That's the way it most certainly should be. Such has been the case for the better part of my life with dementia, and I hope that continues for you.
If you're a person with dementia and feel that your rights have been violated, whatever way that may look like, I encourage you to explore more to ensure that is indeed the case, and if true, use the Charter to exercise your rights for a fair outcome.
We, as citizens in this great country, have a responsibility to live within and uphold this framework for rights that we hold so dear to our hearts as Canadians.
Read more about the Canadian Charter of Rights for People with Dementia, and how it helps people like Roger.