Strategies for supporting brain health - A free, virtual public conference
Canada
Wed, Jan 20, 6:00 pm - 7:15 pm (Eastern)
An opportunity to learn more and get valuable tips for maintaining a healthy brain!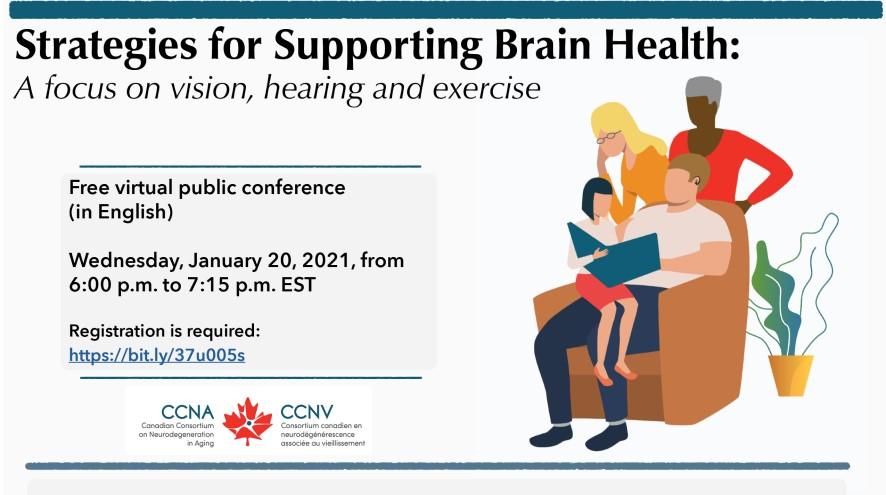 My resolution for 2021: Keep my brain healthy
Have you decided to do more to keep your brain healthy for the New Year? That's a very good idea! However, you may still have questions about where to start and what can be done to maintain a healthy brain. We have many suggestions for you, starting with a few basic strategies to include in your daily activities.
During the Alzheimer's Disease Awareness Month, the Canadian Consortium for Neurodegeneration in Aging (CCNA) will present Strategies for Supporting Brain Health: a focus on vision, hearing and exercise, a free, virtual public event on January 20, 2021, from 6:00 p.m. to 7:15 p.m. This event will be an opportunity to learn more and get valuable tips for maintaining a healthy brain. Two researchers will take you through the latest knowledge in their fields of activity and give you strategies, tips and tricks to keep your brain healthy. The evening will be hosted by Dr. Serge Gauthier, neurologist and clinical researcher at the Douglas Hospital.
Invited researchers
Natalie Phillips, PhD, Professor at Concordia University (Department of Psychology), Research Chair (Tier 1) in Sensory-Cognitive Health in Aging and Dementia, Associate Scientific Director, and Co-Lead of the Interventions at the Sensory and Cognitive Interface Research Team at CCNA. The team's research focuses on the role of sensory function (hearing, vision, and olfaction) in older adults who live with, or are at risk of developing, dementia. Sensory difficulties are common in older adults and have important implications for their cognitive function, brain function, and everyday activities. This team studies the interaction between sensory loss and cognitive function – that is the challenges this presents for cognitive assessment and early detection of dementia, as well as the implications for quality of life (including communication and interaction with others). .
Manuel Montero-Odasso, MD, PhD, FRCPC, AGSF, FGSA, Professor in the Departments of Medicine, and Epidemiology and Biostatistics at University of Western Ontario, Director of the "Gait & Brain Lab" at Parkwood Institute, a geriatrician and clinician-scientist at the Lawson Health Research Institute and co-lead of team Mobility, Exercise and Cognition (MEC). The MEC team focuses on the relationship between physical activity, motor performance, and cognitive decline related to aging and neurodegeneration. Throughout the aging process, motor and cognitive decline often interact because of the common brain networks they share. Aging-associated or disease-driven changes damage these brain networks. This, in turn, affects motor learning and control, memory, executive function, and gait and balance. More importantly, motor and cognitive decline are key risk factors for dementia, falls, fractures, and future aging-related disabilities. Specifically, the MEC team is studying the interaction and expression of cognitive and motor decline during the course of neurodegenerative diseases.
More details 
A discussion period will follow the presentations. Participants will be invited to ask questions about the presentations, maintaining brain health, and reducing the risk of cognitive decline and dementia prevention.
The virtual event will take place on ZOOM. Although the event is free, registration is required as space is limited. To register, please click here. Please note that this event will be held in English and that an automated captioning service will be offered. An evening of presentations in French is available on January 21, 2021, details here.
We hope you will join us for this public event designed specifically for you. Spread the invitation to your family and friends!
Program
6:00 p.m. to 6:40 p.m.: Presentations
6:40 p.m. to 7:10 p.m.: Question period
7:10 p.m. to 7:15 p.m.: Closing Statement
Registration is required.
Poster