I can tell you firsthand, your support really does make a difference.
Canada
read
If you or someone you care about has been diagnosed with Alzheimer's disease or dementia, I have three words of advice: Don't give up! Find joy in the things you or your loved one can still do. Find joy in being alive.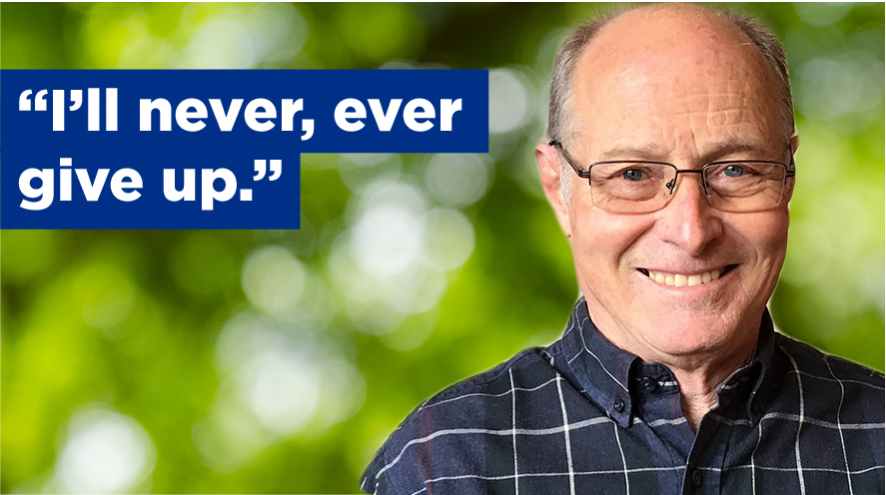 When I was diagnosed with Alzheimer's disease about eight years ago, it was definitely a shocker, but it also explained a lot. I had been having memory lapses and sometimes I'd notice people's eyebrows go up when I was talking. "Am I repeating myself?" I'd ask.
Learning you have a life-altering disease isn't easy to hear. But I figured I had two choices. Go into a dark place or make the most of my life while I still could.
One of the first things I did was tell people. I wanted friends and neighbours to know that if I forgot their names or struggled to find the right words that there was a reason for it. Plus, I think that talking about dementia can help reduce the stigma around it. I also did what I could to prepare myself. My wife Judy and I attended all sorts of Alzheimer Society information sessions. The way we see it, once you've made sure everything is in order (for example, Wills and directives are taken care of), you can get on with enjoying life.
Something else that has been really helpful for me is attending Alzheimer Society support groups. We used to meet in person, which I loved, but now because of the pandemic we meet on Zoom. As soon as we connect, I'm all smiles!
If you've donated to the Alzheimer Society, thank you. Your support helps make their in-person and online programs possible. I sure hope you'll keep making donations or even become a monthly donor if you're able. The programs and services you support are vitally important to people living with dementia and our care partners too.
The people at the Alzheimer Society in Winnipeg, where I live, have been truly wonderful. I would definitely recommend that you connect with your local Society. Judy and I realized early on, there's no sense blundering along on our own when support is available.
At one of our Alzheimer Society meetings, they talked about how keeping your body and mind active could potentially help slow the progression of the disease. So, every day, I do puzzles and crosswords, read the newspaper, and take long walks with my dog. In the winter I shovel the whole city block! My neighbours don't seem to mind.
I also cycle every day. In the beginning, it made Judy nervous, but like I said to her, "I'd rather go out doing something I love than sitting in a chair and having you hover over me." Judy soon discovered that cycling gives me some independence and it gives her a bit of a break. We take precautions of course — I tell Judy which route I'm taking, and I carry my cell phone at all times. And thankfully, so far, I haven't had any trouble orienting myself.
Like anyone touched by this disease, I do feel down sometimes and I get frustrated when I can't remember things — gone are the days when I could recite Shakespeare (I'm a retired English teacher). But all things considered I think I'm doing pretty darn well!
In the most unexpected way, my diagnosis has actually enriched my life. That's because it has inspired me to live each day to the fullest. Whether you've been touched by dementia or not, I hope you do the same. Live. Love. Laugh. Hug your partner. Call your kids. Walk your dog. Find joy every day.
And if you can, please keep donating. Your generous support really does make a difference.
Best regards,
Gary, living with Alzheimer's disease
Loving husband, father and grandfather