Challenging your brain
Work out your brain! Exercising your mind daily can keep your brain stimulated and help slow the progression of dementia into the later stages.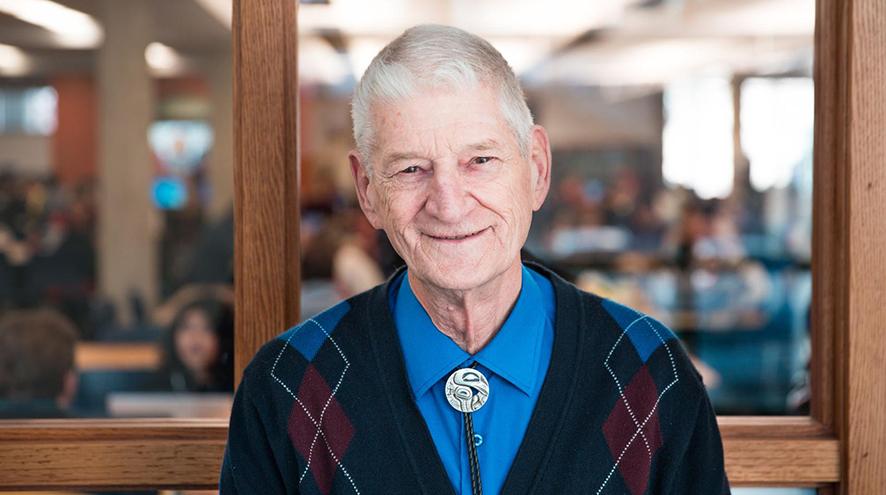 Your local Alzheimer Society can give you more activities and ideas to challenge your brain. Check out what programs and services are available near you.
"The brain is just another muscle that needs exercise and stimulation." - Ron (pictured above), from London, Ontario. Ron lives with Alzheimer's disease. Ron's photo was taken by Liam McInnis, and re-used here with permission from the Western Gazette where it originally appeared.
When Ron was diagnosed with Alzheimer's in 2015, he still wanted to pursue one of the major items in his bucket list: Attending and graduating university. Today, Ron is well along his way toward accomplishing that goal – he's a political sciences major at King's University College in London.
According to Ron, the daily challenge of class discussions and assignments has improved his long-term memory and ability to remember past experiences he had thought forgotten. Learning in a group environment also helped maintain his social skills.
Keeping your brain active can help you live well with dementia, just like it has helped Ron. Here are a few ways you can challenge your brain (these tips can help people reduce their risk of getting dementia, too):
Pursue life-long learning
"I had started going back to school and studying for ordained ministry prior to all my symptoms starting. And I continued that…I was bound determined that I was going to achieve that goal regardless. And I did…I'm part of a team ministry in my parish and I love doing it." – Faye, from Windsor Junction, Nova Scotia. Faye lives with young onset Alzheimer's disease.
By constantly learning new things and challenging your brain throughout your life, you can help build your cognitive reserve. Learning a new language and taking up new hobbies are good examples of brain-challenging activities.
Cross-train your brain
"I decided to be proactive about my health after my diagnosis. I took up archery because it requires a lot of focus and concentration. It helps with hand-eye coordination and keeps my mind sharp." - Phyllis (pictured), from Hamilton, Ontario. Phyllis lives with young onset Alzheimer's disease.
What's something you're not good at doing? Work to improve it and give your brain some flexibility. Try a variety of challenges instead of sticking to one particular area. It's never too late to try something new.
Play games that involve your mind
"I play games such as word search and solitaire, and I speed-test them to give my brain more of a workout." - Paul (pictured), from Toronto, Ontario. Paul lives with vascular dementia.
Examples of brain-challenging games can include chess, tabletop games, video games, word and number puzzles, jigsaws, crosswords, sudoku and memory games. For games on your computer, your tablet or your phone, find games where you can play and interact with other people.
We've listed some of these games below. Give one a try!
More useful links and resources
Heads up for healthier living. Alzheimer Society of Canada. This downloadable brochure can help people living with dementia and their families make lifestyle choices to stay healthy and live well with dementia. The tips and strategies in this brochure are applicable to people living with other types of dementia as well.
Memory Work Out: A "By Us For Us" Guide. Research Institute for Aging. A guide with examples of cognitive exercises to help people with dementia develop and maintain regular "workouts" for their brain.
Dementia Activity Booklet - Part 1  | Dementia Activity Booklet - Part 2 McGill University Dementia Education Program. A detailed online resource that encourages people living with dementia to engage in the activities that they enjoy in order to contribute to their sense of self, promote creativity and add to their quality of life.
BrainFit. Women's Brain Health Initiative. A mobile application designed to track habits and help optimize brain health.
Brain-boosting games