Our partners and supporters
The Alzheimer Society of Canada is proud to recognize our generous major donors and strategic organizational partners that help us support Canadians living with Alzheimer's disease and other dementias.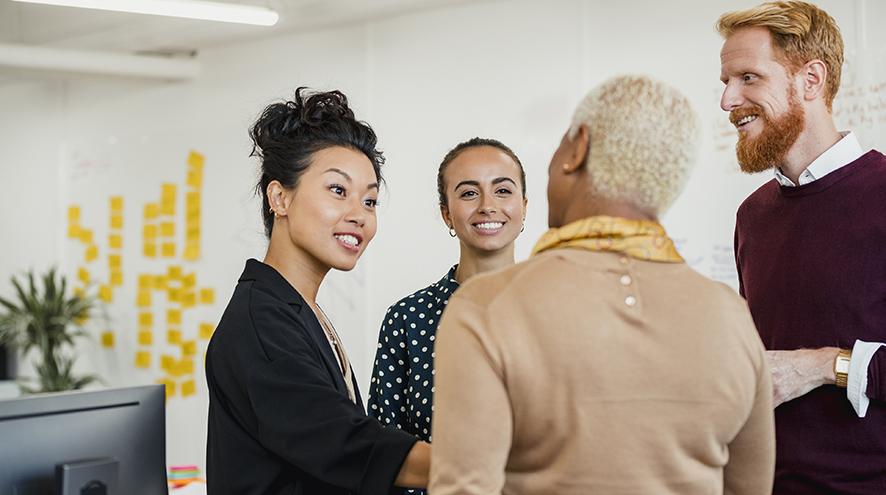 Thank you!
The Alzheimer Society of Canada thanks our amazing partners and supporters who are helping us realize our vision of a world without Alzheimer's disease and other dementias.
Through their generous support and expertise, the Alzheimer Society is able to work toward our many goals and initiatives, which include:
By working with those who share similar values and goals, together we can make more of a positive impact on the lives of people living in Canada who are facing Alzheimer's disease and other dementias. Thanks to the help of our partners and supporters, they do not have to face dementia alone.
Interested in becoming a partner with us? Please contact Jessika Santhiappillai, Manager, Special Events and Sponsorship, at [email protected]. 
Corporate supporters
$1,000,000 and more
Healthpartners
IG Wealth Management
$100,000 to $999,999
Government of Canada
Extendicare Assist
RBC
RFA Mortgage Corporation
Sienna Senior Living
$50,000 to $99,999
AMEX Canada/United Way Worldwide
Foundation supporters
$1,000,000 and more
Anonymous
William & Odna McCarlie Foundation
$100,000 to $999,999
Barrett Family Foundation
Constance Ryan Foundation
David Hearn Foundation
Michael Albert Garron Foundation
Slaight Family Foundation
Warren Y. Soper Charitable Trust
$50,000 to $99,999
Partners in education and research
Active Aging Canada's mission is to support lifelong healthy active aging of adult Canadians through participation, education, research and promotion.
AGE-WELL NCE helps older Canadians maintain their independence, health and quality of life through technologies and services that increase their safety and security and enhance their social participation.
Brain Canada is a national non-profit organization that enables and supports excellent, innovative, paradigm-changing brain research in Canada.
The Canadian Coalition for Seniors' Mental Health (CCSMH) recognizes that mental illness is not a normal part of aging. As such, the Coalition advocates for all Canadian seniors to have the deserved right to receive services and care that promotes their mental health and responds to their mental illness needs.
"The National Voice of Home Care", the Canadian Home Care Association (CHCA) is dedicated to ensuring the availability of accessible, responsive home care and community supports to enable people to safely stay in their homes with dignity, independence and quality of life.
The Canadian Nurses Foundation supports world-class Canadian healthcare by raising funds to advance nursing knowledge and research, and by recognizing professional merit in Canada's nurses.
Neurological Health Charities Canada (NHCC) is a coalition of organizations that represent people with brain diseases, disorders and injuries in Canada. NHCC provides leadership in evaluating and advancing new opportunities for collaboration specific to advocacy, education and research to improve the quality of life for people affected by brain conditions.
The New Brunswick Health Research Foundation (NBHRF) is an organization that has focused on the coordination, support and promotion of health research in New Brunswick.
The mission of the Pacific Alzheimer Research Foundation (PARF) is to eradicate Alzheimer's disease and other dementias. PARF is endeavouring to do this as the result of a generous grant from the Government of British Columbia and through additional fundraising activities.
Partners in advocacy and government
Government organizations
The Canadian Consortium for Neurodegeneration in Aging (CCNA) is a national initiative which brings together over 350 researchers across Canada to promote collaboration within disciplines, across disciplines and among Consortium partner organizations.
Using a pan-Canadian approach, the Consortium positions researchers to lead and participate in innovative and transformative research to improve the quality of life and quality of services for those living with neurodegenerative disease that affect people's cognitive health and their caregivers.
The Canadian Institutes of Health Research (CIHR) is Canada's federal funding agency for health research. CIHR's mission is to create new scientific knowledge and to enable its translation into improved health, more effective health services and products and a strengthened health care system for Canadians.
Composed of 13 Institutes, CIHR provides leadership and support to more than 13,000 health researchers and trainees across Canada.
Fonds de recherche du Québec - Santé (FRQS) supports health research in order to foster the well-being of Quebecers. Its mandate is to promote and provide funding for research, to disseminate knowledge and to contribute to training.
As well, FRQS establishes partnerships crucial to the development of Québec's research and innovation system and its international reach.
Non-government organizations
Alzheimer Disease International (ADI) is the international federation of Alzheimer associations around the world, in official relations with the World Health Organization (WHO). Each member is the Alzheimer's-focused association in their country that supports people with dementia and their families. ADI's vision is prevention, care and inclusion today, and cure tomorrow.
The Canadian Coalition for Genetic Fairness (CCGF) is a group of 18 organizations, of which the Alzheimer Society of Canada is one, dedicated to establishing protections against genetic discrimination for all Canadians.
Carers Canada promotes awareness and involvement for caregivers in Canada. The organization looks to improve the quality of life for caregivers by ensuring their recognition and inclusion in social policy.
Health Charities Coalition of Canada (HCCC), a member-based organization, is dedicated to advocating for sound public policy on health issues and promoting the highest quality health research. HCCC strives for excellence in health policy and seeks to ensure that the federal government and policymakers look to the Coalition and its members for timely advice and leadership on major health issues of concern to Canadians
Organizations for Health Action (HEAL) is a non-partisan coalition of 40 national health organizations dedicated to improving the health of Canadians and the quality of care they receive.
The Quality End of Life Care Coalition of Canada (QELCCC), is a group of 35 national organizations dedicated to improving end-of-life care for all Canadians, allowing people to die with dignity, free of pain, surrounded by their loved ones, in a setting of their choice.
Agency partners
August possesses over a decade of international experience in digital marketing solutions, user experience and service design. With their experience in helping nonprofit and dementia-focused organizations, August was the natural choice to assist in the Alzheimer Society's website redesign in early 2020.
We are thankful for PushPolitic's expertise in online advocacy as we continue our push for a fully-funded national dementia strategy.
Ramp's person-centred approach and interest in effecting real change has helped us fight stigma against dementia through our recent Alzheimer's Awareness Month campaigns, centred around the theme, "I live with dementia, let me help you understand".
Stephen Thomas's mission centres around helping charities in their fundraising efforts. We appreciate their continuous support reflected in our communications with our donors.