Making visits meaningful
Whether you are visiting someone living with dementia every day or just once in a while, making the most of your time together will mean a more meaningful visit for both of you!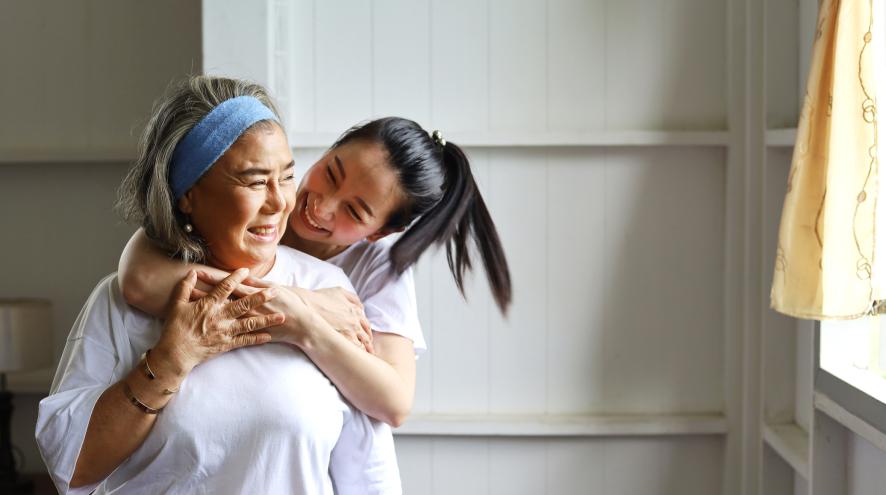 The importance of visiting
We all enjoy visits from family and friends; people living with dementia are no different. Visits can be a source of support and comfort, and a way to stay connected with others.
However, uncertainty about what to expect may make some people hesitant about visiting a person living with dementia. To make visits easier and more comfortable for everyone, consider the following tips.
Before the visit
Set a convenient time and consider how long you should stay.
Find out the best time of day to visit. It may be during the middle of the day when the person you're visiting isn't tired. Make sure the length of your visit is appropriate. Every person is different, so check with the caregiver or others who visit about what's best.
Ask around.
You may have friends or family members who are interested in visiting but may be unsure of what to do or are hesitant to come—especially if this is their first visit since the person was diagnosed or moved to a long-term care home. This is a good opportunity to ask them to come along, as visiting together can help remove those doubts. For those who would like to visit but can't make it, ask if it's okay to phone or video call them during the visit, and arrange a time beforehand.
Find out if it's ok to bring a pet along.
Pets can provide comfort and joy for people living with dementia. If you're visiting a long-term care home, it's best to check their rules first regarding animals coming into the home.
Prepare what you want to bring.
Photographs, videos and letters are effective ways of connecting with the person you're visiting. If there is a particular treat that they enjoy, try to bring that. You may also want to consider buying assistive products that can support their engagement in meaningful activities.
Check for special events to enjoy together.
If you're visiting a long-term care home ask the staff if there is a special event going on, like a holiday party. If you are concerned that the person you're visiting will be upset when you leave, try to plan your departure with an event. Having the end of your visit coincide with going to a meal or an activity can make for a natural end to the visit and can be a distraction for the person. When you leave, sign the visitor guest book (see below) so the person you're visiting can check it later and other visitors know you've been by.
During the visit
Communicate clearly.
As dementia progresses, the person you're visiting may not recognize you. You may need to introduce yourself and say why you're there, e.g., "Hello Sarah, it's Jane. I am here to visit you today." Respectful and caring communication is the key to a great visit.
Be prepared to listen.
People living with dementia may want to share their feelings. Remain open and empathetic. You may have to answer difficult questions, and by doing so you can acknowledge their feelings and reassure them that they are safe, loved and cared for. Common questions include asking when they can go home or where someone who died is. If you are not sure how to answer these questions, ask them about what they enjoy about their home or to share a story about the person they are asking about.
Make the environment pleasant.
Reducing background noise by turning off a TV, closing a door or shutting a window can help make the visit peaceful, more focused and less confusing.
Ask the person what they want to do.
By encouraging the person you're visiting to make decisions about how you spend time together that day, you enhance their independence and self-esteem. It is generally a good idea to limit the choices. Try asking "Would you like to go for a walk?" 
Establish connection through an activity.
Concentrate on the person's talents and abilities. Depending on what the person wants, it may be a relaxing visit watching a movie with some treats, listening to music or going outside to get the benefits of fresh air and exercise. Other good ways to connect may be building a scrapbook together or playing a familiar game.
Establish connection through a common item or person.
If the person you're visiting is not interested in a particular activity, this can be a good time to bring out those items you've brought along to enjoy together, or have that friend or family member who couldn't make it call in.
Allow for quiet time if needed.
Quiet time during a visit can be very meaningful and a good way for everyone to feel relaxed. Not all communication is verbal.
Remember and laugh together.
Recall fun experiences you both shared, e.g., "I remember when we both..." Take pleasure in each moment.
Bringing children
Bringing a child to visit can be fun for everyone and helps maintain important relationships. Use these tips to ensure they're comfortably involved:
Discuss with the child what dementia is

and what to expect. Listen to the child's feelings and concerns.

Explain to the child that during the visit they should speak clearly, avoid arguing and ask for help anytime.
Bring along a quiet activity that the child and the person you're visiting can do together, like a jigsaw puzzle.
Have the child give something they made to the person you're visiting, like a picture or some homemade cookies.
The visitor guest book
A person living with dementia may have many people involved in their circle of support; a neighbour who drops by regularly, family members and friends. As their dementia progresses and the person receives more assistance, that circle may grow to include visits from service providers (such as social workers, occupational therapists, nurses, etc.) and volunteers. It can become difficult to remember all of the activities, who is involved and how they are contributing to the person's day.
A visitor guest book serves as a reminder of who has come to visit in the home, as well as how they spent their time together with the person living with dementia. It can be helpful as a conversation starter for other visitors and for the person living with dementia to remember everything that has happened.
We encourage people living with dementia or their caregivers to purchase an inexpensive notebook or a journal to be kept in a location in the home where visitors will easily locate it (such as by the front door). Choose a design that you like and feel free to be creative. Use the guest book in your own unique ways; add photos, wishes the person has expressed, describe your visit and your conversations, or draw a picture to highlight your feelings.
Though it is best if the guest book is made so the person living with dementia can enjoy it to the fullest, the following information should always be included:
The date of visit
The visitor's name
How the visitor and the person spent their time together
When the visitor will return (try to be as specific as possible)
If the person lives in a long-term care home, check first to see if it is possible to leave a visitor guest book in their room.
An example from a care provider:
Date: January 24, 2023

Dear Joanne,

This is your home support worker, Anthony. Today, I came around 3:00pm to do the laundry and I made your favourite, mashed potatoes with broccoli and chicken for dinner.

It was nice talking to you today about your wife, Martha, and your dog, Pepper.

I will be coming back on January 26th, at 3:00pm.

See you in a few days.

Anthony
An example from a friend or family member:
Date: April 12, 2023

Hi Dad,

This is your daughter Aisha; I've had a nice visit with you today at 1:00pm. We shared a tasty lunch together and had a good walk around the neighbourhood. We passed the convenience store where you told me that you used to buy your lottery tickets every weekend.

I will come on Wednesday, April 15th, for lunch time at 12:00pm. I will bring lunch so we can eat together at home. See you then.

Love you!

Aisha
More information and resources