Providing person-centred care
read
Fostering a person-centred approach to care will improve the quality of care for people with dementia and their families.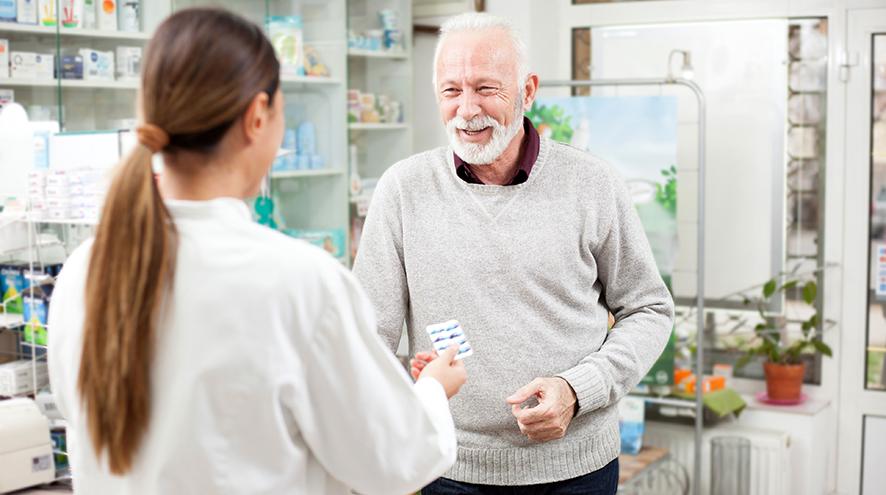 What is person-centred care?
"(The neurologist) just looked at me and said, 'You have dementia. You have Alzheimer's. In five years, you'll be in a nursing home.' It was not a positive experience at all." – Faye, from Nova Scotia. Faye lives with young onset dementia.
Person-centred care is a philosophy that recognizes that individuals have unique values, personal history and personality and that each person has an equal right to dignity, respect, and to participate fully in their environment.
The ultimate goal of person-centred care is to create partnerships among care home staff, people with dementia and their families, to enhance the quality of life and the quality of care of people with the disease. Services and supports are designed and delivered in a way that is integrated, collaborative, and mutually respectful of all persons involved.
Person-centred care in long-term care homes
Most people with dementia want to live in their own homes for as long as possible. The reality is that many will move to a long-term care home.
In fact, 62% of seniors living in a residential care home have a diagnosis of Alzheimer's disease and/or other dementia, and 70% of all individuals diagnosed with dementia will die in a long-term care home.
Long-term care homes have been traditionally designed like extensions of hospitals, based on a medical model, focusing on tasks and the needs of the organization rather than the needs of the residents and their families.
While our culture change initiative focuses on working with others to improve the experiences of people with dementia living in long-term care homes, the process and outcomes of this work are relevant to conversations about quality of life at all stages of the disease and throughout the healthcare continuum.
Learn more about providing person-centred care of people living with dementia in long-term care.
PC P.E.A.R.L.S.®: 7 key elements of person-centred care
Through its culture change initiative, the Alzheimer Society of Canada aims to improve the experience of long-term care for people with dementia and their families, and is working with others to provide useful strategies, tools and tips that can help put the principles of person-centred care into practice.
Seven key elements for delivering person-centred care stood out in our research. These are outlined in the information sheets below entitled PC P.E.A.R.L.S.®:
Read the introduction »
Person and Family Engagement
Families and friends are involved, supported and engaged in the life of the person with dementia. Read more »
Care
Effective care planning focuses on each resident's abilities, experimenting with various options to avoid inappropriate use of restraints. It includes routine pain assessment and management to help the person enjoy an improved quality of life. Read more »
Processes
Person-centred care principles are embedded into the strategic plan and operational processes to begin and sustain culture change. Read more »
Environment
Working within current regulations and legislation, a physical and social environment is promoted to support the resident's abilities, strengths and personal interests and enhance the daily life of people with dementia. Read more »
Activity & Recreation
Each resident is engaged in stimulating and meaningful activities, with recreational plans tailored to the person's interests, preferences and abilities. Continuous assessment, review and revision of these plans is done as the person's abilities and interests change. Read more »
Leadership
Person-centred care can only happen with strong leaders who are champions of person-centred care, ingrain it in their organizational philosophy and values, and model the actions expected of staff in their own interactions with residents, families and staff. Read more »
Staffing
Staff training and support, continuity of care, and the fostering of intimate and trusting relationships between families, residents and staff are key factors in optimizing person-centred care and the well-being of residents. Read more »
Resources
A patient's experience in dementia care: Using the "lived experience" to improve care, article by Dr Christopher Frank and Rev Faye Forbes, The College of Family Physicians of Canada
Fighting for Dignity: Prevention of Harmful Resident-to-Resident Interactions in Dementia in LTC, a webinar presented by brainXchange
Caring for Aged Dementia Care Resident Study (CADRES) of person-centred care, dementia-care mapping, and usual care in dementia: a cluster-randomised trial. Evidence for improved outcomes for people with dementia through provision of person-centred care and dementia-care mapping is largely observational. This study aimed to do a large, randomised comparison of person-centred care, dementia-care mapping, and usual care.
Reimagining Long Term Residential Care: Ideas Worth Sharing, a webinar presented by brainXchange featuring: Dr. Pat Armstrong, PhD, FRSC. The studies of 25 different long-term residential care facilities provide ideas big and small that are worth thinking about in terms of how they could work in Canada.
"It Takes the Loneliness Away": An Introduction to Innovative Peer Support Programming (Part 1), a webinar presented by brainXchange featuring: Kristine Theurer PhD (c) and Sharron Cooke, OARC. How to put peer support into practice with those living with dementia in a way that has worked for many organizations. This includes long-term care, assisted living, retirement and adult day settings.