"It's the longest goodbye."
Canada
read
Evelyn (pictured) lives with dementia. Today, Evelyn's daughter and caregiver, Linda, would like to tell you her story about their journey with dementia – how her mother's abilities changed over time, the unique challenges they've faced and the need for people like you to help the Alzheimer Society give them help and support.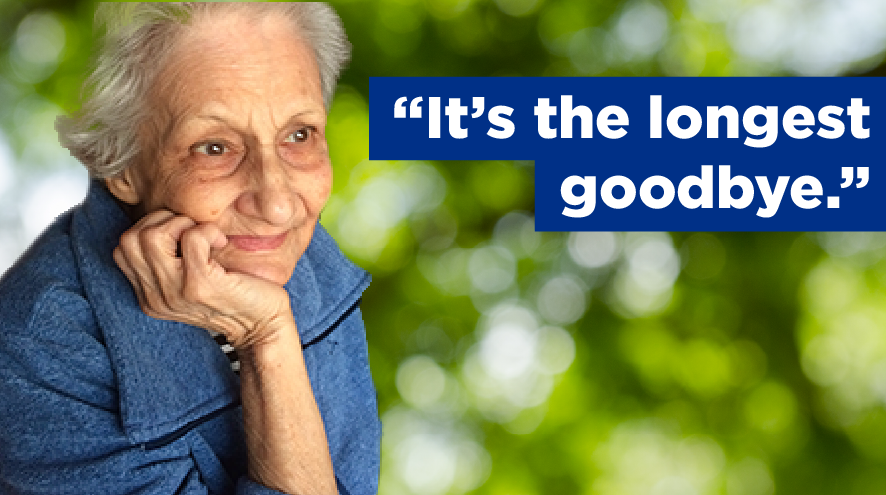 Growing up, everyone hung out at our house. And everyone loved my mother! All our friends just called her Mom. She used to joke that the neighbours must think she had 50 kids. 
Now it's like Mom is the child and we're the parents.
It started with little things. Mom would repeat herself and she struggled with tasks like paying bills. At work, her employer gradually took away more and more of her responsibilities until they gently suggested that she retire. Still just in her early 60s, my mom was diagnosed with dementia.
My siblings and I banded together to help. But as the disease progressed, so did the challenges. I was always correcting Mom, which led to arguments. Unsure of what to do, I reached out to the Alzheimer Society. 
The counsellor I met with was so understanding. After I stopped crying, she shared with me the different stages of dementia and what to expect. Her biggest piece of advice was "you have to go where she is." Once I did that, everything changed. 
Knowing I can reach out to the Alzheimer Society at any time has been a huge comfort to me and my family. If you've donated to the Alzheimer Society, thank you. I'm incredibly grateful to supporters like you who make their programs and services possible.
Please also consider monthly giving.
Monthly gifts are easy to include in your budget and provide a steady flow of funding for support programs as well as critical dementia research. 
When someone you care about has Alzheimer's disease or dementia, it can feel like the longest goodbye. My mom has been living with dementia for more than 20 years and every year that passes we have to say goodbye to something else… her happy-go-lucky personality… her beautiful singing voice… her memory… her words. 
One of my biggest worries is that I won't be able to say the final goodbye in person.
Because of the pandemic, I haven't been able to visit my mom and hug her for over a year. In my work as a real estate agent, I interact with many people and I don't want to put my mom or any of the other residents in her care home at risk. We meet virtually but it's not the same, especially now that my mom can no longer talk. 
I know I'm not alone. My mother-in-law also has dementia, and I've watched my husband and his family struggle, just as mine did. It's hard to accept that your loved one is changing. That they won't ever be the same again.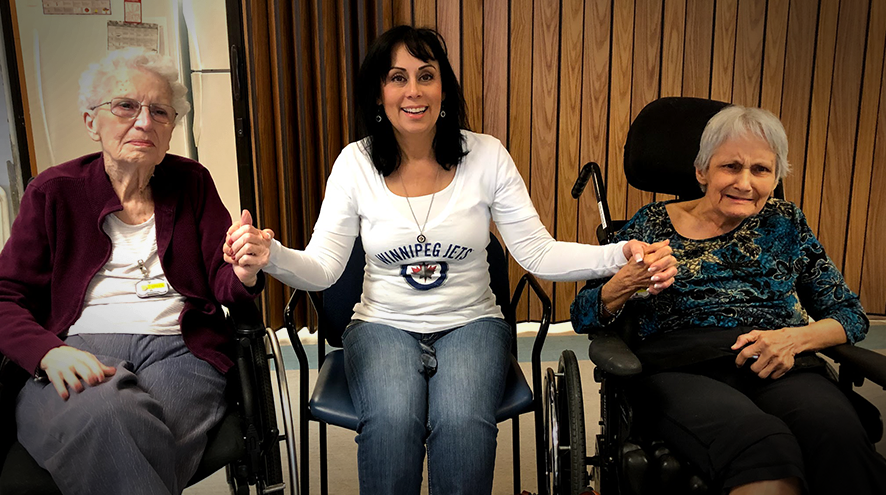 Through my work I meet so many families that are caring for elderly parents, or even partners, who are living with dementia. I give everyone the phone number of the Alzheimer Society and tell them they don't have to face this disease alone.
The Alzheimer Society says that more than 500,000 Canadians are living with dementia right now and those numbers will double by 2034. They also tell me that their programs and services only reach about 20 percent of people touched by dementia due to lack of funding. And yet, because of the pandemic, the demand for their services has never been greater. 
If you can, please make a donation today. Your donation by November 15th will be matched dollar for dollar up to $100,000 — doubling your impact in the lives of everyone touched by dementia.
Thank you,
Linda van den Broek, donor, advocate
and caregiver to her mom, Evelyn
Help us ensure people like Linda have somewhere to turn for information and support when someone they care about is living with dementia. Make 2X the impact today.