A tribute to Scott Dudgeon
Canada
read
The Alzheimer Society of Canada was saddened to learn of the recent passing of William Scott Dudgeon, who served as our Chief Executive Officer (CEO) from 2006 to 2009.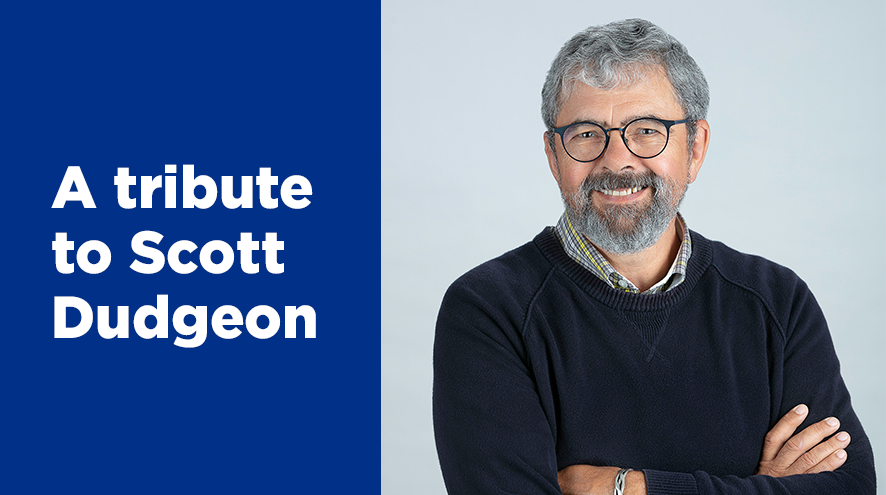 Prior to joining the Society, he served in several important positions in the health care sector, including CEO of Humber Memorial Hospital, Executive Director of the Toronto District Health Council and Executive Director of Canadian Collaborative Mental Health Initiative.
During his time at the Alzheimer Society of Canada, Scott was noted for his compassion for those who lived with dementia and his understanding of the importance of caregiving and the need to include caregivers in care teams. Scott learned through personal experience and through his work and his service on hospital and other voluntary boards that caregivers are often left to figure out for themselves how to meet each day's heroic challenges and need more support. His personal caregiving experience included partnering with his wife to help their parents in their final years of dementia, cancer, Parkinson's and end of life care.
Scott was instrumental in championing the need for Canadian information on the prevalence and incidence of Alzheimer's and other forms of dementia, rather than extrapolating statistics from other countries. His support led to the first gathering of statistics on the number of Canadians living with dementia and provided projections for the increasing numbers of people who would be living with dementia in the decades to come.
Under his leadership, the Society created Rising Tide: The Impact of Dementia on Canadian Society, which published in 2010. This landmark study has informed both the Society's public policy, research and knowledge translation activities, and was also used by the governments, media and other stakeholders across Canada. Scott's pioneering work was a major step towards affirming the importance of evidence-based, Canadian-specific information, and it stressed the urgency for a national dementia strategy.
Following his departure from the ASC in 2009, Scott moved on to other senior roles in the health care sector, as well as sitting on various Boards on a wide range of health-related causes. He regularly kept in touch with his colleagues at the Society, who continued to benefit from his guidance.
All of us at the Alzheimer Society of Canada are grateful to Scott for his dedication and commitment to creating a world without dementia. We express our sincere sympathies to his wife Nancy, his sons Andrew and Geoffrey and his beloved grandchildren. 
To learn more about Scott and his legacy, please visit here.