What kids in Canada need to know when a parent has been diagnosed with young onset dementia
These books, websites, helplines and young caregiver groups can help.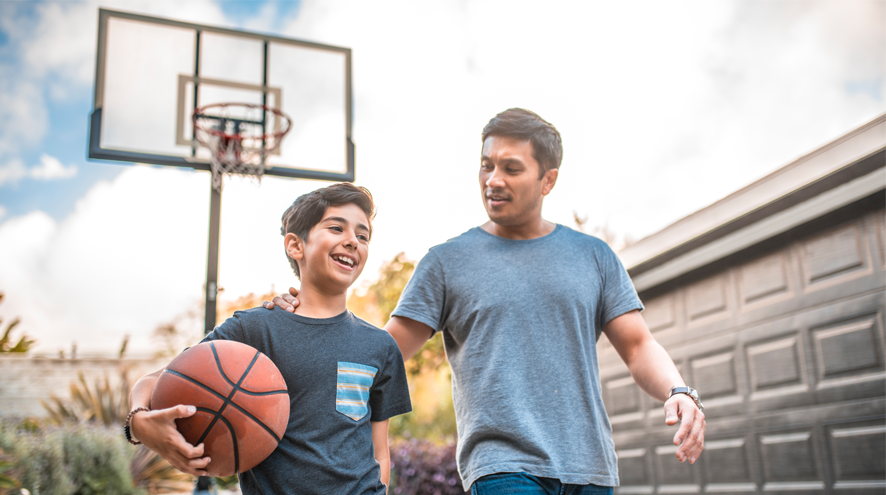 Having a parent who is sick—or who has health problems—can bring up a lot of questions and feelings for any kid. But you don't have to feel alone.
Right now, there are 28,000 people in Canada living with young onset dementia. And many of them have kids like you who are going through the same thing.
In fact, more people are recognizing that kids like you are special. You are part of a growing group of kids in Canada known as young caregivers.
Right now, there are more than 1.25 million  young caregivers in Canada. Young caregivers are kids aged 5 to 25 years old. Young caregivers help siblings, parents, grandparents, cousins, aunties, uncles, friends and neighbours with a huge range of health needs—including young onset dementia.
Here a few helpful things to know if you are 12 or younger and your parent has been diagnosed with young onset dementia. (If you are 13 or older, read our page for teens. And if you are 18 to 29, visit our page for young adults.)
You can get help from a young caregivers group
Young caregivers are very important. There's even a special group you can join called the Young Caregivers Association (YCA).
"YCA helps us understand that we are not alone and makes us feel like we matter," says one 12-year-old member.
YCA runs a program called Powerhouse that has some use at home right now by visiting powerhouse.youngcaregivers.ca. You can also register for more support by filling out this form or asking a family member to help you do that.
In February 2023, the YCA also released the Young Caregivers Knowledge Centre with resources for young caregivers, families, health-care professionals, educators and more. Check it out to learn about tools and resources that can support your wellbeing. 
The Alzheimer Society of Saskatchewan offers a virtual young caregiver support group the second Thursday of every month and are open to people attending who live outside of Saskatchewan.
If you are in the Greater Toronto Area, there is also a Young Carers Program you can join for free! Find out more at ycptoronto.com. A family member can help you get registered.
Lorenzo's House, based out of Chicago, is an organization created by and for people impacted by young onset dementia. They offer free virtual hangouts, called the Light Club, for youth that have a parent or guardian living with young onset dementia. Age-specific groups meet the third Wednesday of every month, including one for ages 9-13.
Lorenzo's House also offers an annual Youth Summit, a free one-day event for young people to share their similar experiences when having a parent or guardian living with young onset dementia. The 2023 Youth Summit will be held virtually on Saturday June 17th. Please visit the Lorenzo's House Youth Initiatives webpage to learn more or to register, if interested.
The number of young caregiver groups is growing across Canada. We will add more to this list as they develop.
The Dementia in My Family website is helpful
Dementia experts in Australia created a special website for kids worldwide who have a family member living with dementia.
You can find it anytime at dementiainmyfamily.org.au.
The website has different sections. One is for kids aged 5 to 8. Another section is for 9-to-12-year-olds. There is even a section for preschoolers, and for older teens too.
Each section has ideas about what might help you right now. Some also have sections where kids like you share their stories.
Some of those stories talk about about having a parent with young onset dementia, too. And you can submit your own story to be posted on the website as well.
It's always ok to talk with a trusted grown-up, counsellor or Kids Help Phone
It's good to talk about the feelings that young onset dementia in your family brings up for you.
Talking to a trusted grown-up, a counsellor at school, a leader in your faith community, or a worker from your local Alzheimer Society are all great places to start.
Also know that anytime you want to talk, chat or message about anything you are feeling or going through, Kids Help Phone is here 24/7 across Canada.
You can reach Kids Help Phone in a few different ways:
It can be a good idea to tell your teacher or principal that your parent has young onset dementia
When any kid becomes a young caregiver, it means they might become a bit more distracted in school. Or they might find it harder to finish their homework as well as they used to.
Telling your teacher or principal that your parent has young onset dementia can help them understand those changes better.
Telling them can also help the grown-ups at your school support you and be there for you.
It can be good to check with your parent or other family members first, though, before approaching a teacher or principal.
A parent or other family member could have great ideas about how to start the conversation with your school! Or they might want to join you in talking with your teacher and principal. It's also very possible they have told your school already, too!
You can learn more about dementia at Dementia Explained
Some people like to say that information is power. That means that the more you know about something, the easier it might be to understand and manage.
If you want to learn more about dementia, there is a super webpage called Dementia Explained that can help. It has sections for kids under 6, and also for kids 6 to 12.
There are some really great books you can read that apply to young onset dementia
There are more and more picture books, chapter books and novels to read about kids with young onset dementia in their families.
In picture books, there is Big Bear, Little Bear and Dementia by Katie Faulkner and Iain Welch. Another is This is my family by Barbara Chambers and Karen Harborow. Or try or My Book About Brains, Change and Dementia by Lynda Moore.
In novels and chapter books, try these: The book The Space Between Lost and Found by Sandy Stark-McGinnis is about a girl named Cassie whose mom starts to have problems remembering things. Sticky Notes by Dianne Touchell is about a boy named Foster whose dad starts having memory issues. And both explore a lot of the feelings and situations you might be experiencing these days.
Help can also come from faith community groups and cultural community groups
There are many helping groups and agencies in Canada.
Some of these were created by or are connected to faith communities and cultural communities.
Here are just a few examples of these many groups:
And the Alzheimer Society is always here to help as well
The Alzheimer Society was started a long time ago to help families with Alzheimer's disease.
Now, it supports all people in Canada who are affected by all kinds of dementia—including kids.
You can find your local society's contact information at alzheimer.ca/find.
Or reach out to our national information and referral line at [email protected] and 1-855-705-4636, and we will put you in touch with your area's counsellors and experts ASAP.
Last updated: September 12, 2023.