What young adults need to know if a parent has young onset dementia
There are others out there who have gone through, or who are going through, the same thing. Here's how to connect with them and other kinds of help.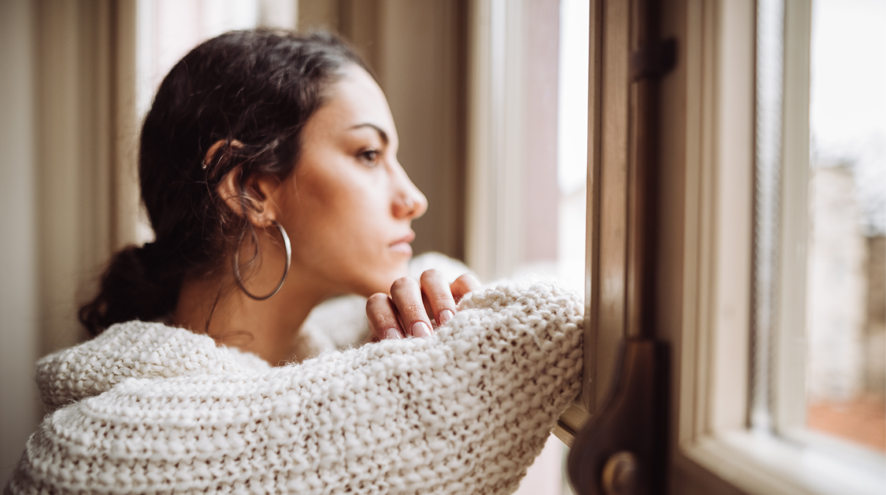 Right now in Canada, there are 28,000 people with young onset dementia.
And many of those people have kids in their teens and twenties like you.
"You are not alone," says BC resident Naomi Mison. "There are, hundreds, if not thousands, if not tens of thousands of people that are out there, experiencing the same thing as you."
When Naomi was 22, her mom was diagnosed with young onset dementia. And Naomi quickly became her mom's main caregiver.
At first, Naomi says, "I just really didn't seek any kind of community. I kind of kept it all internal."
But things got better when she started reaching out.
"Since then," Naomi says, "I have decided to start sharing. I really have seen how powerful my voice can be."
In fact, Naomi has created a website called Discuss Dementia to try and use her voice to make things better for more people in the same situation. She is also pushing for a government bill that will help boost home care resources for families facing young onset dementia.
"I think in finding my voice, I really found my community of like-minded people—and my passion and my purpose," Naomi says.
Here are some more ways to find support, community and voice right now.
There is a growing young caregiver movement in Canada
More and more people in Canada are recognizing how important young caregivers are. They are also starting to understand how important it is to support young caregivers.
Who are young caregivers? They are people like you—young adults who help siblings, parents, grandparents, cousins, aunties, uncles, friends and neighbours with a huge range of health needs.
Whether it's dementia, chronic pain, diabetes, substance dependency—young caregivers help others with all these conditions, and more.
Right now, there are more than 1.25 million young caregivers in Canada. In fact, Statistics Canada has said that more than 25% of people aged 15 to 29 have provided some form of care to a family member or friend with a long-term health condition, disability, or aging needs.
You can access the free supports that do exist for young caregivers
The Alzheimer Society of Saskatchewan offers a virtual young caregiver support group the second Thursday of every month and are open to people attending who live outside of Saskatchewan.
One association advocating for young caregivers aged 5 to 25 is the Young Caregivers Association (YCA). The YCA runs a Canada-wide program called Powerhouse. In February 2023, the YCA also released the Young Caregivers Knowledge Centre with resources for young caregivers, families, health-care professionals, educators and more. Check it out to learn about tools and resources that can support your wellbeing. 
Another support for caregivers aged 15 to 25 is youngcaregiversconnect.ca. They have a page dedicated to caring for someone with Alzheimer's disease and dementia. They also have tips about coping, managing emotions, and self-care. Anyone across Canada can use its live chat feature or its 24/7 caregiver helpline at 1-833-416-2273. They also have online support groups for Ontario residents.
The McGill University Research Centre for Studies in Aging and the Dementia Education Program have joined to offer free, monthly virtual support groups for young caregivers who are looking after a person with young-onset dementia. On the last Thursday of every month, support groups for young adults ages 20-40 will be offered in both English and French. Please visit their registration page if you are interested.
Lorenzo's House, based out of Chicago, is an organization created by and for people impacted by young onset dementia. They offer free virtual hangouts, called the Light Club, for youth that have a parent or guardian living with young onset dementia. Age-specific groups meet the third Wednesday of every month, including one for ages 20-30.
Lorenzo's House also offers an annual Youth Summit, a free one-day event for young people to share their similar experiences when having a parent or guardian living with young onset dementia. The 2023 Youth Summit will be held virtually on Saturday June 17th. Please visit the Lorenzo's House Youth Initiatives webpage to learn more or to register, if interested.
Hilarity for Charity, a non-profit for people affected by Alzheimer's disease and founded by actor Seth Rogan and his wife, have just launched a free, online support group series for teens and young adults who care for someone living with dementia. Register to connect with others going through similar experiences.
Alzheimer Society experts in your area can provide dementia-specific help with caregiving, living well and more
The Alzheimer Society in your area specializes in dementia support and can connect you with counselling, support groups, experts and information.
Go to alzheimer.ca/find to get your local info, or call the national office at 1-855-705-4636 (email [email protected]) to get linked up with your area team.
You might also find it helpful, when you get connected with the Alzheimer Society, to ask specifically for an "adult child support group." These types of groups can often be more helpful to people like you who have a parent with young onset dementia.
Even if you live at a distance from your family member, reaching out to their local Alzheimer Society can also help you all get organized with needed services and supports.
Free help is also available to you through specific disease societies
More than 50 different disease and conditions are associated with young onset dementia.
And many of those diseases or conditions have service societies designed to support families that are affected.
That could mean reaching out to Huntington Society Canada  if your parent lives with Huntington disease, Parkinson Canada if your parent lives with Parkinson disease, the MS Society if your parent lives with multiple sclerosis, and so on.
These societies will also have specialized support groups, advice and other help. Again, asking for groups or support specific to adult children may be especially helpful for you at this time. (For example, in early 2022, the Alzheimer Groupe Inc. in Montreal offered an adult child support group on Zoom.)
Add some helplines to your contacts—and use them when you need to
Did you know Kids Help Phone is available 24/7 for anyone up to the age of 29 in Canada? Call 1-800-668-6868, text 686868 or visit kidshelpphone.ca.
Hope for Wellness is a helpline open to all Indigenous peoples. Call the toll-free Help Line at 1-855-242-3310, 24 hours a day, 7 days a week. Or use the chat option at hopeforwellness.ca to connect with a counsellor online.
The Black Youth Helpline has been providing innovative, professional, culturally relevant services since 1992. Their call line is open 9 a.m. to 10 p.m. seven days a week at 1-833-294-8650 or [email protected].
Naseeha started a support line for young Muslims in North America in 2006. It now operates from 12 PM to 12 AM Eastern Time (9 AM to 9 PM Pacific Time), 7 days a week. Call or text them at 1-866-NASEEHA (627-3342).
S.U.C.C.E.S.S. is an organization that offers many kinds of support. This includes help lines in Mandarin and Cantonese that can help with "confidential emotional support and referrals to community resources that can support them to address a wide range of life issues." The lines are open 7 days a week at from 10am to 10pm Pacific time. Call the Cantonese Help Line at 604-270-8233. Or call the Mandarin Help Line at 604-270-8222.
Hong Fook Mental Health Association has a variety of great online resources for Asian youth. They also have virtual walk-in counselling sessions for Asian youth aged 12 to 25 in English, Mandarin and Cantonese. Contact them at [email protected] or 647-534-8493.
There are films and podcasts about young caregivers and young onset dementia
Some folks find it useful to delve into media about the problems they are facing. It helps them know they are not alone, and that others have gone through this too.
The feature documentary Much Too Young on TVO.org follows a few families where a parent has young onset dementia and has young adult children.
Two of the young caregivers from the film also gave an interview on the Agenda that you might find interesting.
Hidden: The Stories of Young Carers podcast also shares a lot of real-life experiences of young caregivers in Canada—including some who have a parent with young onset dementia.
It could be helpful for you to learn more about family caregiver leave laws in your province or territory
Some provinces or territories have put family caregiver leave laws in place.
This means that if you are employed, you can take an unpaid leave from your job to do caregiving if your family member's health has reached a critical level.
Even if your family member is not in a critical place, knowing what the leave legislation is can help you plan for the future or an emergency.
Your local Alzheimer Society team can help you get familiar with caregiver leaves in your area.
Connect with feelings and with other people in ways that feel right to you
Some people love to talk about their feelings. Others cope better when they go for a long run or bike ride. And others feel best making art or music, crafts or cooking.
Whatever ways help you feel better are important to prioritize. That includes choosing who you want to connect with and how, both online and off.
You probably already belong to some community organizations, teams or groups. Be sure to keep up with the activities and events that make you feel good as much as is possible.
Use Twitter and other platforms to network with other adult children of people with young onset dementia
On Twitter, there is a presence of adult child caregivers for people with young onset dementia, and it's possible there to find others in similar situations. You can start by searching hashtags such as #youngcarer and #youngcaregiver along with #YOD or #youngonsetdementia to connect with others.
Also, by searching "young onset dementia caregiver" in Twitter you can stay up to date with the latest information being shared. You can also follow the accounts of some prominent advocates for young caregivers, one example being Canadian doctor Vivian Stamatopoulos (@DrVivianS).
It can also be an idea to reach out via email or socials to programs for people living with young onset dementia. Even if your own parent isn't interested in joining, these organizations might be able to connect you with other people in a similar situation to yours. Some of the main programs like this in Canada are YouQuest in Calgary, Paul's Club in Vancouver, YODA in Waterloo and Boomers Club in Toronto.
Participating in research is another way to sometimes meet other adult children of people with young onset dementia. It can also be a great way to get support and find meaning in everything that is happening. Find a list of studies seeking participants now on the Alzheimer Society research page.
If you are in a school, college or university, talk to people there about the situation
Contact your school, if you feel comfortable, to inform teachers or advisors about the fact that a parent has dementia.
This can help alleviate some stressors.
For instance, an academic advisor at a university can help arrange accommodations to get extensions on papers, access to counselling and support for class notetaking.
If you are doing an apprenticeship program and have to change your hours due to family caregiving needs, tell your supervisor or apprenticeship program lead why you need to shift those hours. They might be able to help you strategize in the long run about how to proceed.
Also, schools, colleges and universities often have a counselling department that can provide you with free therapy and related wellness services.
Make sure to let your own doctor know about your family's situation
Letting your doctor or medical clinic know that you have a parent or carer with young onset dementia is important.
First, it can help your doctor support you better with any stress or feelings the situation brings up.
Second, it can add important information to your medical history chart to bring forward for the future.
Third, your doctor can refer you to counselling as well, or help you access it sooner than you might be able to on your own.
If you are employed, use your Employee Assistance Program
An Employee Assistance Program (or EAP) is a confidential service, usually available through a toll-free number, that offers short-term counselling and problem solving.
Check your employee contract or handbooks for more information and ring the number for free support.
If you are feeling low, stressed or anxious, but counselling seems out of reach, consider BounceBack or Wellness Together
The Canadian Mental Health Association offers BounceBack, free mental health coaching on the telephone for adults and youth 15+ who are experiencing low mood, mild-to-moderate depression and anxiety, stress or worry.
Some caregivers have told us they find the BounceBack program very helpful.
And it is available across Canada.
Visit www.cmha.ca/bounceback for more information.
Another national mental health support for young adults over 18 years of age is Wellness Together. Wellness Together offers a range of free apps for practicing better mental health. It also offers 24/7 phone counselling.
Some provinces and territories now offer other free virtual therapy programs to residents. In Ontario, for example, MindBeacon is free to use.
Remember that the Alzheimer Society in your area, and your parent's area, is always here for you.
More than 40 years ago, a group of family caregivers like you founded the Alzheimer Society of Canada.
Today the society remains a key resource for anyone who is living with dementia or who is a family member or caregiver.
You can find your local Alzheimer Society's contact info at alzheimer.ca/find.
Or reach our national information and referrals line at 1-855-705-4636 or [email protected] for help getting connected with your local team of experts quickly.
Last updated: September 12, 2023.