What teens need to know if a parent has young onset dementia
You are not alone. These tips, resources and groups can help.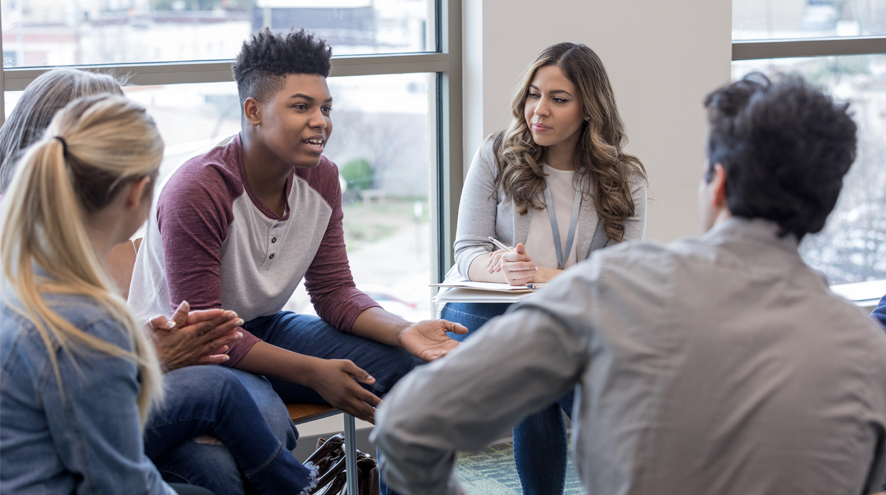 Right now in Canada, there are 28,000 people with young onset dementia. And around the world, there are 3.9 million people with young onset dementia.
Many of those people have kids in their teens. And those kids are going through some of the same things you are.
"My Dad got diagnosed with dementia in the front of his brain when I was 13," says Zoe on Australia's Dementia In My Family website. "I'm 15 now and it's been hard because his dementia has made him act different. It's a bit like he's a different person to who he used to be. But deep down I know he's still my Dad and I still love him. He doesn't mean to do the things he does, he can't help it. I have to remind myself of that so that I don't get angry at him."
Whatever you are going through right now, you are definitely not alone.
Learning more and getting support is important. Here are some tips, resources and groups that can help.
There are special websites where teens can learn more about dementia
There are more than 50 different diseases or conditions associated with young onset dementia.
The impact of even one of these diseases can depend on many different factors.
So it's not surprising that there can be differences in teens' experiences of parents with young onset dementia too.
"Since my mum got dementia I feel like everything has changed," says 17-year-old Nikki on the Dementia In My Family website. "Most of it has been really hard but to be honest some things have been positive. I'm probably closer with my Dad now because we talk about what's going on and we help each other out."
Dementia in My Family has some great information for teens about dementia and ways to cope. There's a page for teens aged 13 to 15, and another one for teens 16 and up.
Knowledge is power. So learn more on that website, and in other sites for teens.
Know that you are part of a growing group of young caregivers in Canada
More people in Canada recognize how important young caregivers are. And how important it is to support young caregivers.
Who are young caregivers? They are people like you—teenagers who help siblings, parents, grandparents, cousins, aunties, uncles, friends and neighbours with a huge range of health needs.
Whether it's dementia, chronic pain, diabetes, substance dependency, young caregivers help others with all these conditions, and more.
Right now, there are more than 1.25 million young caregivers in Canada.  Statistics Canada has said that more than 25% of people aged 15 to 29 have provided some form of care to a family member or friend with a long-term health condition, disability, or aging need.
In February 2023, the Young Caregivers Association in Canada released the Young Caregivers Knowledge Centre with resources for young caregivers, families, health-care professionals, educators and more. Check it out to learn about tools and resources that can support your wellbeing. 
Use the supports that do exist for young caregivers
The Alzheimer Society of Saskatchewan offers a virtual young caregiver support group the second Thursday of every month and are open to people attending who live outside of Saskatchewan.
One place young caregivers aged 5 to 25 can to turn to for help is the Young Caregivers Association (YCA). The YCA runs a Canada-wide program called Powerhouse that you can register for and use at home right now by visiting powerhouse.youngcaregivers.ca.
Another support for caregivers aged 15 to 25 is Young Caregivers Connect at youngcaregiversconnect.ca. They have a page dedicated to caring for someone with Alzheimer's disease and dementia. They also have tips about coping, managing emotions, and self-care. And anyone across Canada can use its live chat feature or its 24/7 caregiver helpline at 1-833-416-2273. They also have online support groups for Ontario residents.
If you are in the Greater Toronto Area, and are a young caregiver between the ages of 5 and 18, you can also become a member of the Young Carers Program run by Hospice Toronto.
The McGill University Research Centre for Studies in Aging and the Dementia Education Program have joined to offer free, monthly virtual support groups for young caregivers who are looking after a person with young-onset dementia. On the last Thursday of every month, support groups for teenagers ages 13-19 will be offered in both English and French. Please visit their registration page if you are interested.
Lorenzo's House, based out of Chicago, is an organization created by and for people impacted by young onset dementia. They offer free virtual hangouts, called the Light Club, for youth that have a parent or guardian living with young onset dementia. Age-specific groups meet the third Wednesday of every month, including one for ages 14-19.
Lorenzo's House also offers an annual Youth Summit, a free one-day event for young people to share their similar experiences when having a parent or guardian living with young onset dementia. The 2023 Youth Summit will be held virtually on Saturday June 17th. Please visit the Lorenzo's House Youth Initiatives webpage to learn more or to register, if interested.
Hilarity for Charity, a non-profit for people affected by Alzheimer's disease and founded by actor Seth Rogan and his wife, have just launched a free, online support group series for teens and young adults who care for someone living with dementia. Register to connect with others going through similar experiences.
Call, text or message Kids Help Phone anytime for immediate support
Kids Help Phone can provide support and connection for any kind of situation you are facing, anywhere in Canada. No issue is too big or too small.
And they are open 24/7. Here is how to reach them:
Kids Help Phone's website also has lots of great information about coping, mental health, wellbeing and more.
Add other relevant helplines to your contacts, too—and use them
Hope for Wellness is a helpline open to all Indigenous peoples. Call the toll-free Help Line at 1-855-242-3310, 24 hours a day, 7 days a week. Or use the chat option at hopeforwellness.ca to connect with a counsellor online.
The Black Youth Helpline provides innovative, professional and culturally relevant services. Their call line is open 9 a.m. to 10 p.m. seven days a week at 1-833-294-8650 or [email protected].
Naseeha provides a support line for young Muslims in North America. It operates from 12 PM to 12 AM Eastern Time (9 AM to 9 PM Pacific Time), 7 days a week. Call or text them at 1-866-NASEEHA (627-3342).
S.U.C.C.E.S.S. is an organization that offers many kinds of support. This includes help lines in Mandarin and Cantonese that can help with "confidential emotional support and referrals to community resources that can support you to address a wide range of life issues." The lines are open 7 days a week at from 10am to 10pm Pacific time. Call the Cantonese Help Line at 604-270-8233. Or call the Mandarin Help Line at 604-270-8222.
Hong Fook Mental Health Association has a variety of great online resources for Asian youth. They also have virtual walk-in counselling sessions for Asian youth aged 12 to 25 in English, Mandarin and Cantonese. Contact them at [email protected] or 647-534-8493.
The Alzheimer Society of BC offers dementia-related information in Cantonese, Mandarin or Punjabi from 9 a.m. to 4 p.m. Pacific Time Monday to Friday. For Cantonese or Mandarin, call 1-833-674-5007. For Punjabi, call 1-833-674-5003.
The Sikh Family Helpline offers non-emergency peer-to-peer support and resource-sharing in Punjabi and English. It's available at 1-800-551-9128. Find out more about how it works at sikhfamilyhelpline.com.
Check out e-books and social feeds written by young caregivers for young caregivers
Support Matters: A Guide for Young Carers and Their Allies is a Canadian e-book that has important information on emotions, ways to cope, and stress. It's available as a free PDF.
Depending on your age, you may also like these Stay at Home Kits: Part 1 and Part 2. These PDFs workbooks were created during the pandemic with members of Canada's Young Caregivers Association.
And Australia's Young Carers Network has pages full of young carer stories too, filled with insights and advice from other people who are experiencing this kind of situation. Young Carers New Zealand also has a useful PDF booklet. 
There are an increasing number of creators on socials trying to raise awareness about #youngcarers. Some in spring 2022 on TikTok include @cat_erino, @inkyfae and @keryssecretx, to name a few.
Consider letting your doctor and teacher know about your family's situation
Letting your doctor or other healthcare professional know that you have a parent with Young Onset Dementia is important.
First, it can help them support you better with any stress or feelings the situation brings up.
Second, healthcare professionals can help you get counselling services if you want or need.
Third, telling a healthcare professional can add important information to your medical history chart to bring forward for the future.
Letting your teacher or principal know that your parent has young onset dementia can also be helpful. They may know of resources in the school that can support you.
Telling your teacher or principal about your family's situation may also help them understand why you have a more limited attention span or time to study compared to before.
Keep in mind that different service organizations can have more learning and support resources for you
Earlier in this article we mentioned that there are more than 50 different diseases or conditions that are associated with young onset dementia.
Many of those specific diseases or conditions have their own service societies or groups. And these groups can also offer more information or support to teens like you.
For instance, the most common form of dementia overall is Alzheimer's disease. And the Alzheimer's Association in the US has a page just for teens to learn more about Alzheimer's disease (and coping with a family member who has it). There is also a video there from Brittany, a teen whose mom has early onset Alzheimer's disease.
A common form of young onset dementia is frontotemporal dementia. The Association for Frontotemporal Dementia also has a webpage for teens to find out more about this particular illness, and to share their experiences. There are subsections about relationship changes, coping tips and more.
Canadian organizations serving people with different dementia-related diseases could be helpful too. That could mean reaching out to Huntington Society Canada  if your parent lives with Huntington disease, Parkinson Canada if your parent lives with Parkinson disease, the MS Society if your parent lives with multiple sclerosis, and so on.
Remember your local Alzheimer Society is here to help you too
The Alzheimer Society of Canada was started more than 40 years ago by a group of people who, like you, were experiencing dementia in their families.
Now, our mission has grown to improve the quality of life of people living with dementia and caregivers—be they young or old.
Your local Alzheimer Society experts can give you one-on-one support as well as broader community connections.
Just locate your regional contacts at alzheimer.ca/find.
Or reach us at 1-855-705-4636 or [email protected] from 9 a.m. to 5 p.m. Eastern Time Monday to Friday. Our national infoline workers will link you up quickly with the team closest to you.
Last updated: September 12, 2023.