How well do you know the risks of dementia?
Canada
read
Think you know about reducing your risk of dementia? In partnership with RBC Wealth Management, Royal Trust, the Alzheimer Society of Canada challenges you to test your knowledge and take our quiz on reducing the risk of dementia!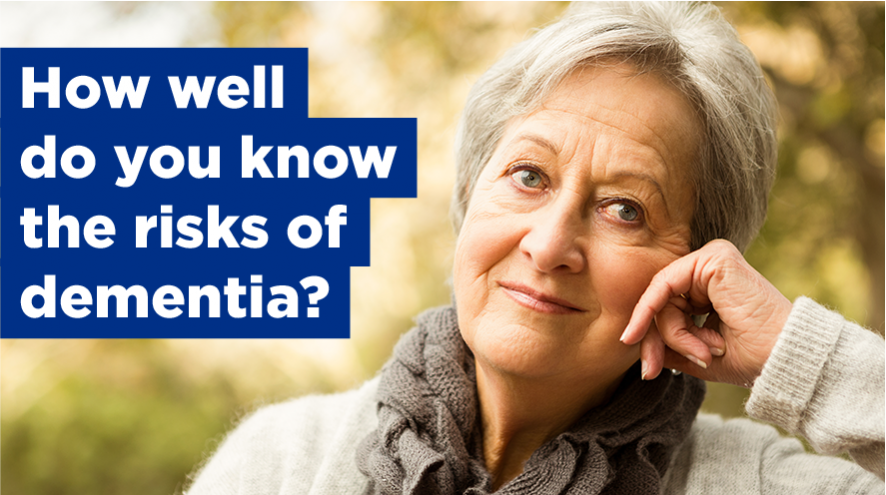 Do you know what you can do to protect your brain and reduce your risk of dementia? Over the past few weeks, we've taken a close look at actions you can take and choices you can make to keep your brain healthy and the risk of dementia low, such as:
Now, it's time to test your knowledge on dementia risk and prevention! Can you get all the questions correct?
Check out these resources from RBC Wealth Management as well! 
Articles 
Recognizing the early signs of dementia. It can be hard to spot the early signs of dementia versus normal age-related memory loss. If dementia is diagnosed, there are steps caregivers can take to help support loved ones.
Promoting brain health at every age. Learn more about physical activity, nutrition and two lifestyle factors that may affect your brain health and risk of dementia.
Tip sheet
Memory problems: Age-related or a warning sign? Discover how memory loss can be a fairly common part of ageing, but may also present warning signs that require appropriate care.
Video
Dementia is not inevitable: Lifestyle tips for your brain health. Some of Canada's leading scientists in women's brain health discuss lifestyle choices that can help prevent brain-aging diseases.
RBC Royal Trust and RBC Wealth Management are business segments of the Royal Bank of Canada. Please click this link http://www.rbc.com/legal/ for further information on the entities that are member companies of RBC Wealth Management. The content in this publication is provided for general information only and is not intended to provide any advice or endorse/recommend the content contained in the publication. ®/TM Trademark(s) of Royal Bank of Canada. RBC and Royal Trust are registered trademarks of Royal Bank of Canada. Used under license. © Royal Bank of Canada 2021. All rights reserved.