Alzheimer's Awareness Month
read
January is Alzheimer's Awareness Month. For 2021, we asked people to think about what they want the future to look like for people living with dementia, for caregivers – and ultimately for everyone!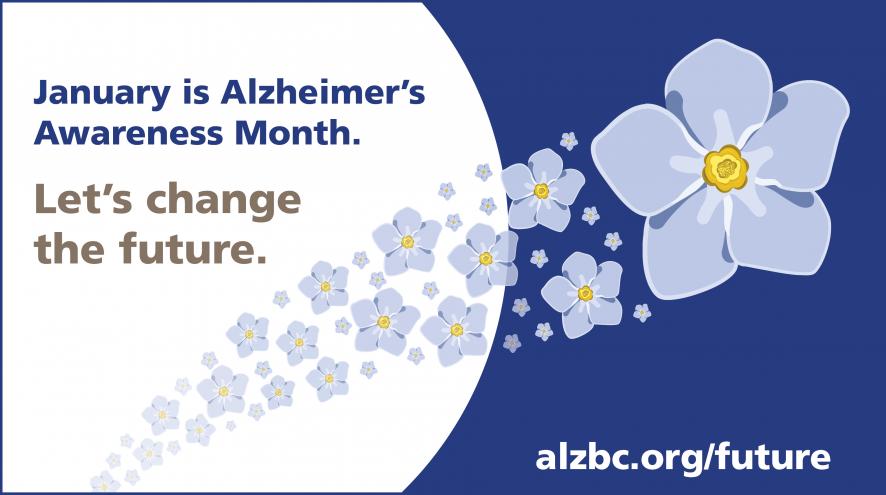 People living with dementia and their caregivers are facing more social isolation than ever. In an increasingly uncertain world, we're doubling down our efforts to change the future for British Columbians affected by dementia. This Alzheimer's Awareness Month, people across the province were asked to share their experiences and hopes for the future. Read their stories here:
It's going to take a broad community of care to achieve our vision of a world without Alzheimer's disease and other dementias and, before that, a more dementia-friendly province, where people affected by dementia are acknowledged, supported and included.
Individual gestures of support – the ripples – create the groundswell that is needed to help us reach this future. Everyone has a role to play. This January, to help celebrate Alzheimer's Awareness Month, we encouraged British Columbians to:
Stay connected

Raise their voices

Invest in our cause
What is your hope for the future? What are you doing to make it happen? Imagining a better future for people affected by dementia doesn't begin and end with Alzheimer's Awareness Month. Take a look below at some of the ways you can keep helping us to create that groundswell, year-round.
Stay connected
Staying connected to the people in your life who are affected by dementia can seem that much more challenging as we adapt to the new normal of COVID. This remains an incredibly difficult time for caregivers of people living with dementia, including many who are supporting people living in long-term care and are unable to stay connected as they have in the past.
Restrictions around visitation, while important to control the spread of COVID-19, have been extremely difficult for families and people living with dementia. These restrictions bring with them a host of challenges and a range of emotions.
The Alzheimer Society of B.C. also has resources available to support families navigating visitation to long-term care.
If in-person visits aren't an option for you at this time, consider other ways you can stay in touch with someone living with dementia in your life. You might try:
Scheduling weekly video chats or setting a reminder to make regular check-in calls.

Ordering them their favourite take-out and having a virtual dinner date.

Writing them a letter.

Sending them a CD or a playlist of their favourite music.

Asking them how they would like to stay connected while you're apart.
No one should be alone on the dementia journey. Anyone in need of support or information is encouraged to call the First Link® Dementia Helpline.
Raise your voice
A vital way you can help change the future for British Columbians affected by dementia is to raise your voice and become an advocate.
While there are many issues of importance to families affected by dementia, the realities of COVID-19 have shone a light on problems arising from social isolation, particularly:
The guidelines around long-term care visitation.

The suspension of adult day programs.

The need for caregiver respite.
The Alzheimer Society of B.C. believes that family members are an integral part of health-care teams. Balancing the need for safety during COVID-19 with the needs of families presents real challenges to the health-care system that will require creative solutions.
As part of Alzheimer's Awareness Month 2021, we hosted a special webinar, sponsored by Clark Wilson LLP, featuring guest panelists in conversation about the impact of the pandemic on dementia and long-term care. Couldn't participate on the day? You can view the recording here. 
You can also learn more about becoming an advocate.
Invest in the cause
As a charity, the Alzheimer Society of B.C. relies on the generosity of thousands of individuals and organizations who support our work and allow us to deliver programs and services to enhance quality of life for British Columbians affected by dementia, while funding research into the causes and cures so that we can one day achieve our vision of a world without dementia. Want to help us? Make a one-time donation or sustain our work by becoming a monthly donor.