Alzheimer's Awareness Month
read
In an increasingly uncertain world, it is so important to show people living with dementia they're not alone. Throughout January, the Alzheimer Society of B.C. is highlighting the experiences of British Columbians affected by dementia to say, "Don't change. Even if they do."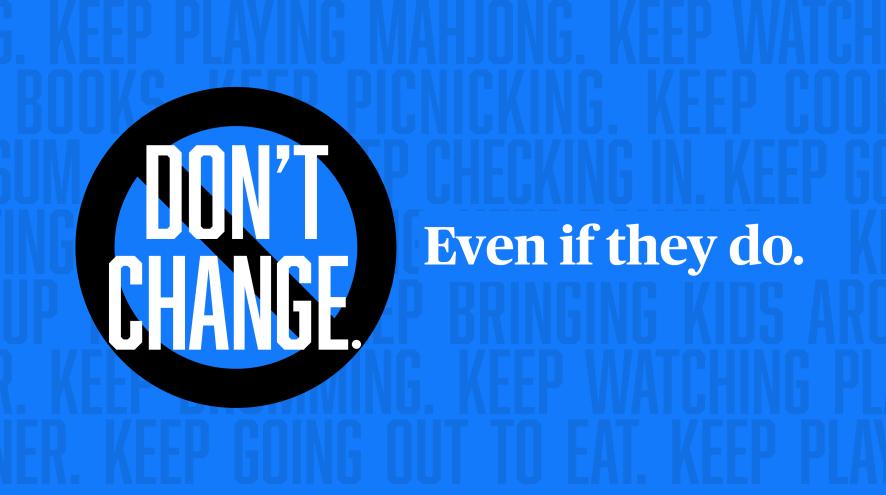 This Alzheimer's Awareness Month, British Columbians are sharing their experiences and thoughts on the value of staying connected to the people in their lives who are affected by the disease – whether they're living with dementia or caring for someone who is. Read their stories:
Stigma about Alzheimer's disease and other dementias can result in people making assumptions about someone's abilities or pulling away from friends or family supporting someone living with dementia. People may feel unsure how to include or communicate with someone living with dementia. However, sustaining these relationships is essential for the well-being of people facing the disease, whether they live in the community or in long-term care.
Since the beginning of the pandemic, people living with dementia and their caregivers have faced greater isolation and upheaval than ever before. The best thing we can do to support people affected by the disease is not change, even if they do.
Throughout January, the Society is asking the public to visit www.dontchange.ca.
Become an advocate
You can become an advocate to support British Columbians living with dementia. There are many issues of importance to families affected by dementia, but the pandemic has shone a light on problems arising from changing public health orders, social isolation and the strain of B.C.'s health-care system, including:
The guidelines around long-term visitation and essential visitor status.

The suspension of adult day programs.

The need for caregiver respite.
The Alzheimer Society of B.C. believes that family members are an integral part of health-care teams. Balancing the need for safety during outbreaks of the Omicron variant of COVID-19 with the needs of families presents real challenges to the health-care system that will require creative solutions.
As part of Alzheimer's Awareness Month, we hosted "Opening the door: Why families are essential to care," a free virtual event featuring our CEO Jen Lyle in conversation with BC Seniors Advocate Isobel Mackenzie. Community members shared some of their experiences to spark a conversation about approaches to dementia care that reflect the essential role families play, both in community and long-term care. The event was recorded with ASL and closed captioning. You can view it here.
If you want advocate for issues affecting people living with dementia, you can learn more here.
Learn more about dementia
We offer weekly webinars on a variety of subjects related to dementia. During Alzheimer's Awareness Month, learn more about the disease and the journey at any of our upcoming sessions:
We all have a part to play! Becoming a dementia friend

:

Small, everyday actions can help build a community that is inclusive, supportive of and safe for people living with dementia. (Wednesday, January 12, 2 to 3 p.m. PT)

An introduction to brain health

: It's never too soon or too late to make changes. Learn strategies to maintain your brain health.

(Wednesday, January 19, 2 to 3 p.m. PT)

Engaging people living with dementia in decision making

:

People living with dementia are often excluded from the decision-making process. Join Krista James and Jess Fehrenbacher from the Canadian Centre for Elder Law alongside Myrna Norman as they discuss legal rights relating to decision-making for people living with dementia, compare supported and substitute decision-making, and provide insights gathered from the "Engaging people living with dementia in decision making" project. They will also share how you can get involved with the project and discuss the tools they will be creating to support decision-making for people living with dementia.

(Wednesday, January 26, 2 to 3 p.m.)
Click here to learn more about our webinars and sign up.
Invest in our cause
As a charity, the Alzheimer Society of B.C. relies on the generosity of thousands of individuals and organizations who support our work and allow us to deliver programs and services to enhance quality of life for British Columbians affected by dementia, while funding research into the causes and cures so that we can one day achieve our vision of a world without dementia.
Here are the ways you can invest in the cause this January:
Set yourself a challenge or host your own fundraising event with our

Anything for Alzheimer's

initiative.