Talking about your diagnosis
If you've just been diagnosed with dementia, you may need some time before sharing the news – or you may want to talk about it right away. However your approach, this page can help you with strategies for communication.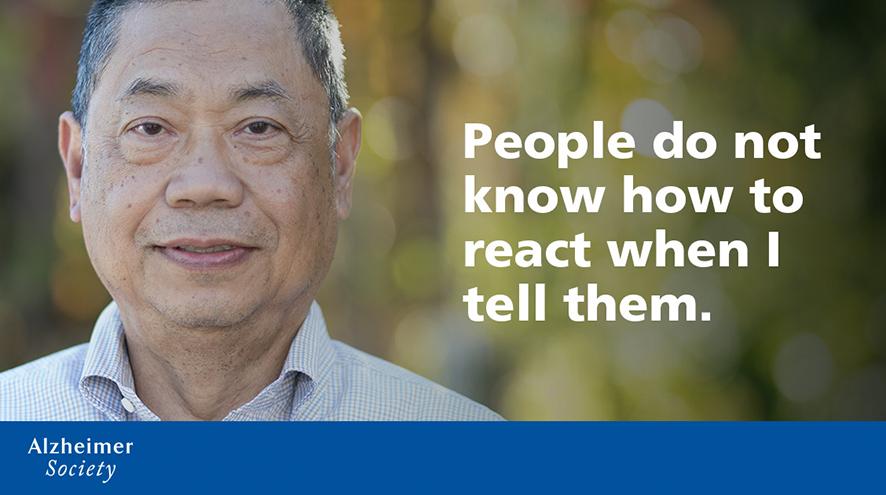 Why tell people you have dementia?
"[People] are not sure how to respond when the topic comes up. Most of them usually change the subject and talk about something else and attribute my symptoms to aging and say, 'I also forget things.'" - Mario (pictured above), from Burnaby, British Columbia. Mario lives with mixed dementia (vascular dementia and Alzheimer's disease).
Overcoming the stigma of dementia
Unfortunately, many people living with dementia face stigma as soon as they tell others that they have the disease. This stigma can be self-imposed, and it can even come from people they know and trust.
According to a 2017 survey on attitudes toward dementia in Canada:
About half of Canadians

would feel uncomfortable telling people they already know that they have dementia –

46%

would feel uncomfortable telling family, and

55%

would feel uncomfortable telling friends.

Only 39% of Canadians would offer support for family or friends who were open about their diagnosis.
On the other hand, most Canadians (72%) would feel comfortable interacting with someone they already know who has dementia.
Helping yourself – and others
You can help fight this stigma by speaking out about what you're experiencing. By doing so, you can help others understand what it's like to live with dementia.
In turn, being open may encourage others to learn more about dementia and what they can do to help. While you should be prepared that some people in your circle will "drift away", you may find that others will support you in living well with dementia.
Talking to family and friends
The people who are closest to you are usually the people to tell first
You would likely want them to be aware of this change in your life, just as you would with any major illness.
Tell the people with whom you are most comfortable.
Tell the people who need to know, like your spouse or your children.
You only need to tell as much as you are comfortable with
Be honest about what you feel.
Let them know what you need and how you want to be treated.
If you need help, ask for it. If you need family members to leave you alone, to give you some space, let them know that.
Encourage them to learn more about the disease
Just as you are coping with the physical, emotional and behavioural changes brought on by your symptoms, your friends and family also have to adjust.
Ask them to learn more about dementia, particularly the type of dementia you are diagnosed with.
Discuss what you can all do to help and support yourself and each other.
Tell your friends and family how dementia affects you
Help them see that there are things you can do for yourself and that you can still make many of your own decisions.
Friends and relatives you don't live with often want to help in any way they can. They will like to know how you are doing, but may be afraid to ask. Talk to them and encourage them to stay in touch.
You may fear losing your independence and worry about becoming a burden to your friends and family. They can help you share the weight of those feelings, and bring you reassurance.
Talking to your doctor or another healthcare provider
Communicating your health concerns is important. From getting the news of your diagnosis onward, you should feel able to talk to your doctor with questions about your dementia, such as symptoms, treatments, how to participate in drug trials and other research, and what to expect.
Talking to other people living with dementia
Know the benefits of shared experiences
Talking to other people living with dementia will put you in touch with the only people who know firsthand what you are experiencing.
Talking to other people living with dementia:
Provides a unique opportunity to talk with people who are sympathetic and understanding,
Enables you to talk about your feelings and
Ensures that everything stays within the group.
Find a support group
Contact your local Alzheimer Society to see if there is a support group made up of people living with dementia in your area. If not, you may be interested in helping the Society start one.
Talking to your Society
You may find that you have no one in your circle that you can talk with about your diagnosis and the challenges you're facing. Know that the staff at your local Alzheimer Society will listen to you.
We can provide you with any help and support you may need. As well, we can connect you with one-on-one support.
More useful links and resources
Shared experiences: Suggestions for living well with Alzheimer's disease. Alzheimer Society of Canada. This booklet, informed by the real experiences and advice of Canadians living with Alzheimer's disease, can help answer common questions and concerns about living with Alzheimer's.
2017 Awareness survey executive summary. Alzheimer Society of Canada, 2017. This summary highlights key revelations from our 2017 survey that asked over 1,500 Canadians to measure their attitudes and perceptions of Alzheimer's disease and dementia. This survey was conducted by polling and marketing firm Leger.