Donate Monthly
Your monthly gift will help the 46,000+ Albertans and Northwest Territorians currently living with Alzheimer's disease or other form of dementia.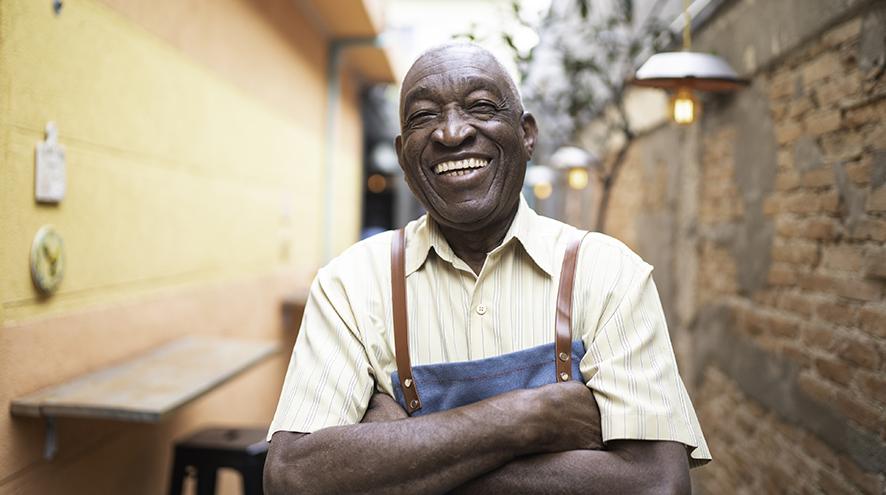 Become a monthly donor today! Sign up online or call 1-866-950-5465.
"I see the important work being done every day and want to help support the Society even after I clock out. I want to make sure every Albertan and Northwest Territorian who needs our help is able to access our supports and services at no cost." – Arlene, regional client service lead and monthly donor
Why Give Monthly
It's easy.
Make one decision with big impact. Divide your donation into twelve equal payments and know that your gift works each month to support a cause you believe in.
It's efficient.
Your money goes farther. Monthly donations are one of the most cost-effective and environmentally friendly ways to give. That means we can spend less time and money on administration and more on what matters.
It's smart.
It helps you budget – and us too. A regular and predictable source of income provides stability in program planning and allows us to advance research projects, from start to finish.
"My husband, Hugh, was diagnosed with Alzheimer's disease about three years ago. So much effort and care go into the services the Alzheimer Society of Alberta and Northwest Territories provides. Without donations, these supports would not exist for thousands of families – including mine. That is why I feel it is important to donate what I can for as long as possible." – Debby, Alzheimer Society client and monthly donor
How it Works
When do I get my tax receipt?
Once you become a monthly donor you will receive an annualized tax receipt by February 28 each year. Tax receipts are sent via Canada Post, unless you have a registered email address with us, in which case you will receive your tax receipt electronically.
What happens if I move or get a new credit/debit card?
Contact us at 1-866-950-5465 and we will update our records to ensure there is no interruption of your donations.
Can I modify my donation?
Absolutely! Contact us at 1-866-950-5465 or email [email protected] and we will adjust the amount on your behalf. Your tax receipt will reflect the total amount of your gifts for the year.