Board of Directors
read
The Alzheimer Society of Alberta and Northwest Territories is governed by a volunteer Board of Directors who set strategic directions and priorities for the Society.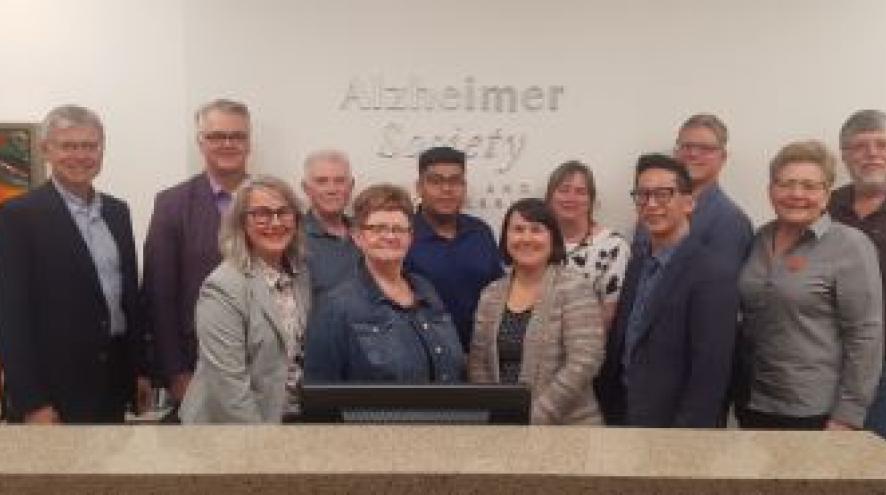 VOLUNTEER BOARD MEMBER OPPORTUNITY
The Alzheimer Society of Alberta and Northwest Territories (AS AB/NT) is looking for volunteers to join our Board of Directors.
AS AB/NT works to change the face of dementia and improve the quality of life for those affected by the disease. Our vision is a world without Alzheimer disease and other dementias. The Society offers Help for Today through a network of educational and support services for those with dementia and their care partners, and Hope for Tomorrow by investing in research.
The Board of Directors is responsible for setting the vision and direction for the organization and will:
Be an influential voice and a credible source of information for policy makers and individuals dealing with the impacts of dementia.

Provide direction to strategically move the Society toward their preferred future.

Support biomedical and psychosocial dementia research provincially, nationally and globally

to advance the search for a cause and cure.
As a member of the Board of Directors, your key responsibilities are to:
Actively participate on board and ad hoc committees by providing leadership, advice, and guidance. 

Advocate and promote the Society's programs and services to advance the mission and vision of the Society

Act as an ambassador for the Society and for those living with dementia. 

Attend 4 board meetings a year (currently virtual, but in future could be in varying locations across the province of Alberta)
For information and/or to submit an application, please contact:
George Andrews, CEO at [email protected]
APPLICATION DEADLINE:  September 10, 2021
2020-21 Board of Directors
President:
Darcy Yamada, Edmonton
Past President:
Chris Lane, Edmonton
Vice-president:
Karen Horsley, Red Deer
Treasurer:
Blaine Ellis, Yellowknife
Directors:
Jane Arychuk, Yellowknife
John Kennedy, Lethbridge
Lynda Koe, Yellowknife
Deb Kondysar, Edmonton
Roger Marple, Medicine Hat
Marc Poulin, Calgary
Chandu Sadasivan, Edmonton
Kym Schreiner, Edmonton
Alan Tennant, Calgary
CEO:
George Andrews, Edmonton