Alzheimer's Awareness Month 2021
January is Alzheimer's Awareness Month in Canada. Learn what that means and how you can get involved.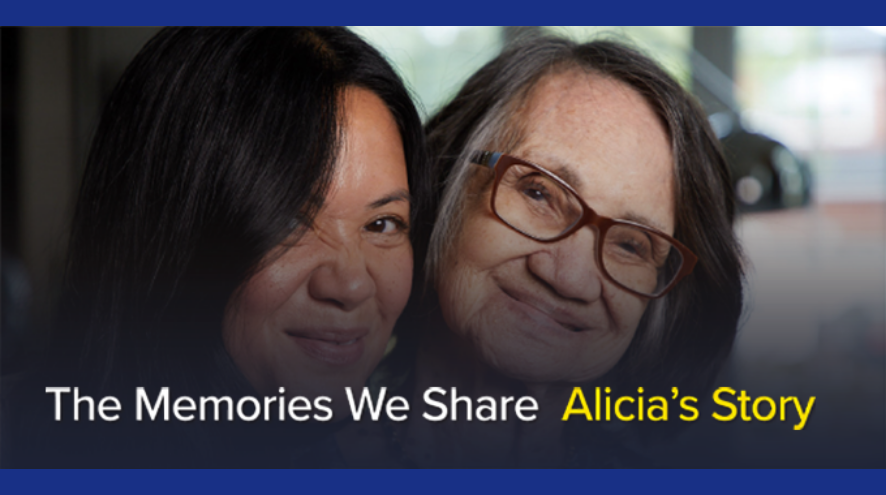 This Alzheimer's Awareness Month, step inside the lives of Alicia and her family as they confront this disease head-on and share their story, struggle, and moments of connection.
What is Alzheimer's Awareness Month?
Each January, the Alzheimer Society supports Alzheimer's Awareness Month.
During this month, we at the Society encourage organizations and individuals like you, to learn more about dementia and its stark impact on Canadians.
In particular, we invite everyone to listen to the voices of Canadians unable to avoid the immediate realities of Alzheimer's disease and other dementias – from people living with dementia, to their families, to their caregivers, to their healthcare providers and more.
We also ask you to go one step further, and share what you've learned with people you know, such as your friends, family members and co-workers.
And while Alzheimer's Awareness Month may stop at the end of January, the experiences of people who live with dementia do not. As such, we ask you to take what you've learned during the month and continue to share it throughout the year.
By understanding what people living with dementia experience in their day-to-day-lives – their struggles, their successes and their hopes – together we can raise awareness of dementia throughout Canada.
Awareness is the first step to fighting stigma, reinforcing human rights and pushing for policy change, as well as other actions that can lift up Canadians living with dementia.
Please support Alzheimer's Awareness Month. It's an easy start to helping your fellow Canadians who are living with this serious disease.
Our Current Campaign: Alicia's Story
This year, the Alzheimer Society will launch a 4-part short film series that follows Alicia, a beautiful, vibrant mother and grandmother who lives with Alzheimer's, and her family, as they confront this disease head-on and share their story, struggle, and moments of connection.
Throughout the series, viewers step inside the lives of Alicia, who was diagnosed with Alzheimer's disease 10 years ago, her daughter and caregiver, Judy, and the rest of her family to get a look at how this disease affects Alicia and her family, the challenges and heartbreak they face, as well as the feelings of togetherness and moments of laughter they share.
"I hope by sharing our story, it shows others who are going through similar situations that they are not alone," says Judy, Alicia's daughter and caregiver. "Sharing and connecting with others is so important. It changes everything."
Six Ways You Can Support Alzheimer's Awareness Month
1. Follow along and watch Alicia's story
The best way to understand the impact of stigma is to hear it directly from people living with dementia.
2. Donate to your local Society
Our services are offered free of charge thanks to the generosity of our donors. Donate today to make a difference in the lives of individuals and families affected by dementia. 
3. Visit our special website
Check out ilivewithdementia.ca for useful information and resources to help you learn more and take action to end dementia stigma.
4. Learn more about dementia and stigma
Misconceptions are often at the root of stigma. Find out about communication, behaviour, safety, and more. Learn about the stigma against dementia.
5. Connect with your local Society
Find out what's going on your local Alzheimer Society, including how your local Society helps in your community and how you can get involved. Find your local Society.
6. Share what you've learned
Talk to your friends and family about dementia and the stigma that's attached with a diagnosis. 
7. Support our other campaigns
Besides Alzheimer's Awareness Month, the Alzheimer Society also supports people living with dementia assert their rights and fight stigma through the Canadian Charter of Rights for People with Dementia.
We also support the implementation of Canada's first-ever national dementia strategy that can systemically reduce stigma against dementia in Canada.
We're committed to taking a person-first approach to the Dementia-Friendly Canada project to ensure all Canadians living with dementia feel valued and empowered, that organizations be inclusive and accessible and that everyone uses their awareness of dementia to make changes, individually and as a society.
Learn more about these campaigns and others like it happening near you.