Thank You For Your Patience Cards
Sometimes people living with dementia just need a little more time to complete a task or a thought. That's where the "Thank you for your patience" cards come in handy.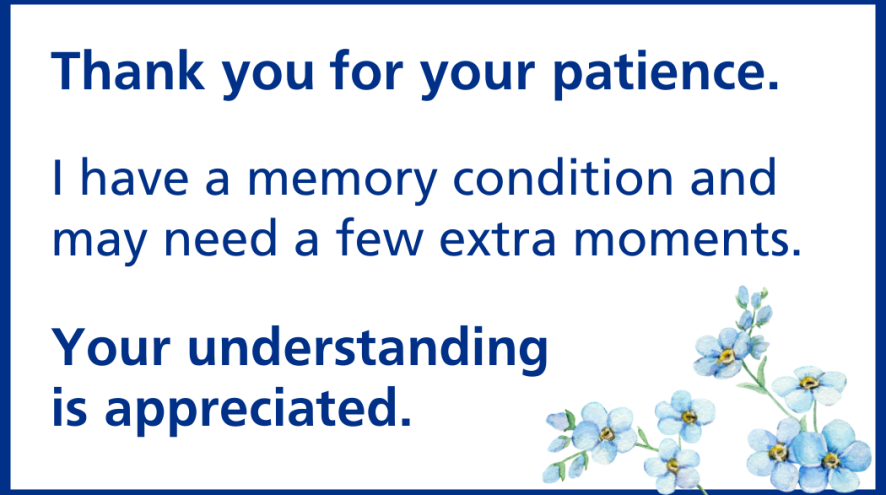 How do I use these cards?  
A person living with dementia or a companion can show the card to a grocery store cashier, a bank teller, a bus driver, etc. to discreetly ask for a little extra time and patience.  Often the time it takes to read the card is all the person needs.  
Where can I get these cards? 
Call or email the Alzheimer Society Nova Scotia and we'll gladly mail some out to you or set some aside for you to drop in and pick up. You can also print them from our website. 
How should I respond when presented with one of these cards?  
If you are shown one of these cards, simply slow down and give the person some extra time.  Use simpler sentences and share one message at a time; allowing time for the person to answer.  Show empathy and kindness, avoid correcting or arguing. 
Why does this make a difference? 
Dementia friendly interactions like these support people living with dementia by reducing anxiety, stigma, and frustration. Along with adapting physical spaces, it's an important part of building dementia friendly communities.  
What is a Dementia Friendly Community? 
Dementia friendly communities are places where people living with dementia, their families and care partners feel respected, included, and supported.  Creating these communities takes an effort from everyone to learn about and promote dementia friendly principles in our neighbourhoods, workplaces and beyond.            . 
Click here or call us at 1-800-611-6345 to learn more about how to help your community become more dementia friendly!