Adult Day Programs
read
The Alzheimer Society Peel Adult Day Program is a recreational program for people with Alzheimer and other related dementias.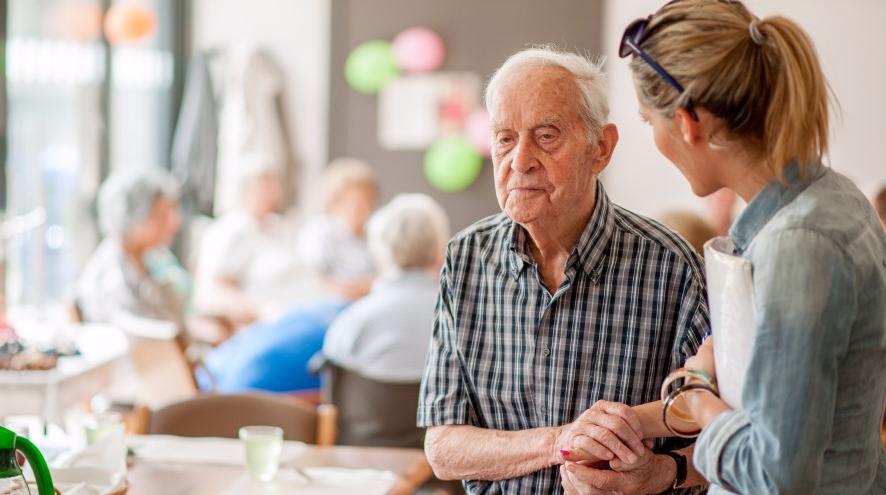 Free versions of the ADS virtual programming newsletter can be accessed here.
__
Contact the Alzheimer Society of Peel to get information on the application process.
The Alzheimer Society Peel Day Programs provides individuals with a warm and inviting atmosphere where qualified professional staff are specially trained to care for and be sensitive to the needs of the families we serve.
The Day Programs are uniquely designed for individuals with Alzheimer's disease or other irreversible dementias.
Hours of operation and fees
Flexible hours are available from 7:00 am to 7:00 pm, depending on your need. The cost includes all program supplies, nutritious meals and snacks. Costs are:
Core hours (10:00am to 3:00pm): $18.00 per day
Core hours plus one (either morning or afternoon) extended hours: $22.00 per day
Core hours plus both afternoon and morning extended hours: $24.00 per day
A unique design
Our Day Programs are designed with open and quiet areas, wander paths, full kitchen facilities, wheelchair accessibility and gardens. The home-like environment is safe, secure, and beautifully custom-designed for the support and enjoyment of our participants.
Come, Visit Us!
Family participants, caregivers, and health care professionals are always welcome to call for more information or to book a tour of our unique facilities. Our staff will be happy to help you with the application process.
A program designed for you
Join us for a choice of enjoyable activities – all specially adapted for individuals with cognitive impairments who are unable to attend traditional community and social programs. Whether you enjoy crafts, gardening, pets, inter-generational activities, music, meal preparation, exercise, group discussion, games, projects, outings, or special events and parties – we'll design a program to suit you.
Our day program team develops a care plan in consultation with each participant and family. Daily journals are sent home each visit to share activities and news.
Personal Care
Our one to four staff to participant ratio enables us to assist with care needs and personal care such as assistance with feeding, incontinence care and one or two-person transfers.
Services Provided
Recreational and social activities on a group and/or individual basis,
Qualified staff providing supervision and care in a safe and comfortable environment,
Assistance with daily living tasks as required and
A nutritious lunch and snacks.
Program and activities
The programs offered in the Day Programs are planned based on the interest and abilities of the participants attending. Our activities encourage participants to socialize and interact with other participants and staff, sharing their own experiences.
We offer several different types of activities throughout the day that aim to stimulate and challenge our participants in different ways.
Cognitive: Programs that include discussion, thinking and learning activities.
Music: Programs that include a significant musical component, including activities facilitated by a Music Therapist.
Physical: Programs that get us moving. Exercises are done daily.
Creative: Programs that provide an opportunity for participants to express themselves through the arts.
Purposeful: Programs that include a variety of household tasks.
Adult Day Program locations
Brampton Day Centre and Evelyn's Place Day Program
Located at 150 East Drive in Brampton, ON
The Brampton Day Centre is the second of our five-day programs to open. It officially opened on June 26, 1998. The program is located in South East Brampton, the Brampton Day Centre is located near Torbram Rd. and Steeles Ave.
Evelyn's Place Day Program is our fifth program to open. It opened its doors in April 2014. It is located in the same building as the Brampton Day Centre. Drop-in spaces available at Evelyn's Place allow for more flexible attendance and can be utilized for appointments or to help someone become familiar with day programs. At least two business days' notice is required to book a drop-in spot. Bookings are based on program availability.
Sam McCallion Day Centre
Located at 157 Queen St E, Mississauga, ON
Sam McCallion Day Centre opened its doors in 1998 in honour of the late Sam McCallion, Mayor Hazel McCallion's husband. Nestled in the heart of historic Port Credit, the Sam McCallion Day Centre was the first Day Centre opened by Alzheimer Society Peel.
Located in South Mississauga, the Sam McCallion Day Centre is conveniently located south of the Q.E.W just north of Lakeshore Blvd.
Meadowvale Day Centre
Located at 6535 Millcreek Drive, Unit #1, Mississauga, ON
The Meadowvale Day Centre opened in 2001 at Erin Mills Parkway and Millcreek Drive in Mississauga. We were the third Day Centre opened by the Alzheimer Society Peel.
Brunel Day Centre
Located at 385 Brunel Rd, Mississauga, ON
The Brunel Day Centre opened in 2010 at Highway 10 and Britannia Rd in Mississauga. We were the fourth Day Centre opened by the Alzheimer Society Peel