The Advisory Group of people living with dementia
read
Our Advisory Group supports and guides the Alzheimer Society of Canada by drawing on their personal experiences of dementia.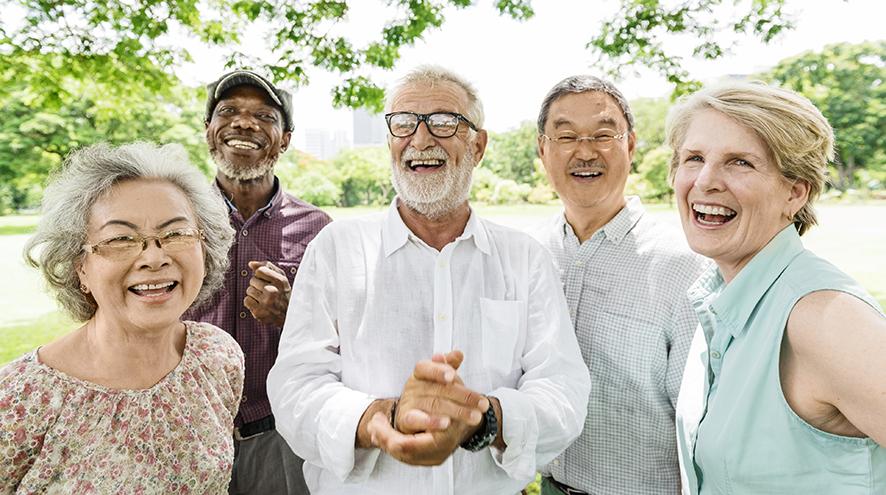 "We want to see your views and hear your voice. We need people living with dementia who are walking this journey to share experiences and insights. And we need to hear from caregivers, and all those who support people with dementia, whoever you are." - Roger, from Medicine Hat, Alberta. Roger lives with Alzheimer's disease.
What is the Advisory Group?
The Advisory Group of people living with dementia is a vital part of the Alzheimer Society of Canada, making a significant impact on our work in dementia research, education and advocacy.
Each member of our Advisory Group is a volunteer, bringing their own personal stories and journeys with dementia to their roles. All have been living with dementia for a number of years, with different experiences. These unique insights and experiences help our work be more relevant, informed and successful.
A brief history of the group
In 2012, the Advisory Group initially formed with the goal of engaging people with lived experience as equal partners in our work.
In 2016, the group was reformed to increase membership and to bring more diverse perspectives to the table.
What the group looks like today
The group has two co-chairs: One being a person living with dementia, the other being a staff member at the Alzheimer Society of Canada. The group meets quarterly by teleconference. Once a year, an in-person meeting is held at our office in Toronto to review the workplan and discuss other ways that the group can partner with us in our work.
Right now, the group consists of members from seven of our 10 provinces. There is one representative from each of these provinces, with the exception of Ontario and B.C., who have two members each. We are always interested in trying to recruit members from the other three provinces as well.
All members of this group are in the early to middle stages of dementia. We are still learning how to ensure that the voices of people in the later stages of dementia are reflected in the work that we do. This is something that we are currently working closely with the Advisory Group on.
While the members of this group use their lived experience to guide us in their work, we also acknowledge that each of these individuals has come to the table with a set of unique skills that they have developed through their careers or life experiences. As a group, we do our best to tap into the skills of each member to maximize our strengths.
Why was the Advisory Group created?
Learning about a person-centred approach to providing services to people living with dementia and their families has helped the Alzheimer Society recognize the importance of hearing the voices of people with lived experience in our work.
There is also a growing demand to expand the ways in which people living with dementia can and want to contribute to all aspects of the Society's operations, from decision-making and setting standards to providing input into dementia awareness strategies, programs and services, advocacy efforts and systemic change.
As such, the Advisory Group gives a voice to the people we help and support. Through this meaningful engagement, we can better understand and serve the needs of people living with dementia, families and caregivers.
Who can join the Advisory Group?
The Alzheimer Society of Canada invites and welcomes Canadians diagnosed with any form of dementia, mild cognitive impairment, and caregivers, to join the Alzheimer Society of Canada's Advisory Group.
We believe your experience matters, and only you can speak to it. You should be able to use your voice to influence our work.
Whether you are newly diagnosed or have lived with dementia or MCI for some time, all you need is a keen interest and commitment to improving lives of people, wherever they are in Canada.
Why join the Advisory Group?
The Advisory Group connects you with a community of people who live with dementia. Members will understand what you are going through, the highs and the lows.
Together, you can provide each other both support and encouragement.
If you'd like to find out more, speak to a member of the Alzheimer Society of Canada by emailing [email protected].
The work of the Advisory Group
The Advisory Group is charged with the task of creating a high level, multi-year plan for the formal involvement of people living with dementia in our work:
They provide guidance to the Alzheimer Society of Canada in fulfilling its engagement plan;
Raise awareness of the needs of people with dementia, including the specific needs of people living with early onset and/or early stage dementia; and
Provide input into our day-today operations.