Meet our researchers: Jordan Ali, University of Victoria
Canada
Jordan Ali is working diligently to give voice to the experiences of those with subjective cognitive decline (SCD). This PhD student from the University of Victoria aims to develop profiles of individuals with this condition, which may signal early stages of Alzheimer's disease. This can be helpful to general practitioners and front-line support workers in identifying individuals who are at risk of developing Alzheimer's disease.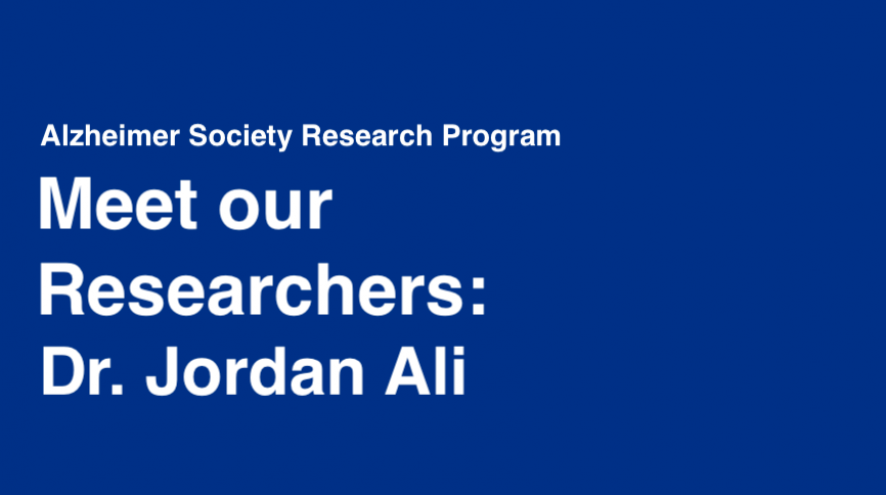 Hi, my name is Jordan Ali.
My work relates to a phenomenon called "Subjective Cognitive Decline", or SCD. People with SCD express concerns of complaints that their thinking abilities are declining, but when they're tested through standard neuropsychological tests, they show no objective impairment.
Traditionally, these people were considered to be really anxious, but more recent research has shown that, for some, SCD might indicate the earliest signs of Alzheimer's disease or other dementias.
Since neuropsychological testing may not be sensitive [enough] as this earliest sign of pathology, my work aims to find a profile of concerns and complaints unique to those with SCD who have the highest genetic risk of developing Alzheimer's disease. My hope is that this work will help GPs and other front-line support [workers] more quickly and accurately identify those at risk for Alzheimer's and other dementias, in order to provide them interventions and stream them into more preventative care.
Jordan Ali received the 2017 Alzheimer Society Research Program Dr. and Mrs. Spatz Doctoral Award.
"Receiving the Dr. and Mrs. Spatz award in particular, an award donated by someone whose life was intimately touched by Alzheimer's disease, reminds me that our goals as researchers extend far beyond meeting the obligations of our various organizations or pursuing affirmation through academic publication. It reminds me that, ultimately, our goal is to better the lives of those individuals and families impacted by the ravages of Alzheimer's disease." – Jordan Ali