Mike's Volunteer Story
read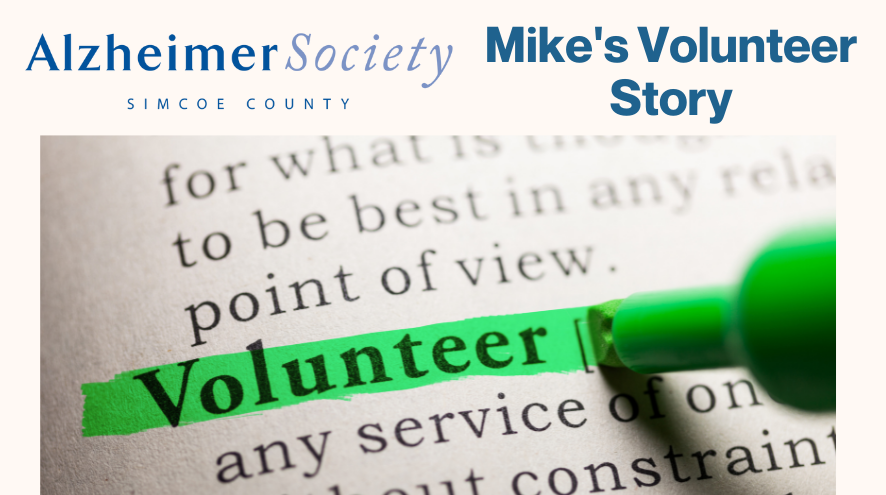 Why I Volunteer with the Alzheimer Society
I am happy share my story of why I volunteer.  From the time I left high school I have devoted my life to the service or benefit of my adopter country. I was born in England and came to Canada in 1951.
I served in the Navy for forty- two years. I served as a Justice of the Peace in Nova Scotia for almost twenty- five years and served as a Provincial returning officer for ten years.
Mixed in with all that was the need to care for my wife as her health and mobility deteriorated. Coincident with that I lost two friends to cancer. One elected medical assistance.  During those trying times, I kept track of all the resources available to me. I included the contact and cost information.  This document proved to be of considerable use to the wives of my two friends and subsequently to the palliative care nurses and personal care workers. I also had to deal with my wife's estate. Again, I kept records of the requirements and contact data.  This was of immense help to my friends' widows.  
I subsequently moved to Collingwood to be closer to my son and his family.  So, I settled into Raglan a retirement community.  Here I met with people coping with all forms of dementia.  I saw parallels to my experience which would possibly be useful in the Caregivers Support Group.  So, I volunteered to be a Support Group Co-Facilitator.  I was accepted.
I found that my experiences were indeed able to help me assist those dear people who are faced with the care of a loved one going through the challenging journey of dementia with its marked affects on family and loved ones.  To be able to do that and witness the results is more rewarding than I can put into words.  Thank you for this opportunity to tell my story.  ~Mike
Why did you volunteer with the Alzheimer Society of Simcoe County?