Five field-tested fundraising tips for the IG Wealth Management Walk for Alzheimer's
Simcoe County
read
As a result of his successful fundraising efforts, Matthew Vorstermans shares his top five tips and tricks.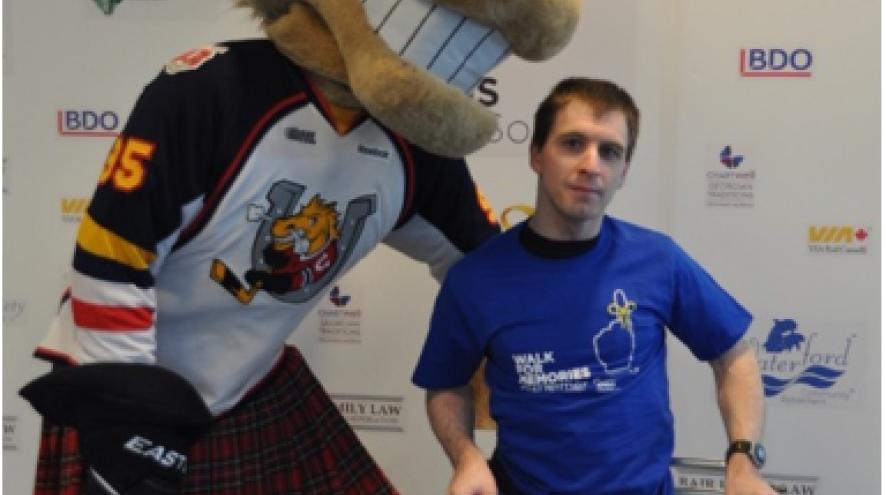 Matthew Vorstermans was inspired to join the Walk for Alzheimer's in honour of his Oma who lived with Alzheimer's disease. Since 2007, Matthew has raised a staggering $39,384.46 for the Alzheimer Society of Simcoe County.
We asked Matthew to share his field-tested fundraising tips.
1. Make a goal. Aim High!
"When I'm in the thick of the fundraising, I don't think about rewards or accolades; I only think about raising as much as possible."
Matthew has had first-hand experience with the power of setting a goal and raising the bar year after year. Setting a fundraising goal will help you focus on your ideal outcome, and you can hone your tactics accordingly. Setting a high goal will also show your donors how committed you are to fundraising and this can lead to larger donations.
2. Start with your circle of family and friends.
When it comes to fundraising success, Matthew admits that it's a community affair. "A lot of it has to do with our circle of friends and family, and they support me."
Now, when the spring rolls around, Matthew's family and friends have come to expect it. Much like the returning geese, and milder temperatures, Matthew's Walk for Alzheimer's fundraising efforts are another sign of spring!
3. Fundraise offline and online, and be prepared!
"One of the things that really helped me is using the Alzheimer Society's fundraising website," explains Matthew. "A lot of people are reluctant to collect donations online and prefer to give in person – the "old fashioned" way. I do that, too, but I do that in tandem with online fundraising. People may not be able to give as much as they'd like in person, but online, they can use their credit card."
If people prefer to make donations in person, keep your pledge form or donation cards with you at all times. You never know when a fundraising opportunity will arise! I.e. when you're visiting a friend, at the dentist, doctor, gym, grocery store, etc.
4. Share your story.
Let everyone know why you are raising money by sharing your personal story and journey. Matthew has found that people are often inspired by his Oma's story and as a result give more to support his fundraising. Share an image or a video for a personalized touch. Matthew reaches out to his community by putting an ad in the local paper!
5. Think outside the box!
Matthew is always looking for new ways to reach new people, and expand awareness about the cause. He tried something new last year that may surprise you:
"Last year, I did a promotional video where you are given an inside look at the impacts of the illness and why your support is so well-needed. I'm hoping to do it again next year, to help get even more visibility."
Other creative ways you can top up your fundraising:
Hold a garage sale or a bake sale
In lieu of a special occasion gift, ask for a donation
Organize a neighbourhood car wash
Host a bbq or dinner party at home and ask friends for a donation to participate.
Congratulations to Matthew Vorstermans for his incredible fundraising efforts! Together, we can do something about dementia. Read more about Matthew's story here.