Meet the Goldie Gang
Simcoe County
read
If there's anything we can learn from the Goldie Gang, its how to turn adversity into a hope-filled future.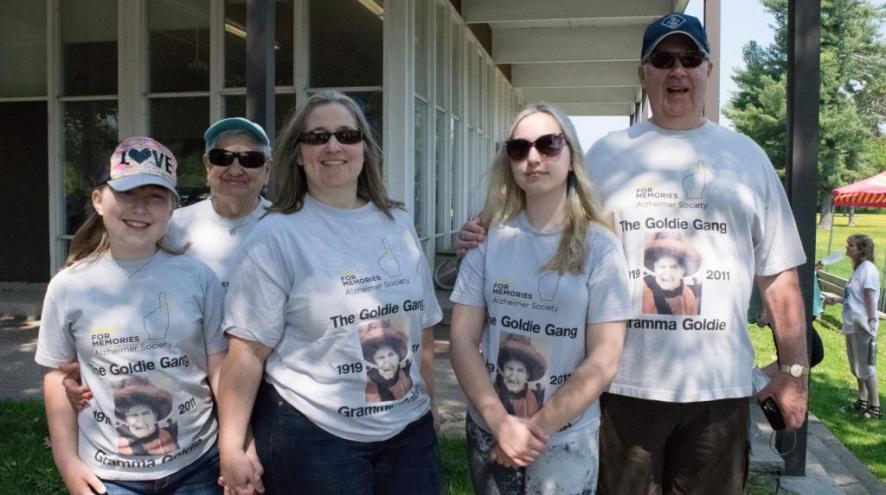 My father-in-law, Art Goldie, died suddenly and unexpectedly on 31 December 1999, it was his wife's 80th birthday and the eve of the new "Millennium" when all sorts of weird things were supposed to happen and almost everything had shut down for 2 weeks (another story). He was 86. That day we had been to a funeral for their other son-in-law.
Suddenly, we became mum's sole caregivers. They lived in a senior's residence in Erin Mills, Mississauga, we lived in Oro Station. Mum (Gladys), had been diagnosed with Alzheimer's Disease in 1994. But, in hindsight, the signs were there much earlier as we eventually came to recognize from the support groups. Sharon had a sister and a brother, but they had both died some years earlier.
As is common in most long term marriages, especially from that era, mum & dad did everything in their power to cover up and hide the symptoms. As a result, nothing had been done to alleviate her condition or situation. Things we were told were being done, we later discovered, were not.
Mum was the sole driver of the two, had not gone for her retest, she couldn't pass the medical (she was almost blind, as well as deaf), let alone memorize the driver's booklet and she was just going to continue driving as if everything was status quo. She told dad she had been retested and passed. (Her driving, is yet, another story of the blind leading the blind). He never questioned her, because he wanted/needed to believe it. Until the day he died, he never understood the disease nor its ramifications.
Sharon was still working, I had just retired a month earlier.
So, the day dad died, we brought mum back to stay with us and also seized (and hid), her car. We were supposed to be having an 80th Birthday/New Year's Eve party for her at our house anyway. She was a city girl. Hated the country. We lived on 3 hectares at the end of a road, in a forest. We didn't know how long we'd be able to keep her there as she made it quite clear that she was NOT staying there with us, "out in the middle of nowhere."
At this stage of the disease, she was still fairly cognizant about "most" things. I took her to her doctor the following week and got her on some medication. He explained that dad had refused to take her back there after the doctor had asked her to do "those stupid memory tests". "Silly kid's tests," he called them. An insult to anyone's intelligence." To HIS, maybe, but, she couldn't do them.
Her doctor said he felt she was quite capable of living on her own for the immediate time, as it was the most familiar to her. They had been there for over 20 years and knew most of the people in the building. He suggested we call the (Peel) Alzheimer Society and that someone stays with her for a week, just to be sure.
We did both. I stayed with her for a week and she did everything on her…and, for me. Including taking her medication as assigned. The Alzheimer Society suggested many things to help with her safety and security which we put in place. Peel also has an Alzheimer's visitation program, so someone came and spent Sunday afternoon with her.
With that, we had every day covered so that someone was looking in on her. We disconnected her stove and got her Meals on Wheels. She was always more of a "grazer" than one for sitting down to meals anyway. I went down for 2 or 3 days a week and took her grocery shopping, etc. Sharon went down and took her out on Saturdays.
She was still capable of using the phone and in addition to other building tenants (friends) "watching out for her", we called her every day.
Also, at the suggestion of Peel A.S., we started going to Alzheimer Support meetings in Barrie in early 2000. At the beginning of our 10-year attendance at those meetings.
In January 2001, Sharon and I decided to support the Simcoe Chapter and walk in the annual Walk for Memories (the start of our, to date, 14th Walk).
Everything went along quite well in this way for over 2 years, almost 3.
Sharon retired at the end of 2001, and in 2002, we had sold our house in Oro Station and were having one built-in south Barrie. It was delayed, so we were now living with our daughter and family in Bradford until our home's completion (another long story).
Suddenly in late 2002 mum's disease took a turn for the worse. She was no longer capable of living on her own and went into crisis. Christmas 2002 had been a real disaster and mum was almost impossible to deal with in every capacity. She was also causing serious problems and disruptions in her apartment. She was hallucinating and not sleeping. Understanding our circumstances, Peel CCAC got mum a placement in their farthest north nursing home, in Bolton. We looked at it, accepted, but, had only 48 hours to get her moved there. The deadline was 11:00 AM on January 2nd, 2003. 30 cm of snow and heavy winds were in the forecast.
When we got to her apartment on the 2nd it was as if she suspected something. She was agitated and incoherent. For the past month, it has been almost impossible to get her out of her building. This day was the worst so far. We tried for hours. The nursing home agreed to a later admission, but, no later than 3:45 PM. The snow was starting. We couldn't get her to leave no matter what we tried.
So, we called the Alzheimer Society and they offered several suggestions…which worked. We got her to leave with us, got her to the nursing home in time. However, she finally realized what was really going on, and "all hell DID break loose !!" (But, that, too, is another story).
She wound up in the hospital for a week or so to get her medication straightened out, then settled in quite nicely.
We eventually got mum moved to Barrie when Victoria Village Manor opened later in 2003. This is where she lived quite happily until her death in January 2011 in her 92nd year.
We stayed on as part of the monthly Barrie Alzheimer Support Group until 2010. The latter years more as support for others attending. Trying to give back some of the knowledge and experiences we had gleaned during our journey since 1999.
While all of the above was going on, we were also looking after the care of my parents in Etobicoke and moral support for my "surrogate" parents in the Shelburne area.
Fortunately, though, none of them suffered from any form of dementia.
As stated above, to give something more in return, we started doing our annual Walk for Memories in 2001. Sharon and I did it again on our own in 2002.
Then in 2003, just before moving back to Barrie, we created our first team. Joined by our daughter, her husband and our granddaughter, Emily who was just over 2 years of age.
The Ashton family. This first team was known as Emily's "A" Team.
In 2006 our team increased by one more with 2 ½-month-old Claire "GOLDIE" Ashton. The team reached 7 in 2008 with 8-month-old Olivia Ashton. The granddaughters have been in every Walk since then.
Including our totals for the 2014 Walk, we have raised, $29,450 over the course of its 14-year history. It will never come close to giving back what we received, when we needed it most, in understanding and support from the Alzheimer Society.
Sharon, Ron and the rest of the Goldie Gang.
Learn more about our 2020 IG Wealth Management Walk for Alzheimer's