More love than meets the eye
Simcoe County
read
Gail connected with us in 2020 to share her story during a difficult time. Her story is a love affair.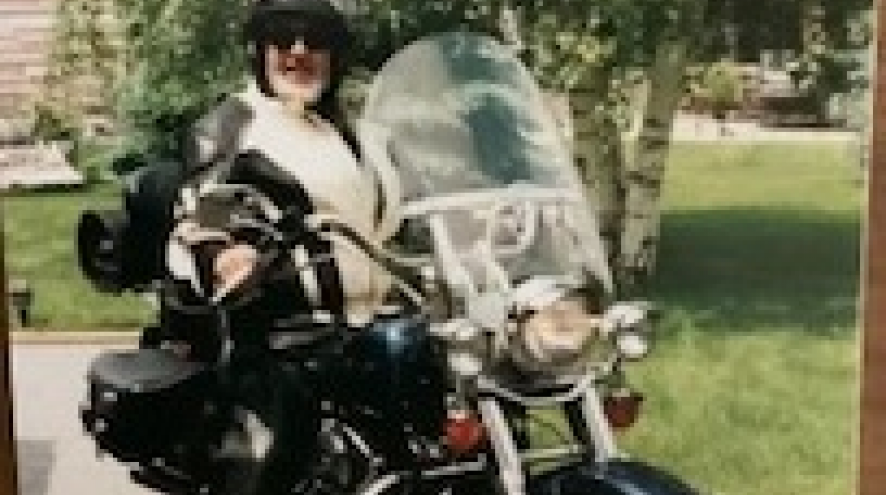 I meet a lovely man every Friday afternoon. Glen. He's happy to see me. I surprise him each time. He raises a finger and nods his head to acknowledge me. Then he smiles. I push his wheelchair down a shining clean hallway to Room 238. His room. I guide the chair toward the large window which frames glorious waving deciduous trees, still green in the early fall.
He sits in the chair complacently while I seat myself beside him. Together
we leaf through a book of antique cars, then turn to another that features environmental wonders close to home. The Credit and Mad Rivers, the Boyne River so familiar to him. He is fascinated. Holds the book close, concentrating on each individual page. Obviously transfixed.
How fitting, I think. We met at the Boyne. He taught Natural Science to Toronto teenagers at the Boyne. How long ago we met. Thirty five years. In the interim we fell in love, included our children; accepted one another's dear old friends, parents, even ex spouses; made new friends; married. I learned to ride on the back of his motorcycle. I was impressed by his knowledge of horsemanship. His pursuit of adventure. We hiked. We took Tai Chi lessons together as well as clogging lessons. Drove up to the Yukon and Alaska. Bought various boats, trucks, cars, SUV's through the years. All proposed by Glen. We moved from one house to another despite my uncertainty. Glen was always the catalyst. We had ups and downs like every other couple and resolved to stick together, no matter what.
The 'what' came in the form of an Anaplastic Astrocytoma brain tumor. We survived a series of radiation treatments although the treatment nearly killed him. His brain developed new pathways to relearn walking, speaking, telephoning, banking, playing guitar. Such courage he had. He became a soul searcher writing poetry, some serious to describe his ordeal, some comic to entertain the grandchildren. Even though he regained many abilities, he lost confidence, becoming less engaged in social activities.
Another 'what' lurched into view a few years ago. I noticed Glen seemed to be lapsing into similar characteristics he had portrayed with the brain tumor. Forgetfulness, indecision, anxiety, personality change, even hallucinating. Oh no. I made an appointment with our family doctor who immediately referred Glen to a gerontologist, both having diagnosed Lewy Body Disease and Alzheimer's.
Here we go. My poor Glen. His driver's license was taken away. But Glen being Glen wasn't going to give up. He insisted on taking the senior's driving test in Barrie. He insisted later that the person testing him didn't do it right. When the tester asked him if he had seen the stop sign, yes he answered, but nobody was coming so I drove right past. He thought she didn't give him enough chances to correct himself.
I realized sadly, so sadly, this is the beginning of greater responsibilities for me. His adventures were coming to an end.
From January of this year to August, it has been a battle against the odds. I kept hoping, unrealistically, that Glen would improve. As long as he had presence of mind, he tried so heartbreakingly hard to regain his senses. It was an heroic effort. Every attempt he made was recorded by me every day. However, we were on a downward spiral. So very difficult.
Since January he's been hospitalized four times due to hallucinations, stroke, urinary infections, falls. The fourth time recommended by our doctor to ease admission to Long Term Care. We had been supported by caring PSW's who slightly alleviated my stress at home. However, I was failing. I wasn't as strong as I wanted to be. I carried an oppressive burden of guilt over my inability to look after him for our forever.
I return to Glen on Friday at 2:45, my designated visiting time. I undergo a COVID virus test every two weeks to ensure the good health of Leacock residents, nurses, and workers. I look forward to seeing his smiling absent minded handsome face. Just a little tingling of excitement rises as I enter the building and push the elevator button for floor number two.
There he is. Sitting near the nurse's desk, unconcerned, right alongside other residents in wheelchairs. All is quiet. Just as I approach I sense he is going to turn to the man next to him to say something. But I am too quick. I call out to him. He looks surprised. He raises a finger and nods his head to acknowledge me. Then he smiles. I push his wheelchair down the hall towards his room.