February is Recreation Therapy Month
Durham Region
Recreation Therapy offers many benefits to people living with dementia by keeping individuals active and social. Learn more about the benefits and how to introduce Recreation Therapy into your routine.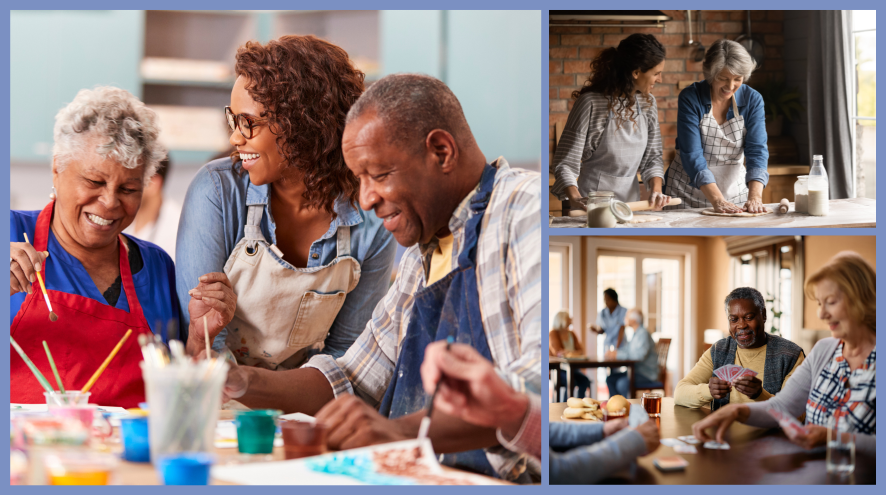 Recreation Therapy Month
February is Recreation Therapy Month. It was first recognized and celebrated in Canada in 2012 to help promote the benefits of Recreation Therapy (also referred to as Therapeutic Recreation). One of the positives that came out of Covid-19 isolation is the enhanced appreciation for the Social Recreation programs that were missing during that time. The time at home and apart from others highlighted the many benefits of participating in Recreation Therapy (or Social Recreation) programs, especially for those living with Alzheimer's disease and other dementias.
How Recreation Therapy can help
Social Recreation programs are designed to offer opportunities for meaningful social, mental and/or physical engagement. Participants are encouraged to focus on and develop strengths, connect with others who have similar interests and hobbies, and enhance their overall well-being.
These programs offer many benefits including:
Enhanced quality of life

Improved mood

Boost in confidence

Reduced feelings of loneliness, depression

Help maintaining cognitive health

Improved family relationships through shared experiences and memories
People living the dementia can benefit from Recreation Therapy as studies suggest it can help slow the progress of the disease by keeping individuals stimulated and active. Studies also show that people living with dementia who participate in social recreation programs may have reduced agitation as they benefit from the socialization and mood improvements.
Despite all these benefits, Recreation Therapy can sometimes be an afterthought when providing health care and support to people who need it the most.
How to include Therapeutic Recreation in your life
While Recreation Therapy can be provided by health care professionals there are also ways caregivers themselves can offer social recreation activities to help support a person living with dementia. Here are some suggestions on how to introduce these activities:
     1. Focus on their interests
Social recreation is about finding activities that the individual finds fun and purposeful. The social part comes in when others participate in those activities with them. Consider some of the following activities that can be done at home with family and friends:
Card Tournament or Game Night

Play "Name That Tune" game (find one on YouTube or make up your own)

Gardening

Cooking a family favourite recipe

Create a Memory Book from favourite photos
     2. Find events in the community
Explore programs and events happening in your community. At the Alzheimer Society of Durham Region, our Active Living Team organizes and facilitates social recreation programs for persons living with dementia and their care partners including:
Minds in Motion®

Brain Waves Café

Walking Buddies

Horticulture Therapy and Music Therapy

Adult Day Program for person's diagnosed with dementia before the age 65.
Connect with our Active Living Team
This February, recognize Recreation Therapy month and participate in at least one Social Recreation activity with the person you support and see how it benefits them. If you need more information, ideas on what to try, or guidance on getting started, please contact someone from the ASDR Active Living Team.
Additional Resources
These Activity Booklets from McGill University are a great resource for more activities you can do at home:  Dementia Activity Booklet - Part 1  | Dementia Activity Booklet - Part 2