Tracking devices
People living with dementia have the right to move about as freely and independently as possible. But, changes in the brain can affect a person's ability to find their way. Six in ten people who live with dementia are at risk of getting lost. Here are some tips on achieving independence and safety.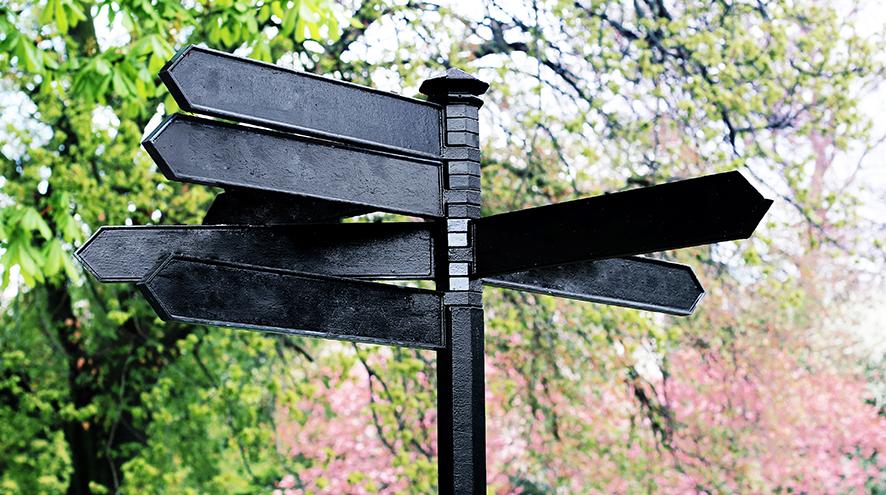 Quick links
Want reliable, evidence-based information on tracking device options in Canada?
Note: If a person living with dementia goes missing call 911 immediately.
Overview
In itself, walking is not harmful and when done in a safe environment, it can be a simple and healthy way for a person living with dementia to exercise. Walking or moving about can be made safer by considering a tracking device (sometimes known as a locating device). Tracking devices use technology to help find a person or object. Other features can include providing information about travel speed and time. No device or system can guarantee that a person living with dementia will not get lost or that they will be found. But you may decide to use a tracking device for safety.
Please note: the field of tracking devices is highly technical and detailed. Also, the equipment used to support some of these devices (e.g., a computer) may not be practical or readily available for some people.
Questions to consider when choosing a tracking device
How do you (or the person you support) feel about using a tracking device?
Some people may think using a tracking device increases personal freedom, security and safety. Others may feel it is an invasion of privacy. If you are choosing a tracking device for someone else, consider the person's lifelong values and wishes about personal freedom, privacy, independence and safety. If you are supporting a person who may not need a device right away, talk to them about using a tracking device in the future. The Alzheimer Society strongly encourages people recently diagnosed with dementia and their caregiver(s) to have these discussions early as part of planning for the future.
Will you (or the person you support) remember to use the tracking device?
Each person living with dementia is unique, and their abilities may change over time. Similarly, each tracking device is unique – there is not one standard device that will work for every person. For any device to work well, a person must wear or carry the device with them.
Are you also considering other strategies to enhance safety?
No technology is fail-proof. For example, a tracking device may provide inaccurate readings. Or it might not work in rural or indoor areas. Also, tracking devices use a range of different technologies. Check that the technology of a device meets your unique needs (or those of the person you support).
Use multiple strategies to stay safe
Other strategies could include an ID card that lets others know that you (or the person you support) are living with dementia. Another could be a door alarm that notifies a caregiver when a person leaves the home. 
Types of tracking device technologies
Devices use different methods of tracking or locating an individual. Some may need the caregiver to receive a call or alert and start a search. Other devices may use a computer, telephone, cell phone, call centre operator and/or direct contact with emergency responders. 
Global Positioning System (GPS)
This technology uses satellite signals to find the location of the person wearing the device. Advantage: Most effective outdoors. Allows for a caregiver or emergency responder to locate the transmitter in real time through an internet or smartphone application. Disadvantage: Needs to be charged frequently.
Radio frequency (RF)
This technology uses radio signals to find the location of the person wearing the device. Advantage: The range of this technology is larger than that of Bluetooth, allowing for tracking up to 5 kms away. Disadvantage: A shorter range than GPS. Most effective indoors.
Bluetooth low energy (BLE)
BLE devices use a Bluetooth signal received by another internet-connected device to locate a transmitter. Advantage: Low energy drain. Batteries may last over a year. Disadvantage: Limited range makes it challenging to use in rural settings.
If the person lives in long-term care or another type of assisted-living community, check with the home's administration to learn more about other types of security systems, such as video or sensors.
Questions to consider when deciding on a tracking device
There is no one standard tracking device that will work for everyone. New devices are released all the time and may replace current options. No matter which tracking device you choose, consider the unique needs and wants of the person using the device. Also think about the needs of those who are supporting the person. To choose what type of device best serves you (or the person your are supporting), consider the following:
Will you know when and how to use the device?
What level of technology are you comfortable with? 
Where will the device be used? 
Do you understand the device features?
Will you have help to set up the device or if you experience technical issues?
Who will be responsible for charging the device?
Does the device come with monthly costs?
Also evaluate the device for user friendliness, reliability, accessibility, comfort and whether the device is discreet or invasive and acceptable to the person wearing it.
More useful links and resources
Disclaimer
Any materials or links here are for information only. The Alzheimer Society of Canada does not endorse nor recommend any of the manufacturers/products mentioned in any of these links or reports.

It is important to remember that no one product or strategy can guarantee the safety of a person with dementia.

Individuals are encouraged to speak with staff at their local Alzheimer Society to learn about the multiple ways to assist a person with dementia to live as safely as possible.
References
Alzheimer's Association. (2022). Wandering. www.alz.org/help-support/caregiving/stages-behaviors/wandering.
Acknowledgement
This information is informed by research and the experiences of people living with dementia and their caregivers. We would like to thank Ron Beleno, University of Waterloo's Aging and Innovation Research Program and AGE-WELL NCE for their assistance in developing this information.
Updated December 12, 2022