1926 Skate For Alzheimers!
Kingston, Frontenac, Lennox and Addington
Sat, Jan 15, 12:01 am - 7:26 pm
Steve Skates for Alzheimers Again... and he's coming to Kingston January 15!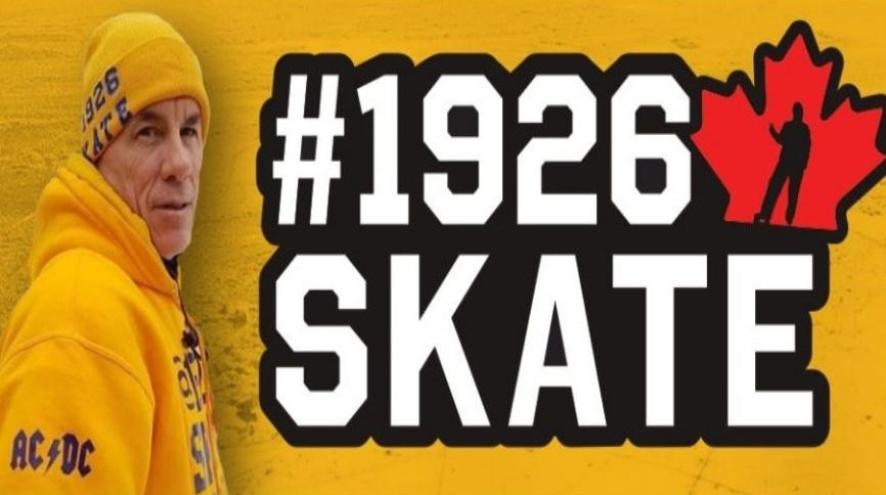 Location: Springer Market Square - Kingston, Ontario
Registration not required. 

For information call the Alzheimer Society of KFLA at 613-544-3078.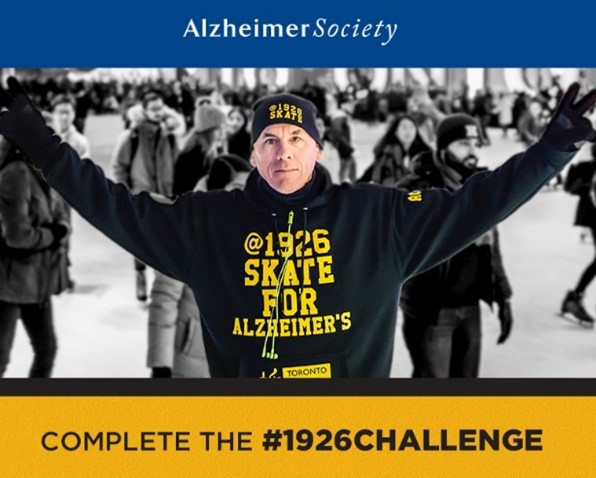 Steve McNeil has skated for 19 hours and 26 minutes in 18 cities across Canada to raise awareness and funds for Alzheimer's.  He does it as a tribute to his mother, who died of the disease, and all those family members and friends caring for loved ones with Alzheimer's. His mother Eunice was born on Dec. 15, 1926, thus the connection.
This is the 10th year he has been skating the marathons, however, this year, because of Covid-19,  he will not be travelling across the country.  Instead he will skate in 10 Ontario cities and towns and will skate at Kingston's Springer Market Square Jan. 15.  He will step on the ice at 12.01 a.m. and skate until 7.26 p.m. He skates alone overnight when the rink is closed to the public but is very happy to chat with and encourage other skaters during daylight hours.
McNeil, 60, is an Etobicoke mailman and a recreational hockey referee. He has skated in pouring rain, a blizzard and in 2019 it was cold:  Montreal -29C, Calgary -33C and Edmonton -40C. He says, however, his marathon skates are nothing compared to the time and effort caregivers devote to family members with the Alzheimer's.

In 2019 McNeil skated in the seven Canadian NHL Cities and in 2020 he added Saskatoon and the Maritimes. With Covid lockdowns in 2021 his only skate was at the Wayne Gretzky Estates rink in Niagara-on-the-Lake. The number of visitors was restricted, however NLH alumni Marcel Dionne and Brian Hill came out to skate with him.
An avid music fan, McNeil listens to ACDC when he skates.  In Calgary the son of former band member Chris Slade came to see him on the ice and the next morning ACDC donated $19,260 in memory of Band member Malcolm Young, who died of Alzheimer's in 2017. McNeil was so excited he kept skating, but didn't sleep for 48 hours as he was too busy doing media interviews.
 This past December he introduced December 15 as 1926 National Skate Day for Alzheimer's and kicked off his 2022 skate series at Nathan Phillips Square in Toronto.  Any funds received through McNeil's website www.1926skate.com stay in the local community.  He encourages everyone to join him for a short time and skate with various local celebrities, members of the Frontenac Fossils and other Kingston teams, who we hope will come out to help raise awareness of Alzheimer's disease. 

And this year he has a #1926Challenge for all local hockey teams to skate at practice for 19 minutes and 26 seconds while listening to ACDC music, make a donation of $19.26 cents, and challenge your competitors to do the same!
January 14th – See you at the Fronts Game! 
The night before his skate, Steve will visit the Kingston Frontenacs home game.  The Fronts have an away game on the 15th so you won't see them at the square, however, they have been very supportive of the fundraiser.  They will host the Alzheimer Society at their home game on January 14, and Steve will be on hand at the Society's information booth. The Fronts are providing a special ticket price of $19.50, of which $2 will go back to the Alzheimer Society.  The tickets can be purchased online at here.  And while you may not see the Fronts on the ice at Market Square the next day, you will see their mascot at some point.

To make a donation to the Alzheimer Society of KFLA, click here or www.1926skate.com , or bring it down to the rink in person on January 15,  drop it in the Canada Post box that will be set up on site to accept donations, and stay for a skate if you can! 
Steve's visit to Kingston is generously sponsored in part by Delta Hotels Marriott, The Keg, and Tim Horton's.   

To learn more about the 1926 Skate for Alzheimers, visit the website above, visit the 1926Skate Facebook page, or call the Alzheimer Society at 613-544-3078. 
Please note: If the skate is cancelled due to Covid, every attempt will be made to reschedule. Donations may still be made online on the Alzheimer Society or the 1926Skate websites.